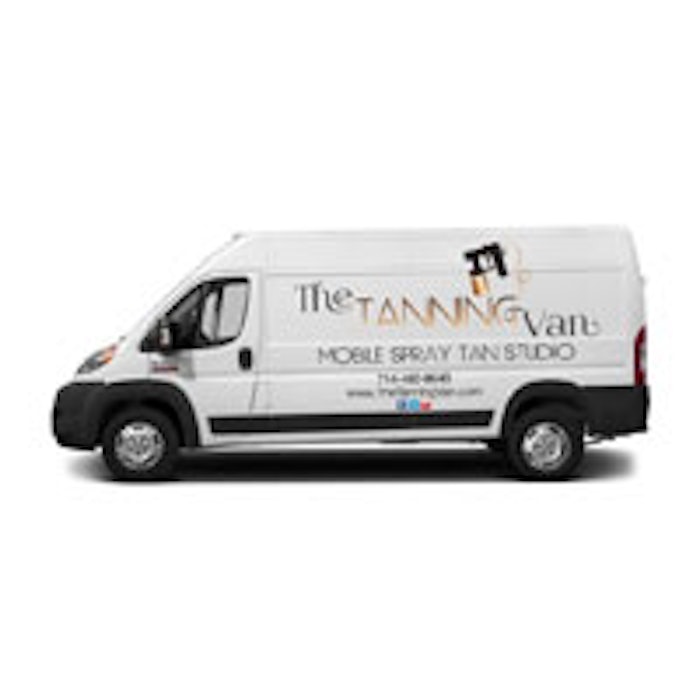 A business in Southern California, The Tanning Van, will bring convenient spray tanning to the customer in a spacious and tailor-made cargo van. Eager to launch this concept with a running start, co-founders Staci LaMar and Michelle Bouras organized a crowdfunding campaign on Indiegogo.
"As SoCal natives, we know that a flawless, year-round tan is important," remarked LaMar. "But people today understand that too much unprotected sun exposure is unhealthy. The mission of The Tanning Van is to give our customers the look they want without the risk, in a comfortable, convenient setting."
The Tanning Van is a fully mobile spray tan studio that will operate on its own power source. It will feature two interior booths that can accommodate persons up to 6'4" in height. Clients will step into one of the two private, climate-controlled and well-ventilated stations for a 5–10 minute spray tan session provided with virtually silent machines. Customers' home or business remains private and undisturbed and they are spared the time it would take for a typical mobile tent operator to set up and tear down supplies and equipment.
After extensive research of many spray tan products, LaMar and Bouras found that South Seas Skin Care offered the very best. They have since formed an important relationship with Julie Nostrand, founder of South Seas Skin Care, which will provide all of The Tanning Van's machines, tanning solutions and tanning-related skin care products. South Seas Skin Care has been the tanning provider of choice on "Dancing With the Stars" for the past seven seasons and their products are used on over 40 Hollywood sets.
The Tanning Van will offer four different tanning solutions for customers to choose from. In addition, a complete line of tanning-related skin care products will be available in a variety of sizes and will be priced under $30. All solutions and skin care products are made cruelty-free, paraben-free and with organic and natural ingredients.
LaMar and Bouras' business plan is ambitious: The co-founders of The Tanning Van hope to soon purchase more vans and expand their market reach. Likewise, as part of building the brand, The Tanning Van will actively support their local communities and will participate in area trade shows for the health, beauty and fitness industries, along with events targeting the bridal and wedding market. Meanwhile, the company will offer several packages, including a member's-only package and an option to rent hourly, at price points that make it more than competitive with brick-and-mortar businesses or tent-based operators.