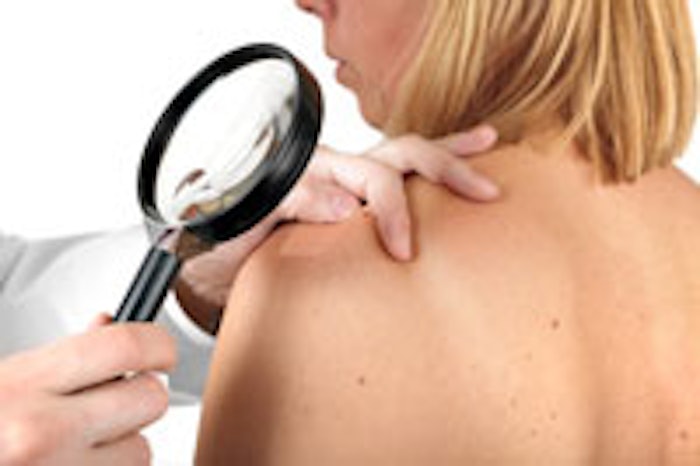 Skin cancer is the most common form of cancer in the United States, with one in five Americans developing it over the course of their lives. It's also one of the most preventable types of cancers. Since May is Skin Cancer Awareness Month and Melanoma Monday is May 6th, Mount Sinai experts are sharing tips on prevention.
There will be a skin cancer screening at the Mount Sinai Medical Center on May 23rd, 3-5 p.m. at 5 E. 98th Street, 5th Floor, New York, NY 10029.
Facts:
Melanoma is the number one fastest growing cancer in men and number two in women.
Basal cell carcinoma is the most common kind of skin cancer and if caught early it has a cure rate of 99%.
Tips for skin cancer prevention:
Get an annual checkup. Annual dermatology visits to monitor changes in you and your child's skin appearance are just as important as annual physicals and regular trips to the dentist. Nearly 50% of UV exposure occurs between the ages of 19–40.
Wear sunblock every day. Sunblock is not just for the summer. You should apply it thoroughly – to your body, eyes, lips, ears and feet – every day, year-round.
Never intentionally sunbathe. You might not immediately realize the damage you're doing by sunbathing, because it takes 10-20 years for skin damage to catch up with you, but sun dissolves the collagen and elastin in your skin which keeps your skin healthy.
Watch your brown spots and freckles. Do self-skin checks every month. If you have a lot of brown spots, talk to your dermatologist about total body photography so your doctor can keep a photographic record of your moles and watch closely for any change.
Follow the ABCDEs
Tell your dermatologist if your moles have:
Asymmetry, where one half of the mole is unlike the other half;
Borders that are irregular, ragged, notched or poorly defined;
Color that varies from one area to another, with shades of tan and brown, black, sometimes white, pink, red or blue;
Diameters that are the size of a pencil eraser or larger; and
Elevation, when a mole or skin lesion is raised and/or has an uneven surface.
A skin cancer survivor's story
Hannah, a 21 year-old New Yorker, who was only a junior in college when she was diagnosed with melanoma, the most dangerous form of skin cancer. During a routine visit with her dermatologist at the time, Hannah's doctor found a few suspicious moles on her back. They were biopsied and came back positive for melanoma.
According to the Skin Cancer Foundation, melanoma kills about 8,790 people in the US annually and is caused by intense UV exposure.
A devoted tanning booth goer for most of her high school years, Hannah never wore suntan lotion while baking indoors. "When you are young, you feel invincible, like nothing can hurt you," she said. "After my diagnosis, I was in complete shock. I was supposed to be studying for exams and instead I was having tumors cut out of my back and going for scans to make sure my cancer had not spread."
Each cancerous mole removed from Hannah's back left her with a lifelong scar. "Someone once asked me if I was a gunshot victim because my scars are so big," she said. Luckily, her cancer did not spread.
After graduating from college in Virginia, Hannah moved to New York for a job and needed a new doctor to care for her skin. She made an appointment with Hooman Khorosani, MD, assistant professor of dermatology and chief of division of Mohs, Reconstructive and Cosmetic Surgery at the Icahn School of Medicine at Mount Sinai.
"If melanoma is recognized and treated early, it is almost always curable," said Khorosani. "But if it is not, the cancer can advance and spread to other parts of the body, where it becomes hard to treat and can be fatal. Once you have melanoma, you are more likely to get it again and again in other areas of your body."
A cancer survivor, Hannah sees Dr. Khorosani for follow up appointments every three months, where he meticulously maps all of her moles and even checks between her toes and on her scalp for anything suspicious.
About the Mount Sinai Medical Center
The Mount Sinai Medical Center encompasses both the Mount Sinai Hospital and Icahn School of Medicine at Mount Sinai. Established in 1968, the Icahn School of Medicine at Mount Sinai is one of the leading medical schools in the United States. The Icahn School of Medicine is noted for innovation in education, biomedical research, clinical care delivery, and local and global community service. It has more than 3,400 faculty members in 32 departments and 14 research institutes, and ranks among the top 20 medical schools both in National Institutes of Health (NIH) funding and by U.S. News & World Report.
The Mount Sinai Hospital, founded in 1852, is a 1,171-bed tertiary- and quaternary-care teaching facility and one of the nation's oldest, largest and most-respected voluntary hospitals. In 2012, U.S. News & World Report ranked The Mount Sinai Hospital 14th on its elite Honor Roll of the nation's top hospitals based on reputation, safety, and other patient-care factors. Mount Sinai is one of just 12 integrated academic medical centers whose medical school ranks among the top 20 in NIH funding and by U.S. News & World Report and whose hospital is on the U.S. News & World Report Honor Roll. Nearly 60,000 people were treated at Mount Sinai as inpatients last year, and approximately 560,000 outpatient visits took place.
For more information, visit http://www.mountsinai.org.
Find Mount Sinai on:
Facebook: www.facebook.com/mountsinainyc
Twitter: @mountsinainyc
YouTube: www.youtube.com/mountsinainy