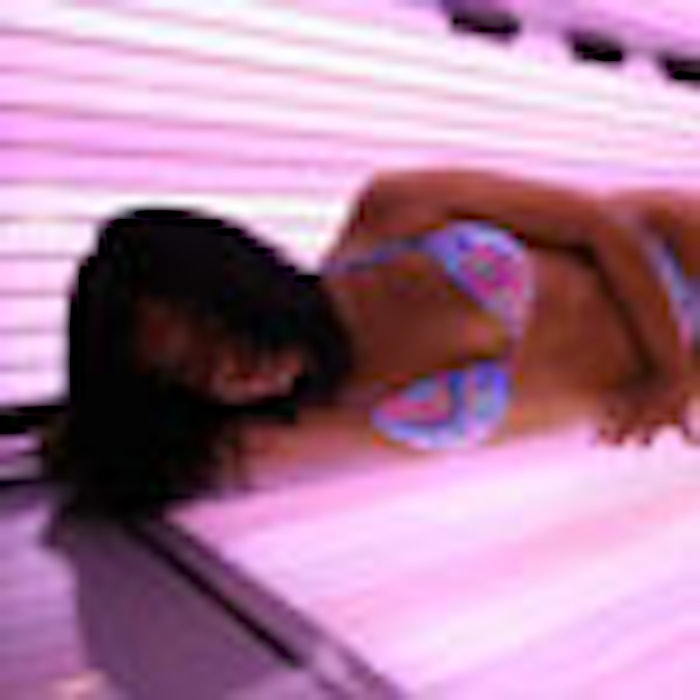 Terri Wojak, director of True University Esthetics, provides exclusive commentary to SkinInc.com about how you can help wean clients off of indoor tanning by offering them more healthy options.
Frequent indoor tanners may exhibit brain changes that are similar to those seen among people who are addicted to drugs and alcohol, according to a new study that adds to a growing body of evidence suggesting that indoor tanning may be addictive.
Close to 30 million Americans visit indoor tanning salons each year despite the well-publicized risks of skin cancer associated with this practice. The U.S. Food and Drug Administration is now considering a ban on indoor tanning for people under 18 and the American Academy of Pediatrics is on record that it supports this legislation.
The new findings, released online in advance of publication in an upcoming print issue of the journal Addiction Biology, suggest that indoor tanning taps into the brain's "reward center."
"We saw brain changes that are consistent with that of other things that are considered rewarding such as money, food or drugs," explained study author Bryon Adinoff, MD, a professor of psychiatry at University of Texas Southwestern Medical Center at Dallas. "The same areas of the brain lit up, and we know that if something is rewarding to the brain, there is the potential for addiction."
The new study involved seven frequent tanners who said they had used tanning beds an average of about 27 of the previous 90 days.
The researchers had each participant use a tanning bed for 10-minute sessions under two conditions: in one session, the tanner was exposed to ultraviolet (UV) radiation, while in the other session special filters blocked such exposure. Volunteers did not know if the tanning session involved UV radiation or not.
Participants were asked before and after each session how much they felt like tanning. They also received an intravenous compound that allowed the researchers to measure brain blood flow during their tanning sessions.
The result: Indoor tanning sessions that involved UV radiation triggered activation of the brain's dorsal striatum region and the medial orbitofrontal cortex, each of which plays a role in reward and reinforcement. Sessions where UV radiation was blocked showed less of this type of brain activation, the team found.
The findings make sense to Heidi Waldorf, MD, an associate clinical professor of dermatology at Mount Sinai Medical Center in New York City. "Like other addicts, 'tanorexics' continue to tan indoors and out despite clear warnings of the dangers," she said. "In my practice, I've seen women continue to tan after skin cancer surgery and after spending thousands of dollars on cosmetic procedures to rejuvenate their photodamaged skin."
But John Overstreet, the executive director of the Indoor Tanning Association, a Washington, D.C.-based trade group representing the indoor tanning industry, said that UV light is essential for survival.
"Some people overdo things, but that doesn't mean they are addicted," he said. "Moderation is the key, whether your UV exposure is from a tanning bed or sun."
From Yahoo! HealthDay News, August 15, 2011
According to Terri Wojak, director of True University Esthetics in Chicago, "Although some people may be addicted to indoor tanning for different reasons, it often starts with wanting to look better. I have many clients that I have talked out of tanning by giving them methods to improve the appearance of their skin in other ways. I have seen clients that go tanning because they think it hides acne conditions or those that think it gives them a younger appearance. The first step to getting clients away from tanning beds is through education, give your clients other options to make their skin look better and educate them on how tanning will likely make their skin conditions worse. After that, let them know about the many treatments available today to give a tan look without the damage. There are spray tan options, which are becoming increasingly popular, which can be offered at your spa using an airbrush technique. There are also self-tanners available that the client can use at home on a regular basis. A good bronzer may even be just enough color for some people. Make sure you have self- tanners and bronzers available in your retail area, and if you don't offer airbrush tanning, have contact information for places that do in order to have a ready referral available."