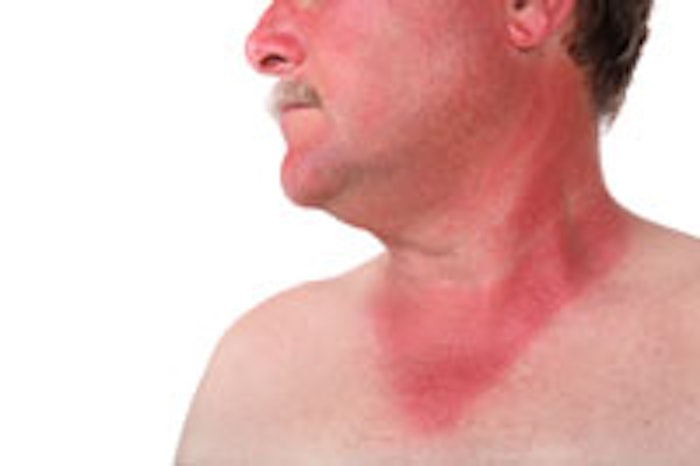 Tried-and-true IndyCar fans have come to embrace many time-honored traditions at the Indianapolis Motor Speedway (IMS) in May. One custom that many fans don't always plan for, however, is getting serious and often painful sunburns. IMS and its new sun safety partner, Outrun the Sun, will help race fans reduce their risks for sunburns while at the track by implementing a first-ever, comprehensive sun safety education program at the Indianapolis 500.
May is National Skin Cancer and Melanoma Awareness Month. Skin cancer is the most prevalent cancer in America, yet it is highly preventable. "The Indianapolis 500 is the largest one-day sporting event in the world and our initiative with IMS stands to be the greatest single-day sun safety education program ever established," says Anita Day, Outrun the Sun executive director. "There will be upward of 300,000 people having the opportunity to hear and see our messages at IMS on race day alone. That doesn't include those tuning in to the IMS Radio Network around the world, those engaged in our social media or visiting IMS throughout the month of May. We are grateful to IMS and IndyCar for recognizing the importance of sun safety and also for taking a lead in helping keep race fans sun safe."
"We take the safety of our fans seriously and sun protection plays a vital role in keeping them safe and comfortable," notes J. Douglas Boles, Indianapolis Motor Speedway president. "We want race fans to have the best experience possible while they're at the track and we're pleased to partner with Outrun the Sun to lessen fans' risk for sunburn."
Over exposure to ultraviolet (UV) radiation from the sun is the main cause of skin cancer and melanoma. And, melanoma is on the rise with one American dying of the disease every hour. This is important for race fans to consider while they are sitting in the stands for hours watching their favorite drivers.
The voice of the sun safety campaign is IndyCar driver, Josef Newgarden, a spokesperson for Outrun the Sun. Newgarden drives for Sarah Fisher Hartman Racing. The campaign includes PA announcements, public service announcements featuring Newgarden on video boards, in the Indy 500 race day program, on the IMS Radio Network and on social media. As race fans enter IMS on Sunday, May 25 for the Indianapolis 500, many will receive UV wristbands (that turn color when exposed to sunlight) as a reminder to wear sunscreen, hats and sunglasses.
"I've heard many stories about people leaving the track really scorched after sitting in the stands all day," Josef Newgarden says. "I'm glad to be part of this program that encourages race fans to protect their skin. I have a friend who is a melanoma survivor and I can tell you that it is much easier to prevent this disease than it is to treat it. No sunburn, or tan, is worth the risk of getting skin cancer."
Learn more about sun safety at www.outrunthesun.org, #outrunthesun.