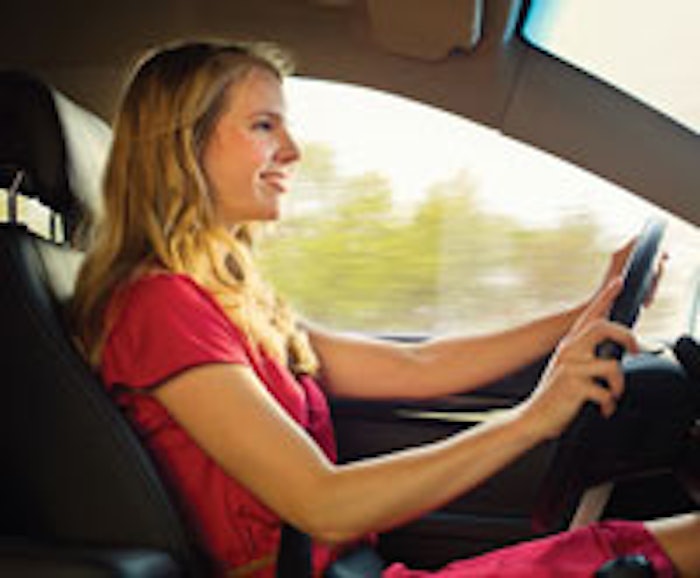 Most people don't realize that harmful UVA rays from the sun penetrate the side and rear windows of a car. For anyone who spends significant time behind the wheel, recent dermatological research proves that driving without protection from the sun could significantly increase the chances of developing skin cancer on the left side of the body and face.
Adding window film is a simple solution because it blocks up to 99% of harmful UVA rays. Eastman Chemical Company, manufacturer of LLumar window film and a global leader in performance materials and specialty chemicals, is working with The Skin Cancer Foundation to educate consumers on the importance of protecting skin while driving.
Protection from the sun while driving a car is recommended by The Skin Cancer Foundation as a part of a comprehensive sun protection program. Using window film in a car can provide round the clock protection. Window films act as a form of sunscreen—daily sun protection with a one-time application. Installation costs range from $200-$500 depending on the size of the vehicle and type of film chosen.
Two types of ultraviolet radiation cause skin damage—long-wave UVA rays and short-wave ultraviolet B (UVB) rays. Window glass effectively blocks UVB rays, which cause sunburns. UVA rays pass unencumbered through glass and penetrate deep into skin, causing long-term, cumulative damage. According to the Skin Cancer Foundation, 90% of non-melanoma skin cancers are associated with UV radiation from the sun. Unlike UVB rays, which create immediate effects like blistering, UVA rays create long term damage that isn't immediately noticeable. "That is why many people don't realize their skin is getting damaged from sitting near windows in cars, in sunny areas of their homes, or even at their desks at work," says Mark Gershenson, director, Global LLumar Brand Management at Eastman. Window films can also be used in residential and commercial applications and offer the same protection as automotive films.
Do the right thing for your left side
In a recent article "Sun Hazards in Your Car," by Susan Butler, MD, a dermatologist and micrographic surgeon at the California Skin Institute, Butler points to a trend in "wrinkles, leathering, sagging, brown 'age' spots and even skin cancers" on the left side of patient's faces. "The more time subjects spend driving a vehicle, the more severe their photodamage (sun induced skin damage) on the left side," Butler says.
And despite the popular belief that the darker windows in the rear of SUV's, CUV's, trucks and minivans offer protection from the sun, these darkened windows are made for privacy and are less resistant to harmful sunlight than window film. Passengers in the back seat, who are often children, are still susceptible to damaging UVA rays. "To achieve full protection, window film should be installed over the privacy glass," says Gershenson.
LLumar automotive window films have also earned The Skin Cancer Foundation's Seal of Recommendation, a symbol of safety and efficacy. The Skin Cancer Foundation grants its Seal of Recommendation to products that meet the Foundation's specific criteria for effective UV sun protection.
"Parents typically don't let their kids outside without sunscreen, yet most people are unprotected every time they get in the car," says Gershenson. "A simple and inexpensive fix to the problem is to have window film installed in your car. It offers round the clock protection and you don't have to think about it once it's installed."
Lower temperatures, lower cooling costs
In these times of high fuel prices, every opportunity for savings is important. By reducing the interior temperature of a car, window film can reduce the need to run a vehicle's cooling system, and that helps a car burn less fuel, resulting in reduced CO2 emissions. Infrared heat from the sun can make a vehicle unbearably hot during summer months, and window film can reduce interior surface temperatures by to up to 30 degrees.