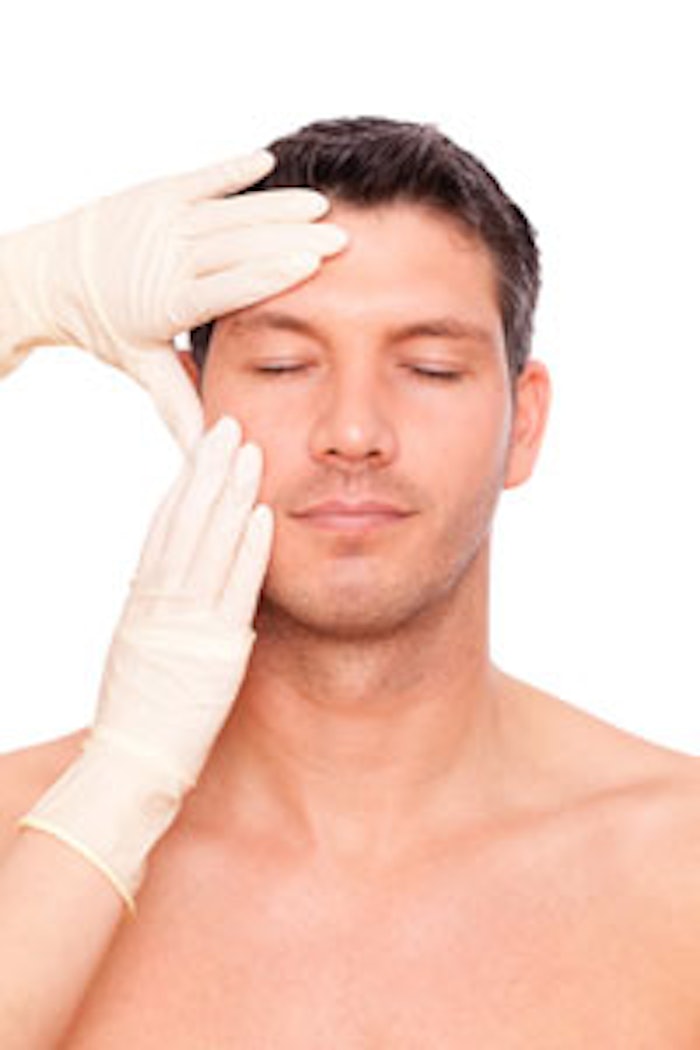 The number of men undergoing cosmetic procedures has increased in the past decade, according to Whitney Bowe, MD, FAAD, Assistant Medical Director for Cosmetic and Laser Services at Advanced Dermatology P. C. in Westchester and lead author of a new study published in the medical journal, Cosmetic Dermatology.
"My male patients are much more open and proactive about their appearance-related concerns." says Bowe. "Male patients who have tried Botox look better, feel better, and believe it gives them a competitive edge both socially and in the workplace. There's also less of a stigma associated with cosmetic procedures nowadays."
The number of Botox injections in men in the U.S. increased 258% between 2000 and 2010, according a 2012 report by the American Society of Plastic Surgeons. In fact, Botox is the most popular cosmetic treatment in men, with more than 336,000 men per year receiving the injection, which relaxes muscles and reduces the appearance of lines and wrinkles.
What accounts for this huge shift? "One reason for the surge is that men feel increasingly pressured to maintain a more attractive and youthful look in a highly competitive job market," says Bowe. The new study points out that a youthful appearance enables both men and women to generate more revenue than their less attractive, older looking peers - a valued commodity in a shrunken economy.
Men are coming to accept the reality that looking younger and physically attractive imparts noticeable social and economic advantages, including a higher salary, explains Bowe. "Men worry about their appearance more than they used to, partly because the better you look, the more money you make," she says. "And if you are out of work, it can give you an edge in finding a new job."
In the study, researchers analyzed cosmetic treatment techniques and appropriate doses of the most commonly used neurotoxins, Botox, Dysport and Xeomin. While most studies have been conducted on female patients, a consensus is emerging regarding how to approach treatment of male cosmetic patients.
Bowe offers the following tips for men seeking a younger look:
Discuss your goals with your doctor. Make sure you convey to your doctor exactly why you want to get Botox injections and the effect you hope to achieve. "There are some significant differences in men and women who undergo Botox and other injectable cosmetic treatments," says Bowe.
Choose a doctor experienced at administering Botox in men. When it comes to Botox, doctors need to take into account each patient's specific muscle mass, muscle fiber pattern and hair distribution pattern, according to Dr. Bowe. "Although exact dosing regimens do not yet exist, there is widespread consensus that men require higher doses of Botox than their female counterparts," says Bowe.
In addition to crow's feet, two common treatment areas in men include the forehead and glabellar wrinkles (commonly known as frown lines). Both areas require higher doses in men, with particular attention paid to the pattern of injection because they prefer a heavier, flatter and less arched brown than women (perceived as masculine traits), according to the new study. Treating the glabella and forehead can greatly affect brow shape, according to Bowe.
Ask about ways to alleviate any pain and anxiety. In the study, Bowe notes that many men process the pain and anxiety associated with cosmetic procedures differently than women. "While men tend to be more tolerant of pain overall, they can be more anxious about pain that may accompany cosmetic procedures like Botox because they are less familiar with it," says Bowe. We have many advanced techniques to lessen pain.
Ask about ways to prevent a bruise. Bruising after Botox is rare, but it can occur, especially in men who are taking certain medications or supplements. Since men can't easily cover up a bruise with makeup, Bowe notes that "men are especially concerned about the visual signs and side effects of the procedure." She recommends avoiding Aspirin, Advil, Aleve, Motrin, Ibuprofen, Gingko Biloba, alcohol and fish oil for 10 days prior to treatment.
Whitney Bowe, MD, FAAD is a specialist in laser and cosmetic procedures, Medical Director for Cosmetic & Laser Services at Advanced Dermatology, P.C. in Westchester, NY and a Clinical Assistant Professor of Dermatology at SUNY Downstate Medical Center. Contact, Melissa Chefec, MCPR, LLC, 203-968-6625