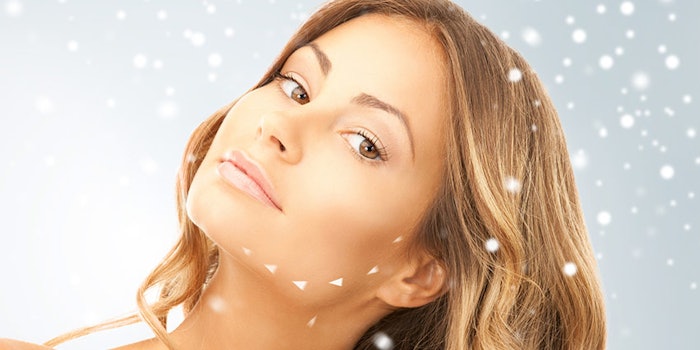 With family functions, office parties and New Year's Eve gatherings right around the corner, your clients want to look their best without the downtime. Charlotte, North Carolina-based plastic surgeon, Peter J. Capizzi, M.D., recommends three non-invasive procedures this holiday season.
"To achieve the best results with any skin or body procedure, [your clients need to] prepare in advance—keep skin exfoliated and hydrated, and don't skip those workouts—as the key to great results is starting with optimum health," said Capizzi. 
1. CoolSculpting
The CoolSculpting, a fat-freezing procedure, is FDA-cleared to eliminate stubborn fat in the abdomen, flanks/sides, double chin, inner thighs and outer thighs in men and women. The procedure is especially effective for individuals who are within 30 pounds of their ideal weight, but who have excess areas of stubborn fat.
CoolSculpting uses controlled cooling to target and kill only the fat cells in certain areas. The body naturally processes and eliminates dead fat cells in the weeks after the procedure. It requires no incisions, no extended recovery times and almost no post-operative discomfort, according to Capizzi, and can be a successful and non-invasive alternative to liposuction under the right circumstances. Patients can usually return to work or school the same day as the procedure.
2. Broadband Light
Broadband Light (BBL) is a laser that treats age spots, redness due to broken capillaries, sun damage and rosacea using targeted light beams. Desired results can be seen after three to five treatments at two- to four-week intervals, however, additional treatments may be necessary depending on the severity of the skin condition.
According to Capizzi, downtime is virtually non-existent—the patient will experience some redness for 24 hours, but can apply makeup and an SPF the next day.
3. Microneedling
Microneedling is a minimally invasive procedure that uses fine needles to puncture the skin. The tiny performations harness the skin's own capacity for healing, according to Capizzi, which then increases firmness and overall skin radiance.
Other skin textural problems, such as acne scars and wrinkles, can be minimized with micro-needling. Individuals may experience some redness and drying following treatment, but both can be covered with makeup and an SPF and will subside in a day or two.