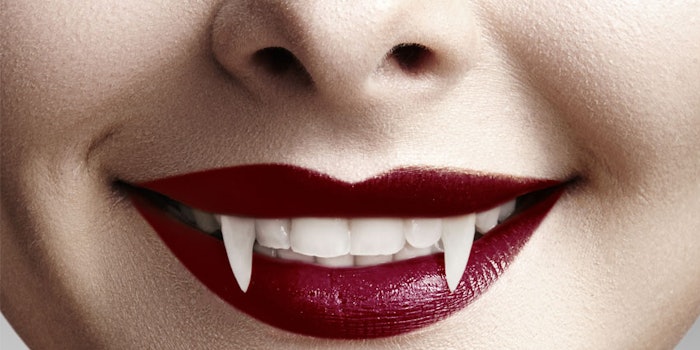 Despite its name, platelet-rich plasma (PRP) therapy—also known as the Vampire Facial—has been gaining steam with patients who are seeking facial rejuvenation. The noninvasive procedure requires little to no downtime and is an ideal treatment for anyone seeking a more youthful appearance.
Margarita Lolis, M.D., dermatologist and member of the American Academy of Dermatology, uses PRP in a variety of instances, such as injections into the scalp to help with hair growth or used topically after microneedling or fractional laser treatments. Lolis even uses PRP in conjunction with vaginal rejuvenation procedures to help improve vaginal tightness and increase sexual arousal when injected in the G-spot or clitoris.
"PRP is basically liquid gold!" said Lolis. "It is a part of your blood that does not contain red blood cells. This part is full of many potent growth factors that build collagen and helps with keeping your skin healthy overall."
Vampire Facials
Bill Cimikoski, M.D., medical director of Utah Stem Cell Clinic at Serenity Spa at Westgate Park City Resort & Spa, said PRP treatments are typically performed in under an hour. The treatment helps the skin to look more naturally refreshed, while simultaneously treating scars, stretch marks and hyperpigmentation as well as reducing fine lines and wrinkles.
"One PRP treatment will achieve good results, but often the results will be more pronounced with a series of three treatments," explained Cimikoski. "These treatments can also be combined with medical-grade chemical peels—done on another day—to help augment the desired outcome."
Cimikoski said his medical spa offers a Vampire Facial and Vampire Facelift. Patients will experience mild redness for up to two days following treatment, with apparent results one month after treatment as the skin regenerates and new collagen forms.
PRP in Practice
A variety of home-care products are recommended for use after a PRP procedure, including growth factor serums, antioxidants and sunscreens.
"There are a variety of medical-grade skin care products to help the healing and regeneration process, such as a bio-cellulose hydrating mask, epidermal repair nutrients, moisturizers and sunscreen," said Cimikoski. "The master esthetician will make recommendations for an after-care regimen that is tailor-made for each individual."
Both Lolis and Cimikoski agree that PRP therapy is a medical procedure and should only be performed by medical professionals.