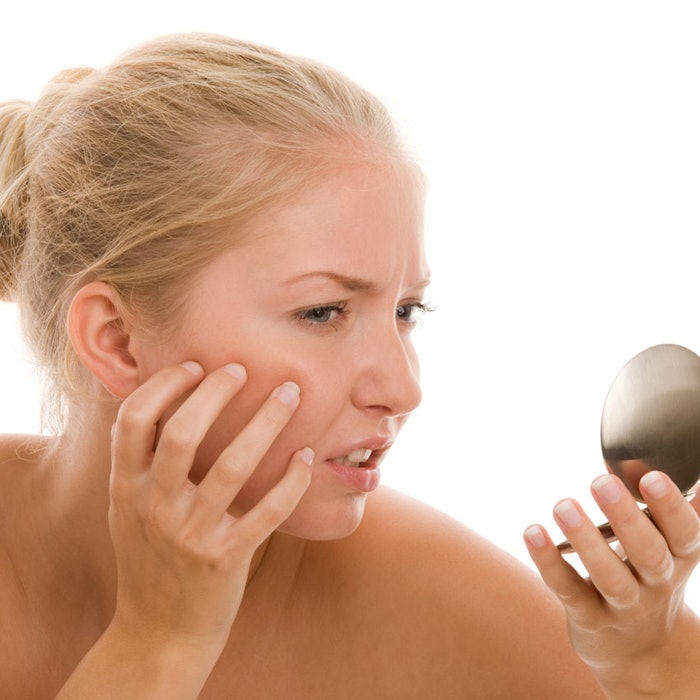 Hormonal fluctuations are responsible for a multitude of actions in the body, including regulating growth, metabolism, digestion, sleep, and skin function and texture.These fluctuations can result in noticeable changes in the skin, most commonly hyperpigmentation and acne.
Hyperpigmentation
While men can develop hormonally-induced hyperpigmentation, the American Academy of Dermatology cites 90% of all cases of melasma (the most common type of hormone-driven hyperpigmentation) as occurring in women.
Cause. The process by which the skin produces pigment (melanogenesis) is complex and can be provoked by hormonal fluctuations or cutaneous inflammation. Hormonal shifts in the body can include: oral contraceptive use, pregnancy, lactation, hormone replacement therapy or perimenopause, and thyroid or hormone disruptions. Inflammatory triggers can include: UV exposure, acne breakouts, bug bites, dermatitis or friction.
Treatment. Melasma is a challenging condition to treat because there is no definitive cause for the characteristic jagged and patchy pigmentation. It is crucial that patients follow a consistent treatment regimen that includes gentle ingredients to avoid creating unnecessary irritation in the skin.
Hydroquinone is the only U.S. Food and Drug Administration (FDA) approved skin lightener with proven efficacy in improving signs of hyperpigmentation on the skin. Chemical peels are also an effective addition to a hyperpigmentation treatment plan, being performed as often as every three weeks until improvement is shown. However, hydroquinone and chemical peels are commonly contraindicated during pregnancy and lactation—the time when many women develop melasma. For patients who can not use hydroquinone, look for ingredients including: arbutin, kojic acid, lactic acid, azelaic acid, rumex extracts, licorice extract, mulberry extract, undecylenoyl phenylalanine and phenylethyl resorcinol.
Bear in mind that those who are pregnant, may become pregnant or are lactating should consult their OB/GYN prior to adding any products or treatments to their regimen. Developing a comprehensive regimen that includes multiple ingredients listed above will target the melanogenesis process at many different steps and will help reduce the appearance of pigment on the skin—and further prevent its formation.
Acne
While acne can occur at any age, the most common period is during puberty, when the body's hormones are going through dramatic fluctuations.
Cause. Triggered by a chain reaction, hormonal acne usually starts with the 5-alpha reductase enzyme that is responsible for the conversion of testosterone into dihydrotestosterone (DHT). DHT stimulates androgen receptors at the base of the follicle, resulting in a swelling of the sebaceous gland and a surge of sebum production. Therefore, the more DHT present in the skin, the more likely the occurrence of acne. Additionally, cortisol—the stress hormone—can contribute to breakouts by releasing neurotransmitters that increase sebum production and inflammation in the skin.
Treatment. Due to the volatility of hormonal changes, hormonally induced acne can be difficult to control. Consistency is key in patients with hormonal acne; ensuring balance in the skin with a regular skin care regimen reduces the risk of future breakouts.The combination of daily care products and professional treatments can encourage dramatic, positive change in the patients' acne breakouts by increasing cell turnover, decreasing bacteria and oil production, introducing anti-inflammatory ingredients and enhancing circulation. Knowing the mechanism of action in ingredients is vital to recommending the right products to your patients.
An antibacterial cleanser containing liquid benzoyl peroxide (BPO), gluconolactone, salicylic acid or alpha hydroxy acids (AHA) can be beneficial. BPO instantly penetrates the pore, eliminating bacteria trapped in the follicle.
An alcohol-free toner containing AHAs with anti-inflammatory agents and antioxidants should also be recommended. AHAs in toners help further reduce the impaction of dead skin cells on the surface of the skin.
Corrective products containing BPO; salicylic, azelaic, kojic and lactic acids; licorice extract or retinoids should be recommended. Salicylic acid is less irritating than BPO and works by breaking down oil in the follicle and providing antibacterial benefits.
An antibacterial and anti-inflammatory moisturizer is helpful for acne. Daily use of a lightweight antioxidant and broad spectrum sunscreen designed for breakout-prone skin should also be recommended.
Due to hormone volatility, hormonally driven hyperpigmentation and acne can be extremely challenging to treat. The most important element in treating any skin condition is compliance with a regimen. Incorporating a variety of active and key ingredients that are proven efficacious for specific skin concerns is vital to improving and preventing the development of hyperpigmentation and breakouts over time.