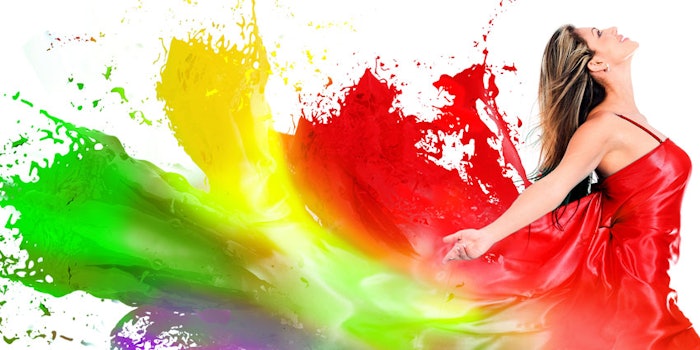 I'm not afraid of color, but I come by it honestly. My mom, who is quite possibly one of the most creative and vivacious people I know, lives her life in color. Throughout my life, I have never seen her in a neutral outfit. Rather, her ensembles are as unique and colorful as her personality, and she has always encouraged me to do the same. When I'm having a bad day, it would be easy to pull out a gray t-shirt and apply no makeup, but that would only just perpetuate my bad day and block others from seeing my inner light.
As I write this, I have just left Face & Body Northern California, where the keynote speaker for the Advanced Education Conference delivered such a powerful message, it left attendees profoundly impacted. Makeup artist and award-winning actress Eva DeVirgilis spoke to the room about self-confidence and our propensity as humans (and often as women) to apologize for our appearance. She emphasized that beauty professionals have the power to improve their client's self-confidence with skin care, color … and by listening. Our services and the power of touch have the ability to improve the client's self image to better love themselves and be positive about their individuality.
This issue of Skin Inc. is about color. Lisa Shor addresses the recent color trends of contouring and highlighting. She explains how these techniques must vary in daytime vs. nighttime, but can be used to play up or downplay specific features.
Jaclyn Peresetsky discusses how to use a clients' undertone to select the proper makeup colors for them. Her methods can be used to choose anything from foundation to eyeshadow, and they can also be used to identify colors for their clothing.
As we know, color choices are personal, and different hues and tones look different on each individual. Every makeup artist I've ever met (including the two in this issue) has always told me, "Don't be afraid of color."
I was again reminded of the power of individuality and positivity at Lira Clinical's Glam Station at Face & Body (#livelovelira). Positioned on a chair was a pillow that read "Be Happy, Be Bright, Be You." It was a pillow that reminded me of myself—and of my mom.
My mom celebrates 60 years of coloring the world this year, not only with her vibrant outfits but mostly with her message of positivity and indivuality. As a skin care professional or spa owner, you can, too. 
Yours in education,