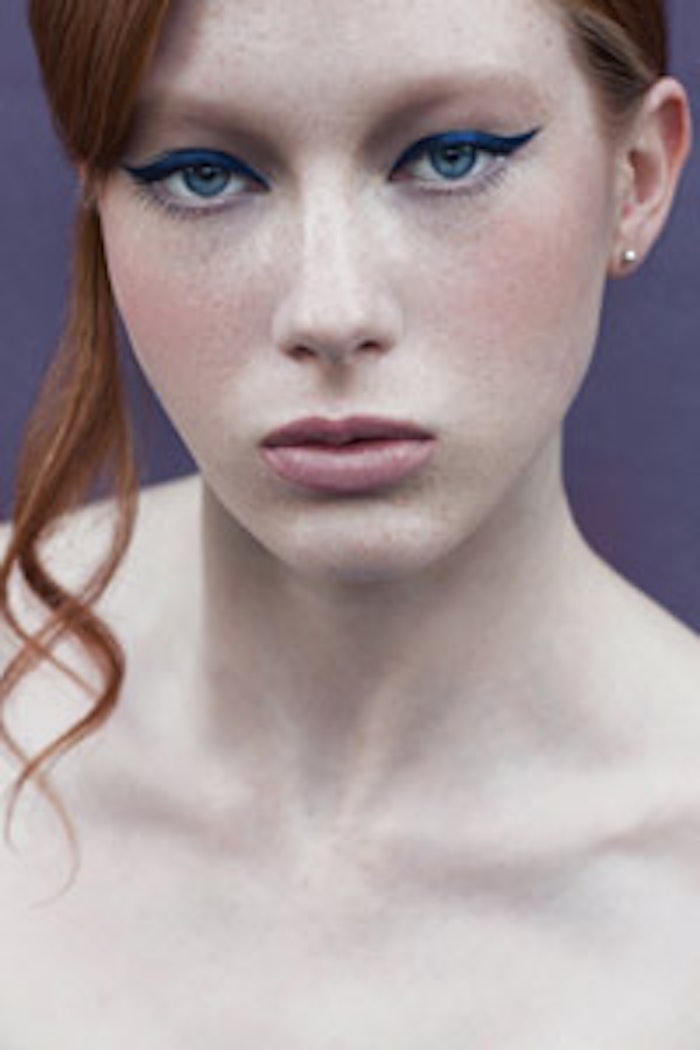 Like a twist of lemon in your iced tea, spring is the season for clients to renew and refresh their look. "It's time to open up to the possibilities, to express yourself in a new way," says celebrity makeup artist Emily Katz. As clothes lighten up in texture and tone, so do lips, eyes and cheeks. Clean, bare skin will be an important focus this spring, with light and bright pops of color to bring attention to one feature, such as the eyes or lips.
The spring palette from Pantone mixes dynamic brights with novel neutrals to create a harmonious balance. This allows for unique combinations that offer practicality and versatility, but at the same time, demand attention.
"It's almost as if fall's deep, rich colors have been left outside to be bleached by the sun," says KJ Bennett, celebrity makeup artist. "It's a nice progression into summer—very beachy, light, crisp and clean." The palette flips from the usually smoldering Miami summer to the cool side. "It's a nice contrast, colors that are saturated but not heavy," he continues. "They have depth, and are refined and sophisticated."
The softer, muted and pretty color choices allow clients to focus on natural beauty, according to makeup artist Rachel Wood. "Real beauty is back," she says.
Barely there
Fall featured heavily made-up skin that was lush, dramatic and beautiful. "We're switching it up for spring with a very clean face," says Bennett. The look is nude and natural, featuring minimal lip color and little-to-no foundation, with an option for color-blocking on the eyes with architectural brows. Not even a lot of bronzer or a sun-kissed effect is on trend, according to Bennett. "But that doesn't mean you have to leave the foundation at home," he explains. The key is soft luminous foundation that looks like bare skin. Bennett suggests a good concealer that won't cake or be heavy to spot conceal any skin issues. Then, if needed, apply a silicone-based moderate-to-sheer foundation that will not penetrate the skin. "It won't cake, and provides coverage and a protective barrier for those with acne or texture issues," he says.
Creating a barely-there face means an emphasis on skin care for spring. "The canvas has to be right," says Bennett. Skin should be assessed properly, and clients need a program that will give them an optimum look so that less foundation or concealer is needed.
He recommends avoiding tinted moisturizers and suggests serums instead of moisturizers. Hyaluronic gel serums or primers prep skin for makeup by pulling moisture from the air for an immediate smoothing effect, while polysaccharides or sugar derivatives hold that moisture in. Silica is another key ingredient for leveling texture and diffusing light.
Katz also recommends using blotting papers to counteract drag from a powder product on top of a creamier product and circumvent caking as the weather warms up. "It's key to have a flawless look without looking over or under done," says Katz. With your help, any client can learn how to do it, keeping her looking fresher and much younger.
The more natural stripped-down face means blushes are stronger, however. Katz is seeing a lot of coral and nectarine for naturally warm, but sculpted cheeks. "Find what makes the face a little brighter and go from there," she recommends. For professional application, apply blush under the cheekbones with a deep, mocha contour under the blush, blending carefully.
Truly nude
Lips will have a rosy tone that emulates lip color to continue the nude look for spring. Bennett recommends taking extra care of the lips, conditioning and exfoliating them well. You can add value to facial treatments or makeup applications by first massaging healing ointment or petroleum jelly onto lips with a baby toothbrush. "By ensuring lips are in good condition, all that's really needed is balm," he explains. "The look for spring is not super glossy, but something more satin." Bennett also recommends a nude lip liner, preferably waterproof, to shape imperfect lips.
"A very nude lip is on trend," agrees Katz. "The caveat is if she can't pull off a nude lip, don't do it." Katz recommends a Nectarine lip gloss over a darker lipstick your client already has been wearing. "Nectarine and Poppy Red for lips is super fresh—very cherubic," adds Wood.
A bright cherry red lip also can be on trend, if the rest of the face is neutral. To update the look, blot down a bright red and put a pinkish gloss over it or mix a coral color with a more brown lipstick, to wear as a stain. "There are ways to transition from fall without having to give up tried-and-true favorites," says Katz.
Color blocking
Bright pops of color give an otherworldly look, which was popular on the runways for spring. The colors for eyes are not as vivid as years' past, but are softly muted, dustier tones that are saturated but not intense. For color blocking, Bennett suggests first applying a stronger color only to the lid. Blend it to the crease. Then, apply any contouring, as well as liner and mascara. The color will be diffused a bit into more of an accent. The other option is to use a black gel eye liner to exaggerate a thick line, then blend it really quickly before it dries. "Layering a strong color on top will diffuse the color, giving the freshness of color blocking without it being super saturated or vibrant," says Bennett.
For those who are "color phobic," this makes it more sophisticated and wearable. "Use smartly bright—not neon—colors," suggests Bennett. The look also works easier with pearlized or shimmering colors over the base to catch light and add dimension. "Matte colors look hard, which is dramatic but can appear cartoony," he continues.
Light and bright can also be balanced through the use of mineral pigments. "If the color is too intense, consumers cannot control the product," explains Shawn Towne, global educator for jane iredale. "By using luminosity, you can sheer a color without taking away its intensity."
If that's still too much, use a strong color as a liner instead. "Keep it to the top lid only," suggests Bennett. In any case, reserve the look for special occasions.
Katz agrees. "Many of the colors are not wearable for most people on an average day," she says. Her advice this season is to use the colors conservatively as a shadow or a liner inside the lower lid to kick up the usual look a notch. "Play it safer for clients who work in an office," she says. "Deep blue is really wearable for everyone, but especially for brunettes or those with brown eyes." For blue eyes, use a dark brown or Lemon Zest, and for green eyes, violet or plum to make the eyes stand out.
Natural and reflective
The prevalence of green this spring is undeniable. Similar to the many shades in natural surroundings, this season's greens offer a backdrop for all other hues.
Expect to see Pantone's color of the year, Emerald, continue through to fall, as well. "Emerald is such a great universal shade that works on all skin tones in all different ways. It feels so mysterious and empowering, it's the perfect tone to reflect the women of 2013," says Kate McCarthy, glōminerals national makeup artist. Emerald reads beautifully on both warm and cool undertones. "For those on the cooler side, look for greens with a blue undertone, and for those on the warm side, look for emeralds with more of a yellow/golden undertone," she suggests.
To create an emerald smoky eye, use a brown cream eyeliner as a base. "Swipe the liner on your lid, from lash line to crease, then quickly blend a rich Emerald shadow on your lid, smoking out the brown cream," explains McCarthy. If the smoky eye is intimidating, she suggests using an Emerald liner on the top and bottom lash line for great definition.
Tender Shoots, a vibrant yellow-green, is invigorating and cheerful, like the first signs of spring. It looks very cool when used as an accent color on dark brown eyes. Tender Shoots can be used for color blocking on the outer eyelid area just above the lash line and below, then in the crease of the eyelid for a flash of color, according to corrective makeup artist Donna Mee of Donna Mee, Inc.
Grayed Jade, a subtle, hushed green with a gray undertone, is more reflective, rounding out the palette of spring greens. "It's a perfect color for blue/green or eyes that are shades of gray," says Mee. She recommends dusting a sheer layer of this shade on the lower lid or using it as eyeliner under the lower lash line to enhance the eyes. Combine this neutral green as a shadow with a cool, radiant green, such as Emerald, as an eyeliner. "This adds an unexpected, bright pop of color to a daily look," says Whip Hand Cosmetics founder Riese Lauriat.
Unexpected and vibrant
Exotic African Violet is a statement color that brings a touch of intrigue to the palette, as purples often do, and can be incorporated into many unexpected combinations. Katz always has loved lavender and violet. "Those colors look good on most skin," she says. This shade works especially well on women with yellow undertones, as well as those with dark skin tones, according to Lauriat. "There are even purple blushes on the market that can produce unexpectedly stunning results on yellow complexions," she says.
Mee suggests using African Violet on a dark brown eye, incorporating it into the eye shadow on a small eyelid or used as eyeliner on the lower lash line for larger eyes. A lip gloss in African Violet also can create fantastic colors when layered over lipsticks that are too warm or too bright to wear alone, according to Mee. Try pairing violet with exuberant Poppy Red, a sensual and celebratory shade. "This is a great basic staple for most women as a true red lipstick and looks especially nice in contrast with dark hair," says Mee.
Nectarine, a bright, effervescent citrus orange with coral undertones, is a transition from last year's Tangerine. If Nectarine lips or eyelids are too bold, try using an orange blush on the apples of the cheeks. Nothing says summer at the beach like a touch of orange. "The orange shade works well as blush and lip colors on cooler skin tones and will enhance a blue eye even when worn on lips and cheeks," says Mee. "Nectarine is always a great shade on most red heads also."
Katz recommends cheerful Lemon Zest to really open up an eye that is very deep set and make it pop, especially when paired with black or deep brown. "Loose shimmer shadows in Lemon Zest look great when dusted over the iris—the center of the eyelid from crease to lash line," adds Mee. With its spritely greenish cast, Lemon Zest is especially appealing with hazel and green eyes. The color also works wonders on neutral or pink undertones, but women with yellow or olive undertones should opt for a deeper, warm, mustard version. "Believe it or not, there is a 'right' yellow for everyone, it's just a matter of determining whether you need a light or bright shade of this happy spring color," says Lauriat.
Versatile and practical
Signifying the time of day when everything starts to wind down, Dusk Blue offers a calming sense of serenity akin to its green counterpart, Grayed Jade. Both of these colors act as the season's newest neutrals. The softened cornflower blue is a favorite of Bennett's: "It is absolutely beautiful and very soft." For an unexpected mix, pair Dusk Blue with the intensity of Nectarine. For a fresh look, soften the eyes by smudging Dusk Blue over gray or charcoal eyeliner. "Use just a little," says Mee. "Eye shadow or eyeliner of this color applied on the inner eye corners can brighten a light eye."
A warm neutral, Linen is light and airy, providing a nudelike basic that is a must-have for spring. "This cool beige tone works fabulously as a sheer shimmer eye shadow on fair to medium complexions," suggests Mee. "It can be used all over the lid for a fresh look, dabbed at inner eye corners to make eyes look less close-set or under the brow bone to enhance a perfectly groomed eyebrow." Linen as a lipstick offers the nudest nude lip look this spring.
Try pairing Linen with Grayed Jade or Dusk Blue. Katz also recommends a combination of Linen and taupe with black or dark brown eye liner and a pink lip to offset the Emerald and Tender Shoot fashions your clients might be wearing. "Don't shy away from pink because it's not on the spring palette," she explains. "Pink is still an appropriate color for lips or eye shadow this spring, absolutely."
Monaco Blue is a classic shade that offers both stability and depth to the entire palette. It truly does complement all complexions, hair and eye colors. "Consider using it on your lids," says Lauriat. "Use it to brighten up the traditional smoky eye, or blend it with a darker, dusky blue for an office-appropriate wash of color on the lids." Katz suggests creating a smoky eye with a golden bronze-brown using a deep, warm blue as an accent or shadow underneath the eye for more daring trend-setters.
"Monaco Blue is beautiful when worn as eyeliner for deep blue or dark brown eyes," adds Mee. "It's also a fabulous color choice for mascara. It is dark enough to enhance the lashes but gives a slightly softer appearance." Monaco Blue actually will lessen the appearance of tired, red eyes, so it is great for women with allergies or for those mornings following late nights, according to Mee.
Natural style
Try not to force too many new trends onto your clients. "It's better to make suggestions by introducing one or two new ideas into their everyday look," says makeup artist Wood. "A slow build is more organic and creates better natural style." People often mistake what looks good for what's trendy. "The seasonal palettes are there to serve as inspiration, not as a rule book," says Lauriat. "You never want to be a slave to them, but they can push us out of our comfort zones and encourage experimentation." The way to change things up is not to get wild and crazy with a new eye shadow or liner, but to encourage a little change, a slight twist on what your client is already doing. "Consider how the colors and finish will appear on the skin," says iredale's Towne. "Not going to extremes is a key element to keeping products versatile."
People are creatures of habit who develop affinities for certain colors, and just keep going back to the same shades and same products. "Each season, there's a committee of designers and color theorists who try to push us out of those ruts. That's where we see the value in these seasonal Pantone palettes," continues Lauriat.
This spring, there is something for everyone. Lauriat recommends working the spring trend colors into your clients' looks by taking a consultative approach to color-matching. "Part of your job is to make the client comfortable, but you should also be using your expertise as an artist to encourage clients to try new things," she says. "Think of yourself as a 'rut-breaker;' most clients want to try something new, but makeup is still very intimidating for a lot of women."
Start with what clients are comfortable wearing. Then, help them choose between a neutral eye and strong lip, or beautiful eye that's not wildly colored and neutral lip. "It's up to the wearer," Katz says. Play with the colors and give your clients permission to also. "Then make it your own; it's all about personality," she continues.
Each season has a distinct look, but a woman's makeup wardrobe is ever-evolving. "Makeup is not meant to go with clothes or the season, it's meant to go with us," concludes Towne.
Sara Mason is a freelance writer located in the Chicago area. She is a former associate editor of Skin Inc. magazine and former managing editor of GCI magazine.