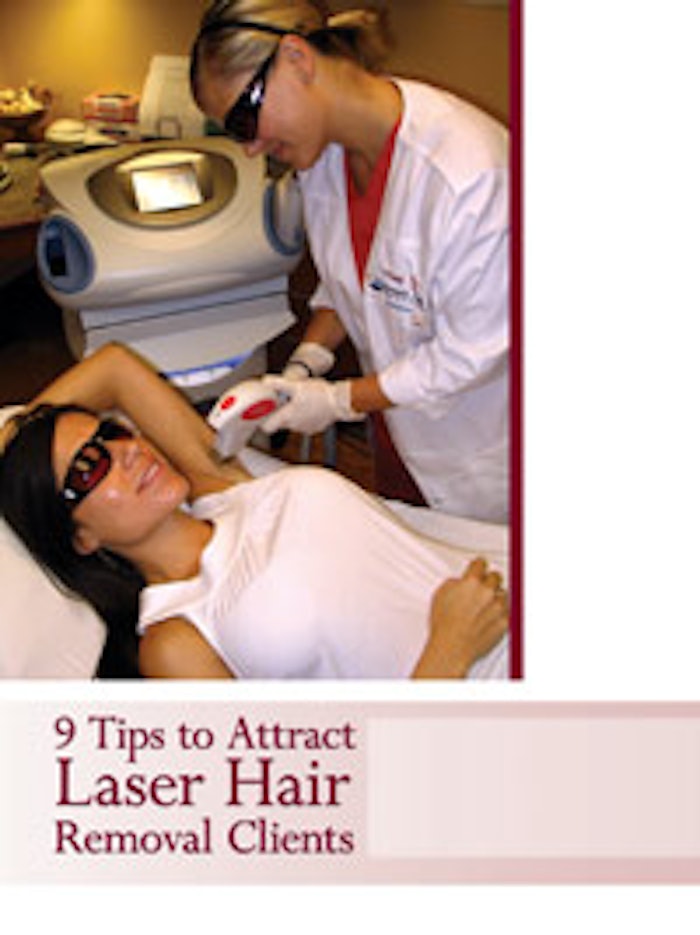 Photo courtesy of the National Laser Institute, Scottsdale, AZ
Women are hard-pressed to give up pricey lipsticks, even during hard times, and this mindset migrates into other beauty realms, as well. Even during the recent recession, thriving laser hair removal spas and clinics reported back-to-back appointments, little time for lunch and additional staffing needs.
Consider the following tips that will have clients tossing their razors and frequenting your spa.
1. Save clients money
Debbie Kenney, RN, owner of Affordable Laser, LLC, in Broomfield, Colorado, is a master of providing creative pricing models and referral incentives. She advertises savings in real money. With each $25 referral bonus, it's clear why daughters bring their mothers and mothers bring their co-workers to her clinic. "One of our biggest sources of business is personal referrals," Kenney says. "It is about exceeding expectations and letting your client do your referrals for you."
Twice a year, she offers a buy-four-get-two-free option, and that means hundreds in savings that drives increased client appointment bookings, she says. Clients patiently wait and cheerfully anticipate the cost savings. "They are real deals; it's not $5 off," Kenney explains.  
2. Upfront pricing
Although some may consider it a risky move, Kenney divulges her price list online. Some believe too much information could scare clients away, but if they cannot afford multiple treatments, Kenney knows that in six months time, they likely will disappear. Upfront pricing allows clients to determine whether six or eight treatments fit their budgets, and that helps them plan for desired services. "Some spas want clients to come in because they know they are ready to do it now. If the prices are too high, the clients will still pay because they are excited, even though they perhaps cannot afford a total package of six treatments," says Kenney.
3. Spend advertising dollars online
Elaine Greenberg, owner of Charlotte, North Carolina-based Ageless Remedies Med Spa and Laser Center, considers innovative ways to enhance her growing business. From blogging about the latest trends in laser hair removal to Facebook updates, she is convinced that the cyber landscape is vital to reaching new clients. After hiring a marketing expert with search engine optimization (SEO) expertise, Greenberg then enlisted price-per-click advertising with Google AdWords. Shortly after, her phone began to ring and appointment bookings increased. Greenberg estimates Google AdWords costs her business in the ballpark of about $2,000 per month.
As for sales volume, she says it's beyond her expectations. "The return-on-investment is so huge, it is worth every penny. It is targeted advertising," Greenberg says. Although she would not disclose her actual sales revenue, she did say she has doubled—if not tripled—her client volume, and attributes the growth directly to her website and new online advertising strategy.
4. Hire a marketing professional
Nick Zivolich co-owns Florida-based No Limit Marketing & Advertising, a business that helps clients grow their businesses with marketing and advertising campaigns. Armed with his strategic advice, Zivolich helps laser hair removal business owners zap the competition by suggesting low-cost and no-cost advertising ideas. Although it requires upfront spending, he says that when done correctly, marketing and advertising investments often help spas recoup those dollars through the acquisition of new clients.
Is it necessary to work with an ad or marketing agency with spa-specific experience? "If an agency has experience bringing results to other similar businesses, then it absolutely makes sense," Zivolich says. With two medical spa clients, he was able to create turnkey marketing plans that adjust to his other medical spa clients, as well. But finding such experience isn't always possible. Trust is the most vital component when working with a marketing professional. Pick a professional who presents a sound game plan, has done the homework and makes you feel as though they will help you maximize your return on investment, says Zivolich.
5. Opt for low- or no-cost ads
Who said nothing in life is free? That was before social media. "There's no question that all businesses should take advantage of social media. Anything you can do for free to promote your business should be done," Zivolich says.
When establishing a Facebook page, he recommends weekly updates. Entice clients into the spa with free laser hair removal giveaways, such as free eyebrow or bikini wax touch-ups, contests or $20-off online coupons. "Do not offer percent-off coupons; hard numbers are the way to go. People are using coupons more than ever," Zivolich says. In the past, Kenney has offered each client $40 off a laser hair removal service for contributing 15 canned good items during a holiday food drive.
6. Offer value-adds
With the sensitive bikini and underarm areas, a little pain relief goes a long way during laser hair removal treatments. That's why Greenberg makes topical pain relief available to all her clients at no extra charge. "We try to make it as painless as possible," Greenberg says.
7. Extend hours and staff
Realize the cyclical demands of laser hair removal. In February, try to plan ahead for the high volume experienced from March through August. Kenney races the clock to meet demand before the summer months. She says there are never enough hours in a day during bikini season. Greenberg used to operate with three full-time medically trained estheticians, but due to increased client volume, she had to hire a part-time esthetician to help meet the demand. Increasing staff allowed her to increase sales volume and meet the needs of clients who required evening appointments. Now Ageless Remedies remains open until 7 pm twice a week.
8. Consider radio advertising
Radio ads can help the audience dial into your laser hair removal concept in a unique way. For one of Florida's large hair removal clinics with operations in other states, Zivolich has seen strong success in the use of engagement ads. An example of this type of ad is having a DJ schedule a laser hair removal procedure on his back—while on-air. Then he incorporates his experience into regular programming. Although DJs take on the brunt of jokes during air-time, all that talk about smooth skin, or why manscaping is in vogue, gets listeners excited, says Zivolich.
But radio isn't cheap. "If you're in a top-20 market, such as New York, Los Angeles or Miami, broadcast media is going to cost more. The minimum monthly fee should be about $2,500, at least," Zivolich says.
9. Tap into new clients
Spa owners and laser clinics that begin targeting previously overlooked populations may be in for more clients. Zivolich suggests designing ad campaigns and marketing plans that target specific demographics—age, gender, race and cultural norms. "If your competitors are not talking to them, then you could have 100% of the market share," he says.
Sun spots may not matter much to the 20-something crowd, but 40-somethings may perk up when they hear about or see the dramatic results achieved from laser technology. People from cultures that take special care to beautify the body may be another source of target marketing, says Zivolich.
An adaptive mindset
Consumer demand will continually shift. Methods for capturing new laser hair removal clients can seem hard to pin down, but having an adaptive mindset will help you manage all the changes, and even create new opportunities. Business growth rarely happens by accident. Knowing which trends to pay attention to can help you reach the right audience, and lead with the kind of knowledge that will make you successful.
Elise Oberliesen is a health writer from the Denver area who writes for major newspapers, magazines and websites.