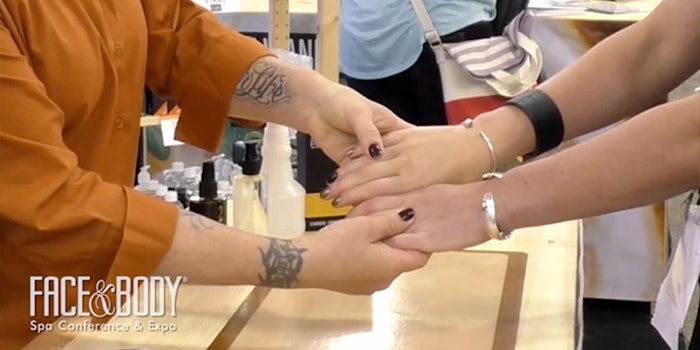 At Face & Body Northern California, Eva's Esthetics (Berodin Wax and Tu'el Skin & Body) owner Lori Nestore, showed attendees how to deeply cleanse the skin while also imparting moisturization by going through the cleansing protocol on the hands. The protocol involved two steps, as outlined below. The cleansing oil cleanses dry ski with antioxidants and hydrating plant extracts. Meanwhile, the finishing toner includes a soothing complex of cucumber, dandelion, elder tree and hops, that acts as a mild astringent and improves the texture of the skin.
Step 1. On dry skin with dry hands, massage 5-6 pumps of cleansing oil onto face and neck.

Step 2. Massage 5-6 pumps of herbal toner over cleansing oil. Add cool water gradually to emulsify and turn milky white. Rinse until you no longer feel the cleansing solution.