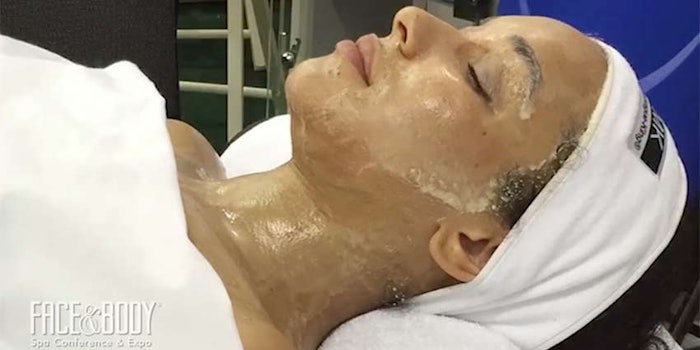 At Face & Body Northern California, DMK showcased its Signature Enzyme Therapy treatment protocol, here seen in time-lapse. The treatment features transfer messenger enzymes to enhance optimal skin function. It works with the internal functions of the skin to increase circulation, oxygenation and lymphatic drainage by using reverse osmosis to 'back flush' fluids through the cell wall, leaving a clean clear, toxin free matrix. It enhances collagen production strengthening and firming the skin, and also induces a 'plasmatic effect' in the skin by dilating the peripheral capillaries and improving cellular oxygen uptake and delivering fresh nutrients to the skin.
The steps of the treatment include the following:
Step 1. Deep cleanse and removal with warm towels.
Step 2. Apply a thin layer of peel to exfoliate the skin and remove with lukewarm towels.
Step 3. Prep the skin with a potent, stabilized form of vitamin C.
Step 4. Apply two heaping teaspoons of the first enzyme masque mixed with one of the company's skin type-based add-ins. Mix into a fluffy consistency using a fan brush.
Step 5. Apply the mixture starting with the décolleté to the face, applying upwards and outward. Let the mask sit for 45 min.
Step 6. Soften the mask with a hot, moist towel. Then work a mixture of warm water and deep pore cleanser onto the skin with circular strokes to remove the mask with a wet face cloth. Step 7. Apply treatment serums and finishing mist. Apply a nourishing cream based on skin type and infuse with massage.