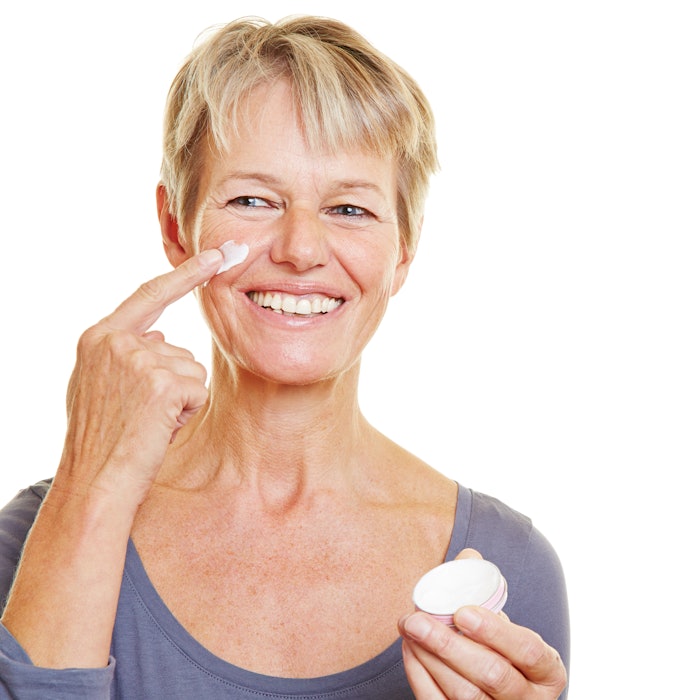 As skin ages, its collagen levels decrease, and it is more difficult for the skin to retain moisture. After the age of 50, skin routines should be crafted to make up for the lack of collagen, specifically during winter. An article from Well and Good detailed five dry season skin care tips for women over 50.
Related: 3 Tips For Glowing Winter Skin
1. Hydrated Skin
Skin hydration is important for all ages, but it becomes especially important as skin ages because dehydrated skin can more prominently display fine lines, wrinkles, sagging and volume loss, according to Dendy Engelman, M.D., a board-certified cosmetic dermatologist and Mohs surgeon at Shafer Clinic in New York City.
Engelman suggests women over 50 use thicker, more occlusive products and those formulated with nourishing and hydrating ingredients like hyaluronic acid, ceramides, peptides, and squalane.
2. Retinol
Retinol is the gold-standard anti-aging ingredient for fewer lines and wrinkles, according to Engelman. It benefits the skin barrier appearance and boosts collagen production, improving skin tone and evenness. She suggests consumers start retinol use in their 20s.
Retinoic acid, an ingredient found in retinol and retinoids, can attach itself to other skin cell receptor sites and transform it to behave like a younger healthier skin cell. It also acts as an antioxidant to prevent free radical damage, a prominent sign of aging, according to Engelman.
3. Use a skin toning device
A variety of cosmetic tools exist to help create smoother, firmer and more youthful-looking complexions at home, including skin-toning devices.
4. Wear SPF
Wearing sunscreen every day is the golden rule for skin care, but it becomes even more important as skin ages. External aggressors like UV rays, blue light from screens, pollution and temperature can cause signs of aging to worsen.
5. Embrace chemical peels
Several skin carrier functions that slow down with age can be helped with exfoliation. Chemical peels boost collagen and elastin production while removing signs of aging. It can improve the overall health and appearance of the skin barrier, according to Engelman.