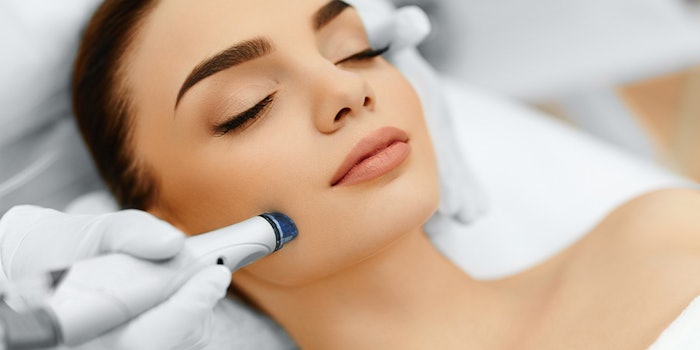 When it came to skin care, 2020 was the year of at-home experimentation. With hope for some normalcy in 2021, clients and estheticians alike are looking forward to the treatment trends that are predicted to come. 
The Zoe Report (TZR) spoke with skin care experts such as  Joshua Ross, celebrity esthetician and founder of SkinLab, who have predicted the top 10 in-office treatments to come in 2021.
1. Laser Resurfacing Treatments
Products for at-home resurfacing became popular in 2020 as people were looking to improve the look of dark spots, rough textures, fine lines, blemishes and pore sizes. But experts are predicting clients will want a more intensive treatment that will help mitigate these issues even more.
Ross explained, "Instead of [using] four to five [different] lasers, there are now lasers that can address a whole myriad of skin concerns at once, making them far more appealing. [Requiring] a lot less downtime, or even no downtime or mild downtime people are going to be more open to trying them."
2. Neuromodulators & Natural-Looking Filler and Injectables
Cosmetic procedures have been predicted as a trend for 2021 due to the realization of "zoom face" causing clients to opt for elective cosmetic procedures. 
Neuromodulators are wrinkle-relaxing injections of botulinum toxin, known as Botox Cosmetic, Dysport or Xeomin and are used to treat wrinkles, frown lines and crow's feet, according to the American Society for Dermatologic Surgery.
Day spas have begun to offer services such as Botox, fillers and Kybella and medical spas are creating custom injectable options for customers.
"Natural-looking enhancements, instead of radical alterations, will continue to be among the top trends in 2021. The emphasis will be on achieving facial optimization while maintaining individual uniqueness. We now have an arsenal of newly FDA-approved resilient hyaluronic acid (RHA) filler technology to help us achieve these results," said board-certified dermatopathologist Michelle Hure, founder of OC Skin Lab who told TZR. 
Related: #10Things Clients Want From Doctors to Look Better Online
3. Radio-Frequency Microneedling & Microcurrent Facials
Radio-Frequency microneedling is nothing new and both radio-frequency and microcurrent treatments can help offer tighter skin.
Microcurrent technology is a low-level electrical current that mimics the body's own biological current which can help give a lifted appearance to the skin and can be offered with services such as facials, microder­mabrasion and dermaplaning. 
Devices are being launched that contain a radio frequency microneedling device that delivers heat into the deeper layers of the skin to help in rebuilding collagen and firming up the skin. 
4. Regenerative Skin Care
"I believe that the focus will be more on regenerative medicine. Using your body's own biological material such as growth factors to rebuild skin quality and health with treatments such as Microneedling with Platelet Rich Plasma (PRP) [will be a rising trend]," said co-founder of The Route, Nancy Pellegrino N.P.
A more common known treatment, the Vampire Facial which gained popularity in 2020, is one use of PRP, but it can be used for not only general healing, but can even help treat vitilgo. 
Related: The Benefits Of Blood: A Look at PRP and PRF
5. Regenerative Eye Enhancements
After a year of little sleep, lots of stress and everyday meetings online, people are wanting to fix dark circles, eye bags, and loose under-eye skin. Treatments like microcurrents infused into eye treatments can help with long term results. 
6. Decongestant Treatments
Toxins are everywhere and they can clog pores which causes issues like acne. Experts are predicting that treatments catered to decongesting and unclogging the skin are going to be a big trend for clients in 2021.
Celebrity esthetician and skin care expert Olga Lorencin mentions, "We will continue to wear a mask, so there will continue to be a lot of congestion around the chin area. Every esthetician will use their own system, but the best way to decongest the skin is with a combination of Alpha Hydroxy peels, extractions, microdermabrasion, and finish with a hydrating mask and LED light."
7. Collagen-Boosting Treatments
Around the world, collagen is becoming an ingredient clients are looking for. These treatments are used to help leave the skin look instantly fresher and more radiant.
Celebrity facialist Joanna Vargas, founder of Joanna Vargas Salons and Skincare, expects collagen boosting technology will make its debut in 2021, with a focus on using equipment instead of products to boost collagen.
Related: Collagenwave Treatment Grows in the UK
8. Light Emitting Diode (LED) & Near-Infrared (NIR) Therapy
A lot of trends can intertwine, like non-invasive machines that combine radio-frequency with LED to treat fine lines and wrinkles, skin elasticity, sun damage, redness, irritation and firmness for a youthful, healthy complexion.
Danielle Gronich, co-founder of CLEARSTEM Skincare and owner of San Diego Acne Clinic, recommends, "I find that microcurrent and red light go exquisitely together. Doing [these treatments] at the end of a [facial] seals in all of the product that we used during the hour. The immediate plumping effect is delightful and does not require much additional time or cost."
9. Chemical Peels
Peels can address several skin issues. Certain chemical peels, "provide intense chemical exfoliation to help resurface away dead skin, soften fine lines, and clear up uneven texture, scars, and pigmentation," according to TZR.
A key consideration when it comes to chemical peels include picking the right one for the client's skin type. This doesn't just include knowing the ingredients but knowing the concentration of the ingredients and being aware of the client's skin type.
Related: Peeling Good: Boosting Your Education on Peel Treatments
10. Vibration Therapy
From vibration healing sprays to vibration therapy, experts are predicting that clients are going to be looking at non-invasive treatments to achieve their desired results such as youthful skin.