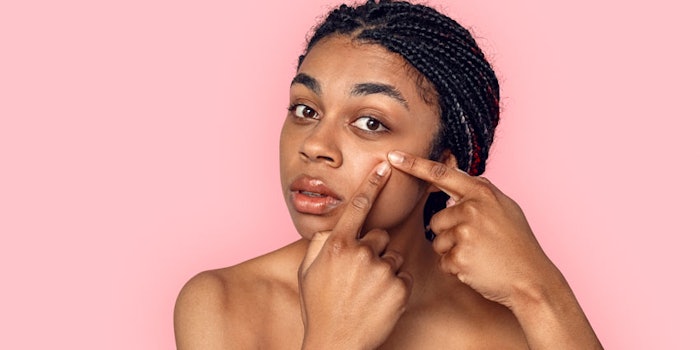 Having your clients desperately pick at the pimples on their face while they can't see you is a nightmare for any esthetician. Celebrity esthetician Candace Marino is particularly horrified by the thought of self-extraction. However, instead of fighting the inevitable, with people being stuck bored and indoors right now, Marino thought it would be better to provide a safe extraction guide. That way, when your clients finally do come back to you, they hopefully have not done a ton of damage on their skin. 
Marino's Pore Protocol
Marino provides her step-by-step tips to safely getting rid of those pesky blemishes while your clients wait for their next facial. 
Cleanse. Instruct for your clients to use a gentle cleanser with light acids for mild exfoliation.
Steam.The most cost effective way to steam at home is by boiling hot water. Your clients can even throw some tea in there to give off spa vibes. They should hover over the pot with a towel over their head to trap in steam for 5 minutes to allow their skin to soften. Make it very clear that they should not do this part of self extraction any longer or it can cause transepidermal water loss (TEWL) and dehydration.
Note: Steaming is NOT recommended for anyone with melasma or hyperpigmentation.
Prepare your tools. Probably the most important tip for your client when it comes to self extractions is that they should be using clean fingers only. Let them leave the digging devices to you, the professional, when they get to see you again. 
Pinch and pressure. After your clients wrap their fingers in tissue or cotton, instruct them to gently pinch the skin together and press upward. Inform them that they should press only the direction they want the congestion to go. If they're pressing down into the skin they're making things worse and potentially spreading bacteria under the skin.
Top tip: Be gentle and give pores a break in between and minimize nails
Note: Leave aggravated or super stubborn acne alone.
Cleanse. Repeat the same steps as above. Clients can also consider using ice globes or rollers after they are finished to calm the skin.
Top 10 Pore Improving Tips
Extract with caution and care;
Keep face free from cellular build up and environmental sludge. Triple cleanse if necessary;
Clean pores will always appear smaller so exfoliate daily;
Strengthen collagen and elastin with peptides;
Support balance using humectants and moisture binders like hyaluronic acid;
Don't overly dry. Limit benzoyl peroxide, as it can create a rebound effect of more production of sebum;
Incorporate BHA in skin care daily;
Use hydrating, calming and soothing serum after extractions;
Use retinol for turnover without trauma; and
Go for the big guns weekly with a peel.
Don't Confuse Blackheads
Marino wanted to point out that your clients may not understand that little dots on their noses most likely aren't blackheads; they are sebaceous filaments. Be sure to break down how your clients will be able to tell a blackhead from a sebaceous filament.
Blackheads. These will be raised, textured, truly black, thick and waxy. The skin oils solidify, forming plugs which can dilate the pore further leading to enlarged pores.
Sebaceous filaments. These are the normal function of the follicle. Have your clients look for characteristics like narrow, lighter in color under the skin. They do not fully obstruct the pore and are not meant for extractions.
Help support your clients during this time by educating them. Surveys show that they are dying to come back and get their facials again, but in the meantime make sure they are maintaining all of the hard work you put into their skin.