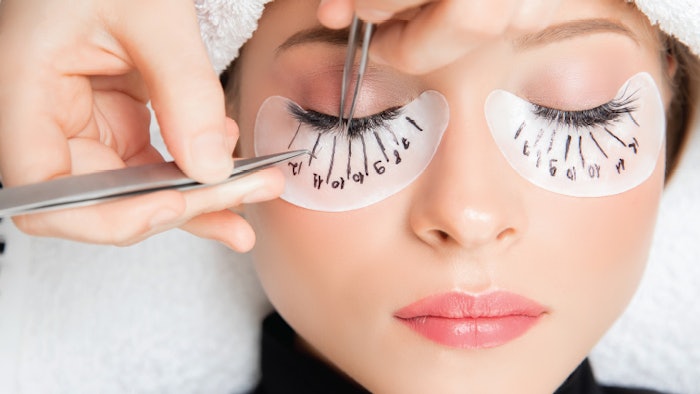 Eyelashes have played a significant role in human culture and societies for centuries, dating back to ancient Egypt and Rome. According to USA TODAY, the first U.S. patent was secured for "artificial lashes" in 1911 by a Canadian Inventor named Anna Taylor.1 Although it has been speculated that ancient Egyptians enhanced their eyelashes with Kohl and ointments, eyelashes became quite prominent later in the 1960s when Elizabeth Taylor starred in the Hollywood adaptation of Cleopatra. Even before then, Marilyn Monroe was mesmerizing men and women alike with her extra flirty lashes, and the famed model Twiggy, then made it her own with her heavy eyeliner and extreme false eyelashes, cementing her into eyelash history.
Enhancing Lashes
The 2000s saw a quantum leap in the evolution of lash enhancements with the advent of the eyelash extension. This seemingly unstoppable momentum in this high demand segment of the beauty industry begs the question: what might we be overlooking as consumers flock to specialists and stores to purchase a variety of eyelash focused products and services? With an industry moving at warp speed to keep up with consumer demands, it is essential to keep integrity of the lashes as the key component to hands-on service implementation. It is also as important to educate our customers, as it relates to the overall health of not only their skin, but also their lashes.
Lash enhancements, through make-up techniques and the range of beauty enhancement services, play a significant role in the confidence of an individual by making the eyes appear larger and brightening the eye color. Eyelash embellishments that go to the extreme with thickness and heaviness can have the opposite effect and give the appearance of closed in and droopy eyes. At times, this can also affect the overall health of the eyelashes. In order to improve our industry's output we must first consider the purpose of our eyelashes. Unlike popular belief, lashes are not actually intended to attract a romantic partner or land that new job (although beautiful lashes can service that purpose as well).
Related: Lifting and Tinting Lashes
Beyond Beauty
Our eyelashes don't just exist for the purpose of beauty. Our eyelashes are our first line of defense and protect our eyes from dirt and debris. In a study in the Journal of the Royal Society Interface, researchers found that not only do our eyelashes protect our eyes from airborne particles, they also can reduce evaporation tear film.2 Helping our eyes stay lubricated is important for our overall eye health. The Journal also points out that because our eyeball is exposed, it makes it vulnerable to viral, bacterial, fungal and parasite infections and associated medical conditions2 Considering the importance of the role of lashes, one can appreciate the need to take into account any measures that will allow professionals to continue to perform eyelash enhancement services, while at the same time maintaining the overall health of the natural eyelash.
While there are countless products designed to aid in improving the length and health of the eyelashes, I've yet to find a hands-on professional service designed for this purpose. Until such a service exists, professionals and consumers would benefit from knowing what methods are proven to prevent damage to our natural eyelashes.
I sat down with eyelash master Charity Engebretsen, founder and owner of Master Lash By Charity in Los Angeles to get her take on providing eyelash services that look natural, while at the same time consider the overall health of the eyelashes.
Continue reading about how to maintain lash integrity during professional services in our Digital Magazine...
Leah Simon-Clarke is a licensed aesthetician and consultant with 24 years of experience in the industry. Her success has been driven by honing her skills in customer service, service innovation, marketing and public relations. Find Simon- Clarke through Instagram @LeahSimonClarke or Linkedin by name.