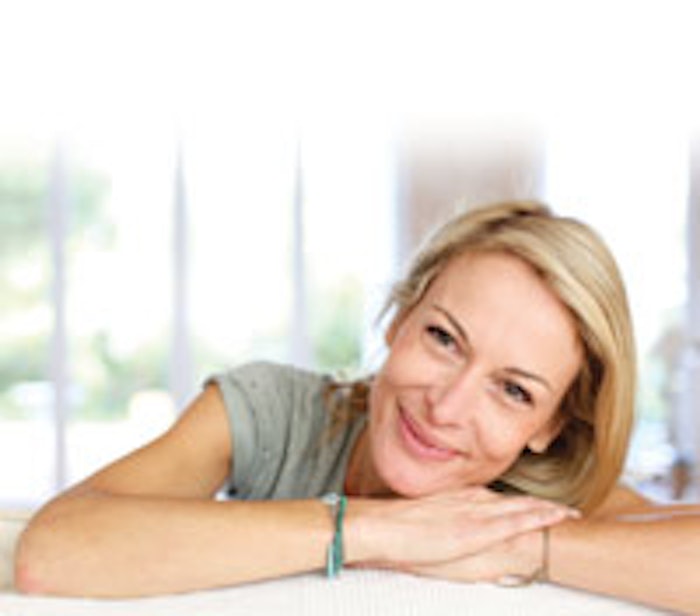 Editor's note: As always, Skin Inc. magazine recommends that skin care professionals obtain the proper training before offering any new treatments in their skin care facility.
Hyperpigmentation, acne, dehydration and uneven texture are just a few skin challenges clients struggle with, but there is perhaps none more pervasive than aging. Although you may not be able to stop the inevitable hands of time, it is possible to help clients effectively fight the signs of aging and maintain a healthy, youthful appearance.
This requires an integrated re-youth plan that addresses a variety of issues depending on the client's skin, as well as intrinsic and extrinsic factors. There are, of course, a few integral components anti-aging regimens should include to help clients achieve their goals. Understanding the primary issues that cause skin to appear aged—such as pigmentation, cellular damage and moisture loss—enable skin care professionals to address previous damage, and help restore skin to optimal health and vibrancy.
Hydrate, hydrate, hydrate
When the skin is depleted of hydration, it loses elasticity, plumpness and luster, and will often become more susceptible to lines and wrinkles. Understanding the causes of dry skin enables skin care professionals to better treat clients, and help return the skin to a plump, dewy state.
Dry skin conditions can range from a lack of moisture, to eczema and psoriasis. Dryness could simply be an absence of moisture or, in some cases, it could mean an adequate amount of sebum is not being produced. Dry skin can be caused by intrinsic and extrinsic causes.
Intrinsic causes. Internal factors of dry skin include genetic issues, medications, antihistamines, antibiotics, illness and aging. Thin skin and fair complexions are typically more prone to dehydration, as well. Bodies also tend to shed natural water content with age—and the first place this occurs is in skin.
Extrinsic causes. To help clients achieve healthy, hydrated skin, urge them to eliminate some or all of the extrinsic causes mentioned next with a particular emphasis on sun exposure.
Sun exposure. We've all seen the leathery results of those who have spent too much time in the sun.
Harmful cosmetics. Alcohol-based products and clay-based masks, particularly bentonite, can be very drying.
Daily skin treatments. The overuse of scrubs, as well as under-cleansing and over-moisturizing, can dehydrate the skin because moisturizing agents merely sit on the surface, unable to penetrate through the layer of buildup.
Provide clients with a home-care system of cleansing, nourishing, moisturizing and protection. This will vary client-to-client, but keep in mind: Dry skin issues can begin as young as 26. Age and severity of dryness will factor into developing a customized system. In the treatment room, use milk-based masks rather than clay, and follow any peel treatments with nourishing and skin-building antioxidants, vitamins, essential oils and growth factors. Particularly, treatments to rehydrate skin will work best depending on the time of year.
Winter and fall. Antioxidants are the name of the game. Begin with a milk-based cleanser, followed by an antioxidant-rich enzyme and an antioxidant serum to help re-nourish the skin. A grape seed oil-based serum can help infuse the skin with hydration and additional antioxidants. A chocolate antioxidant mask will work to soothe and rebuild dry, depleted skin. Finish with an omega-6 essential fatty acid serum and mineral SPF 30.
Spring and summer. Focus on increasing blood flow, exfoliating dead cells and saturating the tissue with pure oxygen. Begin with an antioxidant-rich cleanser, such as a pumpkin-based formula. Exfoliate the skin with a wine extract and an alpha hydroxy acid (AHA) peel solution to firm, tone, soften and leave skin feeling smooth and polished.
Clients may continue the care at home with a system of antioxidants, growth factors and hyaluronic acid, based on their individual skin care needs. These options should be available in your retail area and recommended during the client's treatment. Don't forget to suggest a daily application of sunscreen and drinking lots of water to stay hydrated.
Pigmentation and aging
Bright, glowing skin is one characteristic of a youthful appearance. Unfortunately, as clients age, and their skin is confronted by more assaulting elements—UV rays, medications, hormonal changes—skin can develop an uneven tone. Hyperpigmentation can occur in any skin type: oily, dry, dark and light. Simply put, it is excessive stimulation of melanin in the skin caused from either intrinsic or extrinsic causes, such as moisture loss.
The primary extrinsic culprit of hyperpigmentation is the sun. In many cases, the effects can be amplified with medications and chemicals, including perfume. In all hyperpigmentation cases, however, sun exposure inevitably makes it worse. Common causes include:
Medications and chemicals;
Sun exposure;
Hormonal changes;
Pregnancy—often resulting in melasma; and
Acne trauma and inflammation.
There are many treatments for hyperpigmentation, from melanin-suppressants, to peels and mild home-care systems. A client skin assessment is necessary to determine which route is the best fit for each individual client. Treatment results vary greatly depending on discoloration level (cellular or superficial). Through a combination of home-care and professional treatments, there can be significant change and correction.
In the treatment room, combine both brightening and skin-building ingredients, because the goal is to correct the issue and set the skin on the right path. Ingredients that work to correct discoloration, inhibit melanin synthesis, brighten and treat post-inflammatory hyperpigmentation, include:
Salicylic and glycolic acid to begin the regeneration process;
Ten percent trichloroacetic acid (TCA) and AHA to further breakdown dead surface cells, increase regeneration, soften fine lines, reduce hyperpigmentation and improve skin tone;
Kojic acid, azelaic acid, L-arbutin, Bellis perennis (daisy) to aid in suppressing melanin and provide support to minimize post-inflammatory hyperpigmentation; and
Retinol, L-carnitine and tripeptides to improve uneven pigmentation and produce radiant skin, while peptides help to rebuild the skin.
A customized and complete regimen focused on correcting and rebuilding the skin will create a more even skin tone, significantly lighten discoloration, improve texture, smooth fine lines and leave skin radiant. With any brightening program, be sure to incorporate a growth factor formula and daily sunscreen.
Rebuilding collagen
Collagen is the main component of connective tissue and the most abundant protein in mammals. It forms in elongated fibrils found in the tendons, cartilage, bones, blood vessels and skin, among other areas.
In skin care, professionals know collagen is responsible for fighting the appearance of fine lines, wrinkles and saggy, slack and crepelike skin. Unfortunately, production of collagen decreases as clients age and environmental assaults continually work against the skin. How does this occur and how can skin care professionals help clients fight it?
Damaging elements, such as the sun, pollution, stress, smoking and free radicals, continually work to slowly wear down proteins. Fibroblast cells step in to repair damaged collagen fibers by generating new ones, but this process can decrease with aging. When the process cannot be completed, wrinkles and fine lines may appear, and skin may slacken.
How can this process be turned around? There are few ways you may help clients. First, talk to them about lifestyle habits. Proper sleep, stress control and a healthy diet will play a significant role in collagen production. Diets high in omega-3 fatty acids and antioxidants will help reduce inflammation, which impacts collagen production and fights free radicals. Sun protection is also vital—a SPF 30 worn daily will help prevent much of the aging effect.
As for treating the skin directly, support clients with collagen-promoting topicals and treatments. The topicals must be able to penetrate the skin barrier in order to effectively stimulate collagen production. Powerful collagen-boosting ingredients include retinol, L-lactic acid, pyruvic acid, goji berry, vitamin C, arginine, peptides and epidermal growth factors.
There are also injectables and other treatments, such as lasers, that may prove effective for your client. Just be sure to support those efforts with a collagen-building home-care regimen.
Aside from collagen production, past cellular damage and DNA-related mutations also must be corrected to help bring the skin to optimal health. These mutations and damages are caused by many of the same extrinsic and intrinsic factors mentioned previously
A spotlight on cellular damage
Skin cells are amazing structures, but they're also extremely sensitive. Cells do have the ability to repair themselves, but aging slows this process, and there are a number of elements that threaten their integrity.
The damage occurs when oxidative stressors, such as the sun, pollution, stress, smoking and free radicals, penetrate skin cells, breaking down collagen and impacting the DNA structure of the cell. Throughout time, as damage occurs, the cell is more likely to replicate it—the damaged cells multiply.
Similar to preventing collagen damage, you'll want to talk to clients about lifestyle habits and a healthy diet. Because antioxidant defenses decrease with age, it is important to increase intake through diet and topicals.
Antioxidants are vital in fighting the signs of aging, internally and externally. Getting these nutrients naturally from food is always the best option, but supplements and topicals applied to the skin also provide benefits. Support clients by giving them a list of antioxidants to look for—see Antioxdiant-rich Foods to Support Aging Skin. Topicals rich in antioxidants will firm, tone, tighten, refine lines and give skin an overall glow. Look for ingredients, such as ascorbic acid, tocopherols, retinoids and L-lactic acid, to name a few.
Set expectations
In the treatment room, restore the skin and get clients started on the right track with a corrective peel (See Treatment How-to: Aging Skin Facial) and antioxidant-rich treatments. Keep in mind that even the most aggressive re-youth programs won't go far if the skin is not protected. Damaging elements and UV rays are constantly threatening the skin and breaking down the integrity of cells. Talk to clients about the importance of protecting their skin and remind them that overexposure to the sun is the primary culprit of premature aging. It is also important to note re-youth plans take time and lifestyle choices will impact results. Be sure to set expectations early, and talk with clients about lifestyle choices that will help support the overall effort.
GENERAL REFERENCES
www.ncbi.nlm.nih.gov/pubmed/18492188
www.ncbi.nlm.nih.gov/pubmed/23837155
www.rhondaallison.com/downloads/the_art_of_skin_peels.pdf
(All accessed Sept 19, 2013)

Rhonda Allison, a pioneer in the skin care industry, is the founder and CEO of Rhonda Allison Cosmeceuticals and RA for Men. She is also an author and internationally known speaker with more than 30 years of esthetic experience. She can be contacted at 866-313-7546 or [email protected].