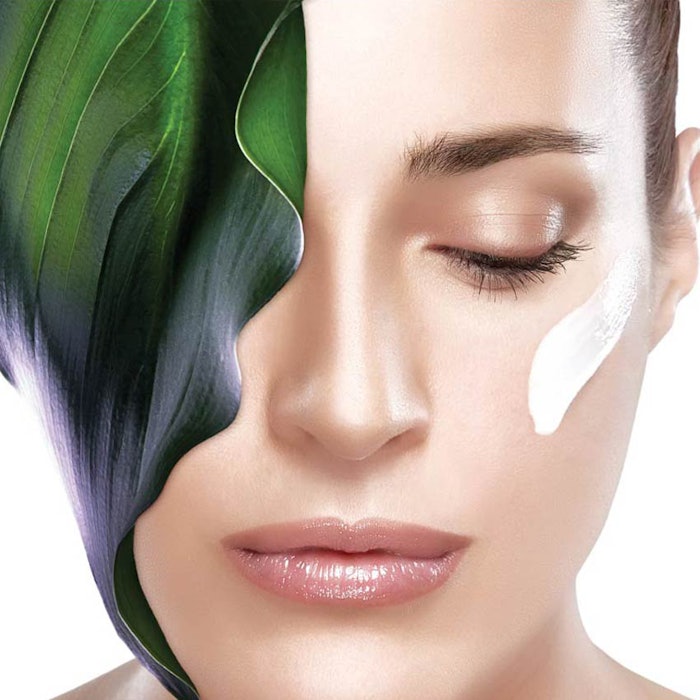 The eyes are one of the most important facial features in contributing to each person's unique appearance, personality and how one communicates with the outside world. Unfortunately, the eye area is also one of the first places on the face to show the visible signs of aging.
The very expressions that indicate happiness, kindness and sadness are also the major contributors to the development of wrinkles. Facial muscle contractions in combination with environmental factors and the passage of time all contribute to aging of the eye area. To combat this unwanted visible aging, there are a host of new and exciting ingredients available that are designed specifically for this sensitive skin.
Peptide power
Peptides work to enhance natural processes, such as stimulating collagen production and blocking the enzymes that destroy elastin to help skin remain firmer and more resilient. A variety of hardworking peptides are available for skin treatment, all of which perform specific functions.
Palmitoyl tripeptide-38. The newest generation of matrix-building peptides, this ingredient can be used successfully to treat all skin, but it is especially effective in treating the eye area, as the loss of collagen and other matrix components is highly apparent there. This amino acid chain has demonstrated the ability to increase the production of six highly important dermal and epidermal components, as well as one important protein.
Collagen I. The most abundant form of collagen in the human body, present in scar tissue healing and repairing, it is estimated to comprise 90% of all collagen found in the body.
Collagen III. Often called the collagen of youth, produced by young fibroblasts during the early phases of wound healing.
Collagen IV. Forms the bases of cell membranes and works closely with laminin-5, anchoring keratinocytes.
Fibronectin. Involved in many processes, including tissue repair and cell migration/adhesion, fibronectin acts as an anchor, adhering cells to collagen and binding various components within the extracellular matrix (ECM).
Hyaluronic acid. A key component of the ECM necessary for proper dermal function, such as water retention in the tissue, it regulates activity in cell proliferation and migration—wound healing—in the dermis and the basal layer—dermal-epidermal junction.
Laminin-5. A key component of the ECM involved in the healing of injured epidermal cells that also plays a role in migration and anchoring keratinocytes.
Heat shock protein 47 (HSP47). A chaperone protein functioning as a support for maturing collagen and other matrix components to ensure they reach maturation, HSP47 acts as a project manager, making sure the synthesis of these six major components of the ECM work at their highest potential.
Myristoyl pentapeptide-8 and myristoyl hexapeptide-4. Excellent choices for the eye area, these two peptides stimulate collagen synthesis and tissue repair without inflammation, and provide an effective alternative to human growth factor.
Myristoyl nonapeptide-3. An exciting alternative to retinol, which has proven skin benefits, but can often be too irritating for some patients, this new peptide mimics the action of retinoic acid—vitamin A—without causing negative side effects, such as stinging. This retinopeptide has demonstrated the ability to increase collagen production and increase the processes associated with improving retinoic acid activity in the skin, as well as regulating connective tissue growth factors that lead to more youthful fibroblast activity.
Acetyl tetrapeptide-5. A peptide that inhibits the glycation that ultimately leads to collagen cross-linking and ECM breakdown, its anti-edema effects increase skin elasticity and moisturization, while reducing undereye puffiness and improving the appearance of dark circles around the eyes.
Dipeptide diaminobutyroyl benzylamide diacetate. A next-generation peptide that has a fast-acting wrinkle-smoothing effect around the eyes, diminishing wrinkles and expression lines, it functions by attenuating the muscle contractions around the eyes that are responsible for creating the aged look of this important facial area.
Beneficial botanicals
As the research and momentum for therapeutic plant species grows, more options become available for high-quality botanically based products that deliver a restorative action to the skin to enhance the treatment.
Orange. Citrus aurantium dulcis callus culture or orange stem cell extract increases the production of collagen and elastin and organizes and redensifies the dermal structure to reduce fine lines and wrinkles, and increase elasticity and firmness. By increasing the quality of the stratum corneum, the skin also becomes silkier and smoother to the touch.
Persian silk tree bark. Combined with anti-inflammatory darutoside, the Albizia julibrissin is the first raw material proven to reduce upper eyelid sagging. This is especially exciting as most eye products traditionally are not indicated for upper eyelid application. The results were impressive with major improvement over two months of twice daily use (Sederma, 2013).1 This ingredient also helps strengthen the dermis and reduce crow's-feet wrinkles while addressing dark circles and puffiness.
Ash tree bark blend. The blend of Fraxinus excelsior bark extract, niacinamide (vitamin B3) and silanetriol (organic silicon) work in concert to strengthen capillaries to improve drainage of interstitial fluids that can lead to puffiness and inflammation under the eyes. This improvement in blood and lymphatic flow leads to reduced eye puffiness, dark circles and undereye bags. This blend also provides important antioxidant protection to the skin.
Crocus. The Crocus chrysanthus bulb extract together with Acacia senegal gum provides an effective growth factor alternative. This blend of ingredients has demonstrated the ability to improve skin firmness and elasticity while reducing wrinkles in the crow's-feet area.
Instant gratification
For clients looking to reduce the visible signs of aging around the eyes, there is hope. Many of these new ingredients provide rapid, visible results if used regularly along with the measure of UV protection.
Long-term benefits take time, however, nothing is wrong with wanting immediate results as well. Boron nitride is a naturally occurring mineral that can leave dark circles and undereye bags immediately brighter upon application by reflecting light away from the eye area. This is a nice addition to an eye product if immediate brightening is wanted.
By utilizing these useful ingredients, you not only help slow the development of these signs of aging, but also improve the appearance of existing fine lines, wrinkles, undereye puffiness and eyelid laxity.
REFERENCES
(Website accessed March 13, 2015)