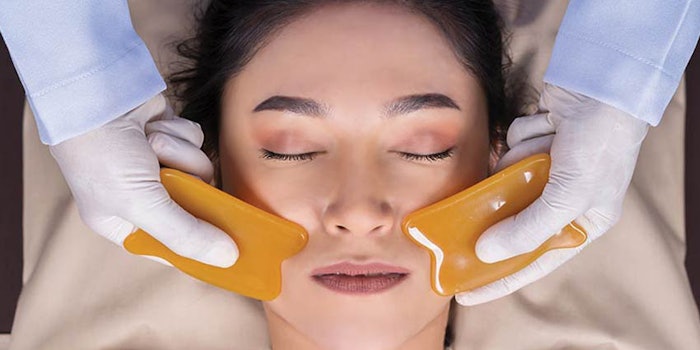 Stress is reaching toxic levels in the United States, and the recent global pandemic has made the situation much worse. Stress is skyrocketing due to overwork, feelings of loss of control, unpredictability and disruption of the norm. How can people find balance when the world around them seems so out of control?
Enter gua sha. Known for firming and sculpting facial contours, gua sha meridian facial massage also helps clients reduce stress levels.
Electric Flow, Naturally
Based on traditional Chinese medicine (TCM) dating back 3,000 years, meridian theory serves as the foundation of TCM. The therapeutic treatment of gua sha depends on qi, invisible pathways of energy that flow like electricity through the body's 670 meridian points and 20 major meridian pathways. These "energy freeways" connect different parts of the body from the head to toe, including vital organs and tissues.
In gua sha facial massage, the proper use of meridian techniques clears qi pathways, firms, sculpts, rejuvenates skin, reduces stress and benefits the health of the entire body. Think of it as cleansing the system. When gua sha is performed properly, it is like stirring muddy water, bringing up the dirt, and then clearing it out in a natural flow of energy. When stress and inflammation cause an imbalance in that flow, visible signs of aging increase.