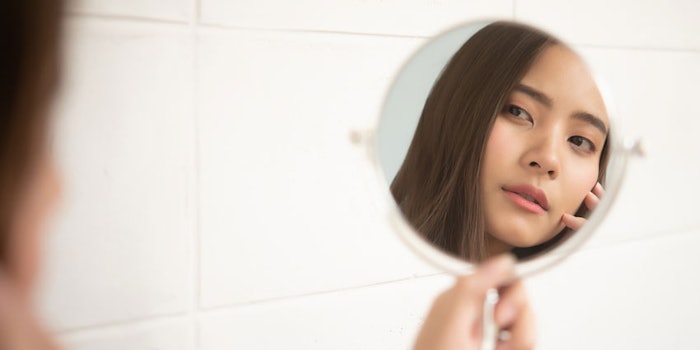 With a chill in the air and the holidays just around the corner, summer may feel like a distant memory. Unfortunately, many clients are left with reminders of their months in the sun with the appearance, or deepening, of discolored spots on their skin. While the types of pigmentation issues are numerous and diverse, melasma is one of the more common. In fact, it affects six million women in the U.S.
With varying types and degrees of discoloration, how can you identify whether a client's pigmentation disorder is melasma and help them regain the radiant skin they desire?
Differentiating Types of Pigment
Pigmentation in the skin is determined by the amount of melanin produced in the epidermis. When melanin production goes into overdrive, it results in hyperpigmentation. For example, when sun damage occurs, our melanin responds to help protect the skin. Prolonged responses to UV exposure leads to damage and produces age spots over time. Another example of hyperpigmentation is attributed to hormonal imbalances or genetic dispositions, causing melanin to again over-produce and create another, more challenging, form of discoloration known as melasma.
Melasma appears as large, more dense patches, usually on the forehead, cheeks, upper lip and even the chin. It perplexes even the most trained skin care professionals because it can present like a mask, and it may fade or darken depending on the season. Understanding potential triggers as well as the different pathways that stimulate melanogenesis is critical in slowing melasma's progression and reversing the discoloration.
Pinpointing Melasma Causes
Most melasma is due to internal factors, including fluctuations in hormones, pregnancy and medications such as birth control. Stress and thyroid disease have also been identified as contributing causes. These factors impact the melanocyte stimulating hormone (MSH) which triggers melanogenesis. As these imbalances continue, melanin remains in a state of constant over-production, which is why it appears in the form of large, dense patches of discoloration, differentiating it from smaller, less concentrated age spots. 
Although melasma is largely attributed to internal factors, external factors, such as heat from sun or exercise, electrolysis and other skin trauma, can exacerbate this condition.
Implementing Treatments for Melasma
After identifying the pigmentation issue as melasma, there are three pathways you must focus on to inhibit melanin production and reduce pigment –– MSH, tyrosinase enzyme and the melanosome transfer. It is critical to not limit your focus to just suppressing melanocyte activity, as a more well-rounded approach is key to producing optimal results.
The best way to do this is to incorporate surface exfoliation, suppress melanocyte activity, increase cellular repair and protection and lighten and brighten the skin. Start by offering corrective facials and peels using products that incorporate tyrosinase inhibitors, MSH inhibitors and natural brightening agents such as daisy flower extract, resveratrol, kojic acid and arbutin (L) to name a few. 
For a corrective facial, the combination of a lotus-infused enzyme, mandelic acid and LED therapy are powerful building blocks for reducing pigment and brightening the skin through mild exfoliation. Continue the corrective treatment with a gel mask comprising plant stem cells and flower essences to soothe and repair the inflammation that intensifies melasma. Oxygen therapy can help enhance the facial treatment by delivering valuable nutrients to this skin. Microneedling is another modality that helps brightening ingredients penetrate deeper to boost the correction of discoloration.
When a client's skin requires extra attention––such as a boost in cellular turnover or deeper product penetration––consider performing a chemical peel focused on lightening and brightening. When it comes to peels it is important to treat sun damage and melasma differently. Melasma treatments will see better results with lighter peels that focus on rebuilding and strengthening the skin. Formulations with botanical and fruit extracts, such as hibiscus flower, azelaic and mandelic acids help brighten and rejuvenate without irritation. Following peels, it is vital to apply a serum containing plant-derived growth factors to support wound healing and strengthen new skin cells.
Planning a Home-care Regimen
For clients to maintain progress managing their melasma between treatments, their focus should be on correcting, rebuilding and protecting the skin. Recommend they commit to a home-care system that incorporates botanical brighteners, repairing plant stem cells, retinaldehyde, epidermal growth factors and peptides.
The basis of this regimen should include a cleanser formulated with daisy flower extract and kojic acid, a corrective serum with encapsulated retinaldehyde, niacinamide and stem cells and a moisturizer with resveratrol. Adding a vitamin C serum with ascorbic acid (L) or magnesium ascorbyl phosphate will enhance results and provide additional antioxidants and protection for the skin. Lastly, a sunscreen formulated with physical blockers like zinc oxide is imperative to clients with melasma as it protects the skin from UV rays that can deepen discoloration.
Although undesirable and considerably stubborn, the discoloration caused by melasma can be reversed. Spending time educating clients on this skin condition will raise their awareness and provide you with an opportunity to walk them through how professional and home care efforts can help lighten and suppress discoloration from progressing.