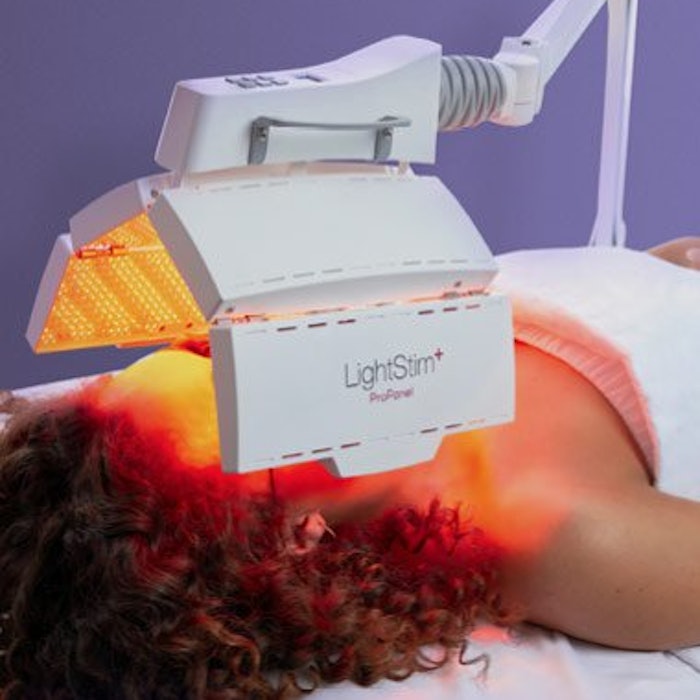 Massage Envy has partnered with LightStim on two new skin care treatments offered at Massage Envy franchises nationwide—The Advanced Skin Care Nourishing Light Treatment and Nourishing Light Enhancement. Both treatments utilize LightStim's Anti-Aging ProPanel LED Light, which combines 1,400 amber, red and infrared wavelengths of LED light to provide a soothing and sensory light facial experience and improve the appearance of wrinkles.
Related: [Interview] Making Your Treatments High-Tech
The Nourishing Light Treatment is a 60-minute treatment that uses products from Massage Envy's exclusive brand, CyMe Professional, that are infused with vitamins and nutritive ingredients and provide synergistic benefits when used with the LightStim ProPanel Anti-Aging LED Light. The treatment also includes a choreographed cooling globe facial massage.
The Nourishing Light Enhancement is a 10-minute LED Light treatment with a hand and arm massage that can be added to a Microderm Infusion or Chemical Peel/Exfoliation skin care session as an additional skin care benefit.
Beth Stiller, Massage Envy CEO, said, "We are excited to work with LightStim and to feature their LED technology for the national launch of our Nourishing Light services at Massage Envy. This collaboration and new offering are just one of the many advancements we are making in the skin care space as we continue to build on our brand's suite of innovative skin care services and premium offerings."
Joniann Marchese, president of LightStim, said, "Our team worked hand-in-hand with Massage Envy to develop a unique skin care treatment and enhancement that pairs their line of professional products and services with our standout ProPanel Anti-Aging LED Light for an advanced skin care experience. We are thrilled to join together to offer these wonderful skin care services to customers across the expansive network of Massage Envy franchised locations."