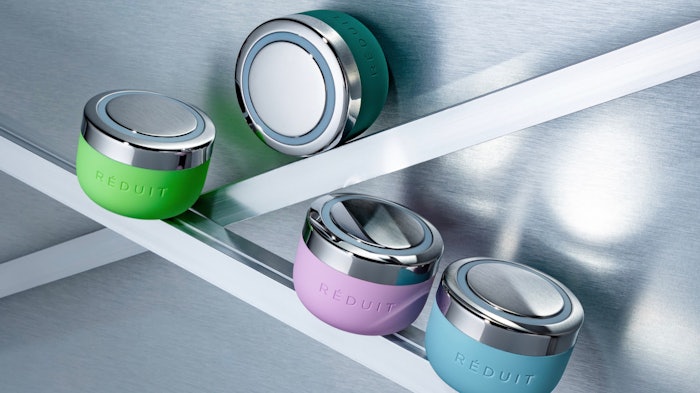 Réduit successfully launched a Kickstarter campaign for Boost, the brand's skin care device that customizes and applies skin care products to provide stronger absorption than applying with fingers. The fundraising campaign achieved and surpassed its goal of $74,990, nearing $90,000 with 18 days left on the campaign. It currently has 633 financial backers. 
Related: Revieve x Babor Launch AI Skin Care Advisor
Réduit's smart skin care technology, cited as Pulsed Electromagnetic Field Technology, caters to specific skin needs to work in tandem with any skin care product. Consumers input skin type, gender, age and environment into the accompanying app and scan the skin care products they use. The device then syncs to the consumer's specific skin needs.
Boost is designed to identify the active ingredients present and tailor a waveform to push the right ingredients into the skin at the required depth. The process is matched with a specially selected LED Light.
Boost is designed to fit into the palm of the hand with a silicone touch. The device glides over the skin delivering alternating vibrations for a facial massage vibration. It is available in four colors.
According to Réduit, Boost provides four times better absorption compared to fingertips with five times better results.
Paul Peros, CEO of Réduit, says: "Boost has the power and technology to make a £100 cream feel like a £500 cosmeceutical treatment. Through the power of first-class Swiss engineering, Boost utilizes Pulsed Electromagnetic Field Technology operating in the ultra-low frequency, a technological breakthrough in the beauty industry. We can now target specific molecules based on their diamagnetic susceptibility and promote streaming potentials to increase the skin's permeability. Simply put, this is the aspect which allows Boost to push those all-important actives deep into your skin where they are needed most."
Learn more about Réduit Boost on its Kickstarter campaign page.