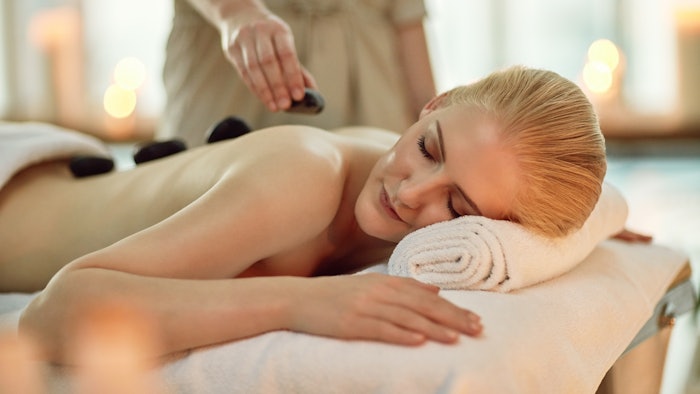 An article from the NY Post detailed some luxurious and unique spa treatments around the world, including vibration healing in the Maldives, hypno-health in California and hydrotherapy in Mexico.
Related: 5 Unconventional Spa and Wellness Experiences
The Ashiatsu Barefoot Massage at Connecticut's Winvian Farm Spa uses parallel bars hung from the ceiling, working with gravity to walk on clients' backs. The technique originated in Kerala, India, over a millennium ago, and is designed to flush out inflammation, improve flexibility, release trigger points and reduce stress in the body.
The Meera Spa at Gili Lankanfushi in the Maldives offers the Tibetan Singing Bowl treatment—a sonic massage in which therapists also use their thumbs, palms and forearms in a rolling motion to spread sound waves through tissues, relaxing the central nervous system and calming the body and the breath.
The two-hour Alchemy of Resilience: Breathwork, Mindset & Cold treatment at Miraval Berkshires Resort and Spa in Lenox, Mass., includes deep guided breathwork, meditation and visualization, followed by a two-to-three-minute cold dip in a pool kept at 40 degrees. Guests then gather at the firepit before warming up in the sauna, steam room, shower or hot tub.
California's Spa Aiyana at Carmel Valley Ranch specializes in Hypno-health. The spiritual treatments focus on anxiety, sleep issues and weight loss via guided self-hypnosis sessions. Clients are given a recording of their session so they can continue their work at home.
The Kallos Spa at Andronis Concept treats hormonal and digestive health via a Cell Well-being Hair Profiling Test that pinpoints imbalances and toxicity in the body. The evaluation includes customized nutritional guidance and spa service recommendations.
Mexico's Banyan Tree Mayakoba Spa features the Wave Stretch, an Asian-inspired hydrotherapy treatment like Watsu water therapy. The treatment includes slow stretches and guided meditation before a series of cradling, lengthening and massage techniques, all performed in water heated to 91.4 degrees.