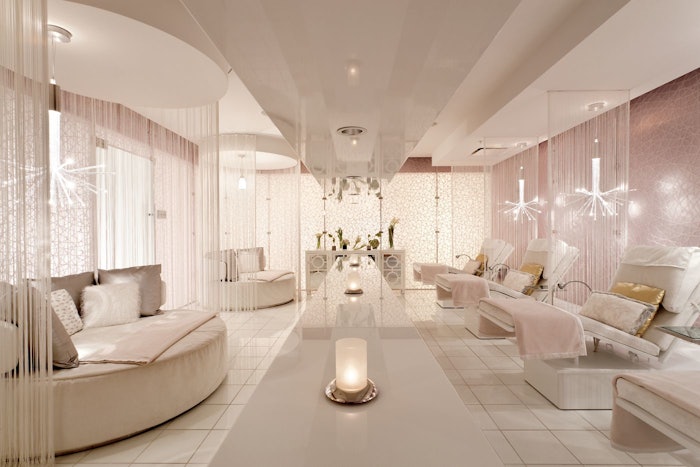 The Ritz-Carlton Spa, Los Angeles and Ladurée are collaborating on a series of spa treatments inspired by Ladurée's most popular spring flavored macarons, including raspberry, hibiscus, black tea, citrus and rose. The treatments, which include a pedicure, facial and honey body treatment, will be available at the Ritz-Carlton Spa, Los Angeles through June 30, 2022.
Related: Inspiring Spa Spaces: The Ritz-Carlton Spa
Upon arrival, guests will be greeted with a macaron that correlates to their treatment's flavor notes and a cup of Ladurée herbal tea. Following the spa treatments, guests will be gifted with a box of macarons and a signature Los Angeles Ladurée candle, which is a part of the limited-edition Les Capitales collection.
The Printemps Pedicure is inspired by the Hibiscus macaron. It includes a luxe aromatic foot treatment with tangy scents, followed by a rose and grapefruit infused sugar scrub, application of rose oil, nail care and polish. The 50-minute treatment costs $245.
Berry Bisou Facial is inspired by the Framboise macaron. The facial features a blend of raspberry, blueberry and blackberry essences to refine the complexion, a gentle exfoliation and a pore refining mask. The 50-minute treatment costs $320.
Haute Honey Body Treatment is inspired by Ladurée's signature Marie-Antoinette macaron. The body treatment using a rich blend of black tea with hints of rose petals, citrus and honey, a lavender sea salt exfoliation, honey glaze body wrap and a massage with grapefruit infused oil. The 100-minute treatment costs $545.
The all-encompassing package, Let Them Eat Cake, includes the entire collection of Ritz-Carlton Spa x Ladurée treatments, a one-night stay in an executive suite at the Ritz-Carlton, Los Angeles, a bath butler service to draw a luxe soaking bath with fragrant oils, hydrating shimmer lotion, eye mask and other spa essentials and an official Ladurée factory tour and live pastry class that includes a behind-the-scenes look into the macaron-making process and then have the opportunity to pipe and decorate macarons. Each guest will get a box filled with Ladurée pastries and a cookbook to replicate the recipes at home. The Let Them Eat Cake Package costs $5,000+.