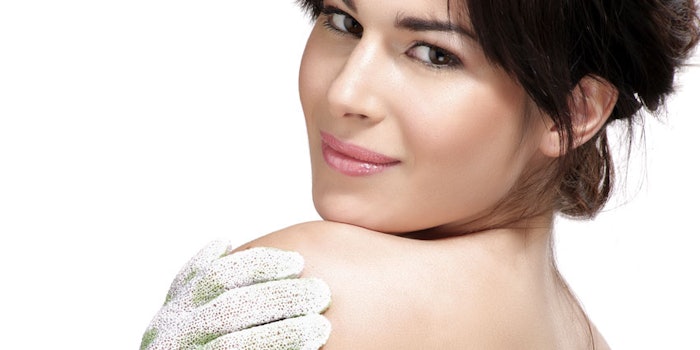 Between all of the outdoor festivities and sweating that happens during the summer, a scrub can be the best way to truly refresh the skin. One such treatment that can be brought into your spa for your summer-loving, sun-kissed clients would be the Korean body scrub, which has been an important cleansing ritual in Korean culture for health, wellness and beauty. 
The Korean Body Scrub Steps
Jay Kim, general manager of Premier57 spa, provided their easy five steps for this authentic K-beauty treatment to provide smooth, beautiful skin to clients.
Step 1: Soak in a hot bath to open pores. This soak will need to last for roughly 15 to 20 minutes.
Step 2: Prepare the body for scrubbing. At this point, the esthetician will be pouring the warm water onto the client's body followed by cleansing it with soap.
Step 3: Scrub away dead skin cells and dirt. When doing this, the esthetician will use a traditional textured glove.
Step 4: Rinse the body and massage with an oil. 
Step 5: Wash client's hair and add a 15-minute face mask treatment. 
However, many spas will put a twist on this K-beauty treatment. SpaCastle in New York offers the option of a Bubble Scrub, which coats the clients in a "cloud of bubbles," while cleansing the skin after the scrub. 
Scrubbing Up On Benefits
This treatment really works to cleanse the body. This treatment cleanses the client's entire body to rid it from the built-up toxins and impurities. "Korean body scrub treatments are recommended to maintain your glow and a better complexion of your skin," explains Kim. 
Apart from simply removing the dead skin cells from the skin to boost skin health, the process of doing this has its own set of benefits. The textured gloves that are used help increase circulation in the skin to help firm and tone the body.
Clarifying the Difference
A typical exfoliating treatment uses sugar or salt to remove dead skin from the body. However, "Korean body scrubs don't focus on the product to exfoliate; this treatment is used to remove the layer of dead skin that we have been just lotioning over to smooth out. The traditional Korean way to remove dead skin, dirt and oil is by using textured gloves directly on the skin and quite literally scrubbing until the impurities roll off," explains Kim. Apart from using a mitt instead of sugar or salt, this treatment spas that offer this treatment often have clients completely undress to receive it.
Another key difference is how the client's body is prepped through the soaking step. It is important that the client soak for at least 15 to 20 minutes beforehand because this causes the skin to prune, which is ideal for scrubbing away the dead skin cells with the mitt.