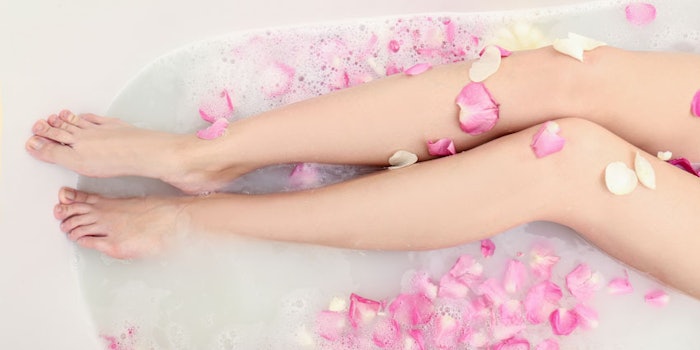 There are many bathing rituals that take place around the globe, but one form of bathing has jumped into the spotlight—magnesium bathing. Now magnesium and magnesium bathing are both two concepts that have been around for a while, but it is gaining the spotlight now as a must-try self care trend.1 So where does this trend fit into the spa industry? 
The Magnesium Mineral
Magnesium has numerous benefits tied to it from regulating blood sugar to providing stronger bones.1 Many people actually are deficient when it comes to the amount of magnesium they have in their body, even though it can be found in most leafy green vegetables. This is why magnesium bathing has jumped into the spotlight since this mineral can be used to regulate over 300 enzymes and reactions in the body.2
Lucky for this self-care trend, magnesium, and its benefits, has been found to be equally helpful to the body when absorbed into the skin. In fact, there are some forms of magnesium that are difficult to absorb when taken orally or ingested.2 Now that clients are figuring out that soaking in a mineral-infused tub is beneficial for the body, the self-care train has rolled into the station. 
Magnesium Bath Benefits
Magnesium baths are fairly easy to prepare, and it comes with a variety of options. The bath itself can be put together with Epsom salts, magnesium flakes or a magnesium topical oil.1,2 The difference between these options relies on how they are actually absorbed into the body. Magnesium flakes are made from magnesium chloride, which can be absorbed through the skin much easier. Epsom salt on the other hand is made from magnesium sulfate which is not as easily absorbed and is often excreted through the kidneys.1 
Regardless of which type of magnesium bath is put together the benefits for the body are amazing. Magnesium bathing has been shown to relax the body, ease joint and muscle pain, assist in detoxification, re-balance bodily functions, strengthen and strengthen the immune system. This is a great treatment recommendation for clients who are worn down, fatigued or just over doing it and need some relaxation time.3 
Adding the Service to Your Spa
With this being a hot self-care trend, it could be beneficial to add this to your spa menu, if you have the means, or to call it out on your menu if you are already offering it. Consider placing a deal on magnesium bath treatments, so that you clients are aware that you are offering this very trendy and popular service. 
Posting about this trending treatment and how your spa is offering it is another great way to draw some attention to it. This way, your clients who stay up-to-date on their hot self care trends can become aware that they can get this treatment at your spa. 
References
www.onegreenplanet.org/natural-health/magnesium-bathing-the-self-care-trend-of-2019-you-have-to-try/