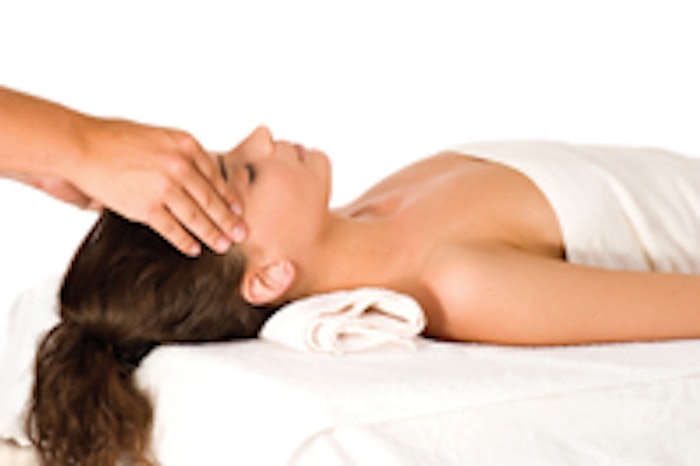 For many spas, massages and facials are constant, reliable menu items that make up the majority of profits; however, scalp treatments are becoming the luxurious, inexpensive icing on an already fabulous cake. A procedure that requires little more than aromatherapy oils and two hands skilled in massage, it can be added on to virtually any service, from facials to body wraps, and can also be incorporated into hair treatments. Spas throughout the nation—from those located in high-end hotels, such as The Mandarin Oriental or Four Seasons, to smaller spas, such as The Spa at Norwich Inn in Norwich, Connecticut—are turning to this Middle Eastern tradition to provide their clients with an impressive yet economical option. And during a time when the need for client loyalty is at an all-time high due to the pressure brought about by the economy, every detail can result in a satisfied client who not only will return, but also will recommend your spa to their friends.
Ayurveda and aromatherapy
"The often-coveted beauty, health and vitality of Middle Eastern hair can be available to your clients by offering traditional scalp massages," says Basant Malhotra, managing director of Basanti Group, LLC, manufacturer of Basanti Organic Skin Care. Malhotra recalls that during her childhood, scalp treatments were just the normal thing to do before you washed your hair. This ritual—which included pouring oil on the scalp and hair followed by massage—was carried out once or twice a week. Typically, a scalp treatment includes the use of aromatic, herbal essential oils, such as coconut, jojoba, avocado and vitamin E. By dampening the scalp with oil, then gently massaging it into the hair follicles and working the oil down to the ends of the hair, this treatment can eventually improve the health and vitality of clients' hair.
In addition to the visible benefits scalp treatments provide to hair, they also improve the entire relaxation experience for clients, whether they're stopping by for a mini facial or a day-long rejuvenation session. Because this practice has its roots in ayurveda, the traditional scalp treatment is intended to provide much more than a route to healthy hair; it also provides clarity and peace of mind, says Malhotra. Most scalp treatments focus on pressure points throughout the scalp, head and neck to balance out the dosha, or mind and body type. At The Spa at Mandarin Oriental, Boston, spa director Sharon Holtz emphasizes that the treatment focuses on more than just the scalp—the spa's technicians include aromatherapy inhalations as well, to ensure a total relaxation experience for clients.
"Let's say you're having a facial, and incorporating a scalp massage," Holtz says. "The technician has essential oils on her hands and hovers them over the the client's nose, making a sort of tent. The client is instructed to inhale so that all of the aromatherapy is enjoyed, increasing the relaxation aspect of the treatment. Then, the technician works up the neck into the scalp, stimulating different pressure points and using different massage techniques," Holtz explains. "I guess you can call it a scalp massage, but if you think about it, even the muscles connecting up to the cranium are involved."
A flexible option
The beauty of the scalp treatment is that it's flexible enough to be tailored to fit into any spa menu and philosophy. Even if your spa does not have an ayurvedic style, the benefits of a scalp massage—shining, healthy hair, improved head circulation, and the release of tension from the head, neck and shoulders—are experiences that most clients desire.
A scalp treatment can be incorporated into a full service, or it can be offered as a separate treatment. Malhotra has also worked with spas that offer it as an add-on. "Deciding how to offer it really depends on your spa's philosophy and style," says Holtz. "If your spa normally has a lengthy consultation with the client before a treatment, then a scalp service could be automatically included and customized according to the client's needs."
At The Spa at Norwich Inn, the scalp treatment upgrade can be added on to selected body wrap treatments and is done as a finishing touch. Once the client is wrapped in a heat blanket, the scalp treatment product is applied and the scalp is massaged. The client can wash out the product when the treatment is completed in the shower, or it can be left in.
The details
When considering what to charge for scalp treatments, particularly if you're thinking about marketing this service as an add-on, remember that this is a small, added luxury for the client, says Malhotra. "Spas are seen as a haven for relaxation, and if they charge just a small fee for it, anywhere from $5–10, it's nice to give back to clients and make sure they stay with you. Now is the time to show appreciation to clients because of the state of the economy. If they're coming in, make sure they keep coming back. It's a nice experience to give to clients, and they feel appreciated."
Another detail to consider is how much time is allocated to the treatment. Malhotra recommends that clients are offered three treatment options: a brief, seven-minute dry massage; a longer, 15-minute massage with oil; or an extensive 30-minute treatment that incorporates both the oil and massage. Using this method, clients can opt for the treatment that best fits their time allowance and budget.
Training is another cost factor that is quite low, since many spas already employ massage therapists and estheticians trained in the technique of scalp massage. If you don't have trained technicians on staff, there are product manufacturers that offer DVDs or will send representatives to train spa technicians in the art of scalp treatments, Malhotra says. The technique can also be learned at educational facilities separate from any product line.
If your spa doesn't have a salon arm, you may be challenged with finding a way for clients to rinse their hair. The easiest solution, Holtz says, is to offer a dry massage. "The more ayurvedic you go—if you start incorporating ayurvedic oils and herbs—there's definitely going to be more of a need for showers, but you can definitely get benefits from scalp massages that are done using just the massage techniques," she says.
A loving add-on
With the benefits provided and the low cost necessary for implementation, scalp treatments are an easy way to provide clients with a service that makes them feel so rejuvenated, they'll keep coming back for more.
"What we're finding is that the feedback has been quite positive because some people have really felt that it's added to their treatment. In the past, some have had a mask applied and the technician has basically left the room or just sat there," Holtz says.
According to Malhotra, "When we go to a spa, why do we go back there again? We go because we had a great experience. It might have been a little bit expensive, but we think, 'Oh, gosh, that therapist was so great, I loved the way she massaged my scalp, I'm going to go back.' We become loyal clients." And a scalp massage can provide that additional loving detail that puts your spa over the top.