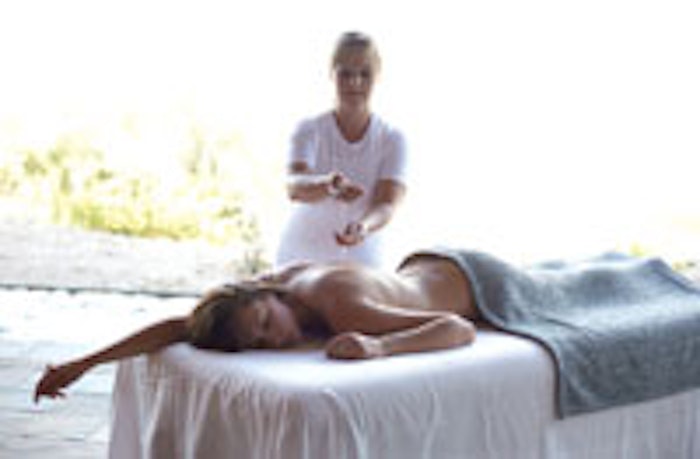 Editor's note: Skin Inc. magazine recommends that skin care professionals obtain the proper training before offering any new treatments or services.
According to Associated Massage & Bodywork Professionals (ABMP), Swedish massage therapy is the most requested service in spas, and spas are the most common place to receive a massage (43% of all sessions). Although there is a time and place for Swedish massage, perhaps it is time for your facility to go above and beyond to meet your clients' needs for complete relaxation of the mind, body and spirit. Consider reaching deeper to offer a variety of therapeutic and beneficial massage services to your clients. Following are step-by-step how-to massage treatments to get your imagination pumping, supplying you with guidance from three top spas about the logistics of offering these services, along with marketing and retail advice, and the history behind them to help you decide if they are a good fit for your business.
Herbal Balancing Treatment: The Spa at Miraval Resorts, Tucson, Arizona
The Herbal Balancing Treatment is designed to help connect the mind and body through abhyanga massage, or ayurvedic oil massage, in addition to balancing with marma, or energy points. According to Simon Marxer, spa director at Miraval Resort, the treatment has been derived from techniques of the ayurvedic system. "Part of ayurveda is that it recognizes that people have individual issues, so therapists offering this treatment should be trained to identify constitutional characteristics to determine what kind of oil to use in the treatment, depending on whether clients are stressed, irritable and overheated, or sluggish and depressed," explains Clinton Horner, massage therapist and ayurvedic practitioner at Miraval Resort. "You need to look at the person and make an assessment based on conversation and visuals, and select the appropriate oil."
According to Horner, because oil massage takes up the bulk of this service, it is crucial to select the correct oil. "When you oil the body with herbal oils, they are rubbed in and penetrate deeply to help loosen up toxins and work for the client's body type. The oils have a sedating, grounding effect," he says. After oiling the body, the treatment involves 10 minutes of marma point therapy based on the client's constitution, followed by a body wrap to help heat the body, loosen the tissues and help with circulation.
"In order for a service to be successful, there has to be a level of authenticity," emphasizes Marxer. "It is important to bring in a professional to provide training and education to your staff members about the principles of ayurveda so they truly have an understanding of what it is doing."
The Herbal Balancing Treatment is a great service for most of your clients—except those who are pregnant or experience hypertension—but the best recipients are those who are highly stressed with nervous disorders, insomnia and anxiety, and those who are overly busy and overworked. The service works to soothe and pacify the nervous system to help ground the client and restore a sense of balance. These are the types of clients who you should focus on when marketing this treatment. To tie in retail, consider selling the oils used in the actual treatment to help clients bring the experience home.
Mama Felice Tangerineand Rosehip Prenatal Massage: The Spa at Ravella, Lake Las Vegas, Nevada
The Mama Felice Tangerine and Rosehip Prenatal Massage features a blend of organic oils that nourishes the skin and helps reduce the appearance of stretch marks. It includes a relaxing massage that releases tension from tired muscles, and is emotionally calming and safe for both mother and baby. The organic oil blend uplifts spirits with organic tangerine and jasmine oils, as wheat germ and rosehip help feed and protect the skin. According to Nancy DiMaio, director of spa and fitness, the massage is meant to help ease fatigue caused by pregnancy, offering a state of peaceful contentment. Although prenatal massages can often be found on service menus, this treatment takes into account the mother-to-be's mind and spirit, as well as her body, by using the oils to help elevate the mood, lift spirits and restore a sense of calm while treating the skin.
The Mama Felice Massage can be performed as a 50- or 80-minute service, and mothers are supported by a pregnancy cushion or are asked to lie on their side, depending on her comfort. In this massage, tangerine and rosehip prenatal massage oil is used and is completely safe for both mom and baby. Aromatherapy can be an added service in this treatment—lavender is great for relaxation and also is safe. The intention of this treatment is to pamper and refresh mom, reduce discomfort and swelling, and release natural endorphins. Extra attention should be given to mom's aching back and hips, or wherever her discomfort may be.
According to DiMaio, the service is perfect for pregnant women in their second or third trimester of pregnancy, so consider this client group when devising your marketing strategies. Retail can be tied into this treatment by offering shea butter made with essential oils that is used in the treatment to help keep her skin quenched and nourished while helping to reduce the appearance of stretch marks. As always, be sure to discuss the client's health history and ask her to fill out a health history form while waiting for the service.
Shoshin Shiatsu Treatment: Urban Oasis, Chicago
According to Randy Cummins, shiatsu instructor, massage therapist at Urban Oasis in Chicago and founder of www.blackswanproductions.com, Shiatsu is a traditional form of bodywork that originated in China and is based on an observation of nature. "In the teaching of shiatsu, there is a lot of common wisdom about how to treat yourself, change with the seasons and exercise. Shaitsu is performed on mats on the floor and the client is fully clothed, so that can supply a built-in sense of comfort for some people," explains Cummins. Shiatsu uses the same concepts, approaches and techniques as acupuncture, without the needles, and has a strong resemblance to yoga. As far as appropriate clients, shiatsu is good for everyone except those who are pregnant, are healing from burns and infections or have new scars and injuries, and is meant to be a preventive form of bodywork. The stretches are intended to keep the body healthy, but it is very good for common injuries and pattern injuries, such as when people have shoulder and neck pain from working on computers. It is also good for athletes. Remember these clients when developing your marketing strategy. Consider selling mats and instructional booklets in your retail area. Also, teach clients stretches they can do at home.
During the treatment, both the practitioner and the client should wear loose-fitting clothing, such as yoga wear, and the treatment needs to be performed in a well-defined space that promotes openness and relaxation. Shiatsu involves a series of heartfelt compressions, stretches and stimulation to various pressure points to promote balance and the harmonious flow of energy throughout the systems of the body. This allows for the decompression and strengthening of the physical body while quieting the mind, deepening the breath and supporting inner reflection.