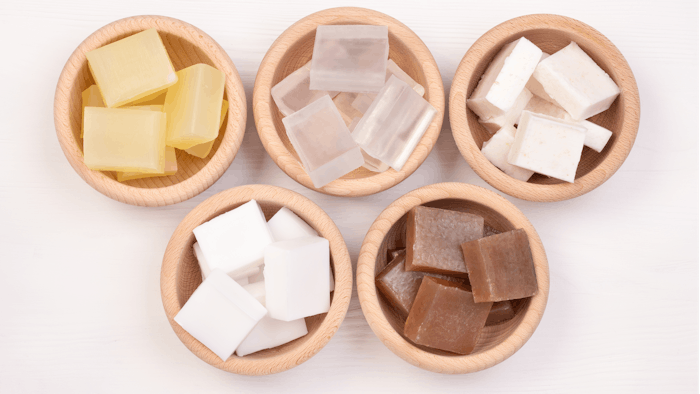 Glycerin is a common humectant in skin care for its hydrating abilities. An article from Mind Body Green Lifestyle detailed its benefits and the different types of glycerin.
Related: The Risks & Benefits of Sodium Hydroxide in Skin Care
Glycerin, interchangeably known as glycerol and vegetable glycerin, is a water-soluble sugar alcohol that can be extracted from a variety of plant oils, including soy, palm, coconut and corn, according to dermatologist Rachel Maiman, M.D.
Vegetable glycerin is made by heating triglyceride-rich vegetable fats under pressure or combined with a strong alkali, while animal-derived glycerin uses animal fats. The two types of glycerin have similar benefits and the term can be used in a general form, so it is not always clear if it is glycerin derived from plants or animals. Products with vegan formulations should always use vegetable-derived glycerin and make it clear on the label.
Glycerin is naturally produced in the body, but the levels decrease with age. The humectant has been found to be a leading ingredient in hydrating products and one study found that using a cream infused with glycerin better hydrated the skin than a cream with silicone oils or hyaluronic acid. Glycerin can be effective for inflammatory skin conditions like eczema due to its gentle moisturizing effects and ability to layer with other active ingredients.
It is common to find glycerin in products that protect the skin's natural barrier. The article recommends combining humectants with emollients and occlusives to gain the strongest benefits and fully draw in moisture, strengthen the skin barrier and lock in hydration.