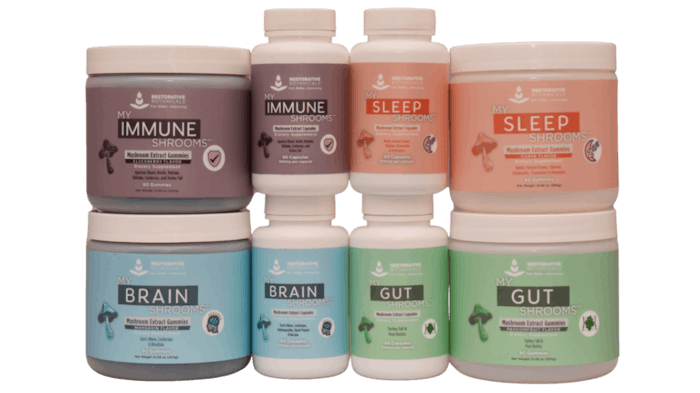 Photo courtesy of Restorative Botanicals
Restorative Botanicals announced the launch of its newest product line of Functional Mushroom supplements. The line features a range of high-quality mushroom supplements designed to support the body's immune system, brain function, gut health and promote better sleep. 
The Functional Mushroom products are available in capsules and gummies, each containing a unique blend of 100% Certified Organic mushroom extracts, nootropics and adaptogens. Made with fruit derived organic flavors, these gummy supplements are available in flavors including mandarin, elderberry, guava and passionfruit.  
Related: [Trending] Mushrooms Mind, Body and Skin Benefits
Supplement Line Includes
"At Restorative, our mission has always been to help people "feel better, naturally" with supplements made from the remarkable cannabis plant. We have now expanded our offering with functional mushrooms, herbal adaptogens and nootropics," said Bernard Perry, CEO of Restorative Botanicals. "These new life changing products provide alternatives to conventional pharmaceuticals and improve the lives our customers with mother nature provided natural solutions."