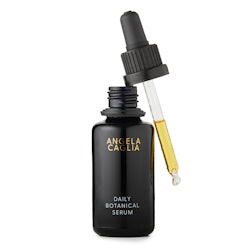 Angela Caglia's Daily Botanical Serum provides skin with a daily dose of anti-inflammatory, brightening, wrinkle-reducing and collagen-stimulating ingredients. A blend of responsibly sourced oils work in synergy to nourish and calm skin, while protecting it from daily environmental aggressors like UV rays, pollution and blue light.
Key Ingredients
Containing approximately 190 bioactive substances, Sea Buckthorn Oil is an ingredient with 15x more vitamin C than an orange, along with a balanced composition of essential fatty acids.
With its high concentration of essential fatty acids and vitamins A, C, E, and F, Rosehip Oil is known to calm, nourish and brighten the skin.
Frankincense—when applied topically—has significant skin benefits.
Breathe Ylang-Ylang in to receive its calming and relaxing benefits.
424-343-0253, www.angelacaglia.com