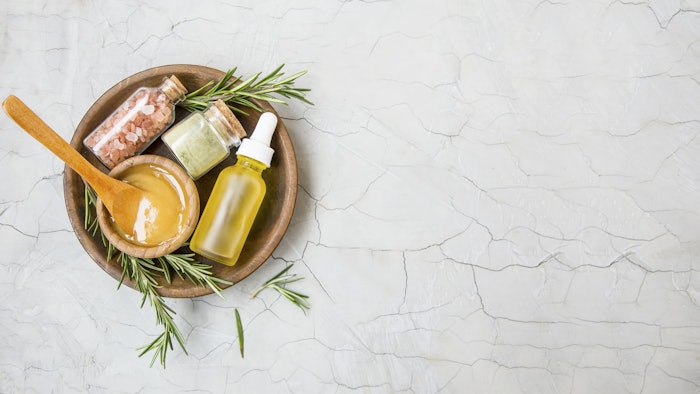 Face & Body Northern California will be coming back to San Jose, CA on Aug. 21 - 22, 2022. Apart from the amazing educational sessions that we will be providing, we have a lot of excitement happening on our show floor as well. Not only are we collaborating with the NailPro Show, and our sister publications, bringing a wellness and medical aesthetic pavilion, but we gathered the latest ingredient trends you can expect to see the exhibitors showcasing as well. 
Don't forget to register for this event so you don't miss any of the excitement coming right around the corner. 
Related: Soar in Success with Face & Body Education
1. Elderberry
Skin Script Skin Care (booth 731) will be highlighting elderberry on the show floor with their new Elderberry Facial, which has their Elderberry Enzyme paired with the Elderberry Whipped Mask. Skin Script's Elderberry Enzyme and Mask offer immune strengthening ingredients designed to exfoliate and deliver lighteners to soften and brighten dry, dehydrated and pigmented skin. It contains glycolic acid to gently exfoliate dead skin revealing soft, smooth skin.  Alpha-arbutin and kojic acid assist in brightening capabilities. Elderberry boosts the skin's immune system and offers a great source of vitamin C, in addition, Lipochroman-6 is a powerful antioxidant to prevent skin cell damage. Echinacea stem cells replenish the skin and stimulate collagen production.
2. Adult Stem Cells
FactorFive (booth 1126) will be highlighting the use of Adult Stem Cells (ADCs) in their products, which were crafted from over a decade's worth of stem cell research. Through their process of growing and working with ASCs, they put them in an environment that gets them "speaking" by sending out a tremendous amount of growth factor signaling. They then collect those powerful growth factor signals and include them as the main active ingredient in all of their products so that when applying FactorFive to your skin, it replenishes the diminished supply and enables the cells to "listen" and restart those important skin health processes. This represents a 100% natural and biological way for the skin to return to vibrant health.
3. Bakuchiol
This has been an ingredient making a lot of headway in the last couple of years. This plant-based retinol will be highlighted in FarmHouse Fresh's (booth 617) new Stunning Returns Bakuchiol Butter. This product was crafted due to the numerous requests that the bran received to develop a results-driven, anti-aging product that does not contain retinol.
"Bakuchiol is a plant based retinol alternative that provides similar results to retinol – a renewed complexion that is more plump, vibrant, taut and refined. We've mixed Bakuchiol with hyaluronic acid, peptides, ceramides and our very own FarmHouse Fresh Grown Black Opal Basil, which is rich in antioxidants. This skin care cocktail is in a rich buttery cream that feels luxurious when applied before bedtime. It guarantees you will wake up to more youthful looking, smoother skin with no irritation. Don't skip the neck and décolleté during your application. It works wonders there too! We've been so blown away by the age-defying results of Bakuchiol, we're soon launching a Bakuchiol Booster Serum that can be layered under Stunning Returns Bakuchiol Butter for maximum results," explains Holly Wydra, FarmHouse Fresh Director of Treatment Engagement.
4. L-Mandelic Acid
The Face Reality Skincare (booth 1216) method for treating acne typically helps to get their clients' skin clear in three to four months. They will be highlighting the many ingredients in their acne fighting line, but a big focus while at the Face & Body Spa Conference and Expo will be the use of L-mandelic acid in their acne peels. Alex Hernandez, lead educator for Face Reality Skincare will even be performing a full treatment at the Skin Inc. LIVE! Stage using the corrective peel, as well as the entire backbar.
"L-mandelic has been a staple in the line and offers the most variety when it comes to home care products. Due to its anti-inflammatory, anti-fungal, anti-bacterial, and brightening properties, L-mandelic acid makes an excellent choice for treating any acne, skin, and Fitzpatrick type. It is also a great option for treating malassezia folliculitis ("fungal acne"), body acne and post inflammatory hyperpigmentation (PIH). This ingredient can be found in cleansers, scrubs, serums, and corrective peels making face and body use simple. Due to its larger molecular size, L-mandelic penetrates slower and more evenly than other alpha hydroxy acids like glycolic. This makes it a go-to option for those with sensitive skin and those with a Fitzpatrick rating of 4+. L-mandelic acid provides an incredible amount of flexibility and can be used by most people," explains Hernandez. 
5. Retinoids
Sorella Apothecary (booth 809) will be highlighting the use of Retinoids in two of their latest launches that they will reveal at the show, including a serum and professional product. Retinoids are a sought-after ingredient in the skincare world due to their ability to accelerate cellular turnover and increase collagen and elastin production. Our professional product provides estheticians with an opportunity to upgrade any current Sorella Apothecary peel for a multifaceted approach that supports the healthy aging journey. The new serum will accompany this treatment and allow clients to continue to see results at-home.
6. Babchi Fruit
AKTIV Skincare (booth 1121) has a new approach to incorporating industry-leading ingredients into daily skin care, using a method of co-creation to customize solutions with powerful ingredients. While they will be showcasing a multitude of ingredients from jojoba milk to hyaluronic acid, one ingredient that stands out is babchi fruit. Taylor Benson, VP of Education and Sales for AKTIV Skincare explains how this ingredient is, "A powerful herb that acts as a non-exfoliation alternative to retinol. This is attributed to its ability to stimulate key retinoid-binding genes to encourage cell regeneration and collagen production. Unlike traditional retinoids, there's no cause for concern when it comes to stinging, burning and itching. In fact, you can expect the opposite. This results driven ingredient treats dehydration, acne- prone aging and hormonal menopausal skin. And it doesn't stop there! Babchi fruit also targets melanoblast cells for healthy pigment production to even out discoloration with no contraindications to the sun." 
7. Vitamin C
Emdash (booth 1219) is highlighting a tried and true ingredient that they've made new in their Vivid Antioxidant Serum, which features tetrahexyldecyl ascorbate, a stable and active form of vitamin C. This serum combines tetrahexyldecyl ascorbate with other powerful antioxidants and soothing ingredients to deliver clinical results without irritation. Not only has tetrahexyldecyl ascorbate been shown to deliver pure vitamin C 50 times better than traditional ascorbic acid, but it is also much less irritating. While traditional ascorbic acid is notoriously quick to oxidize, tetrahexyldecyl ascorbate is extremely stable, delivering higher antioxidant activity over the life of the product as well as a much longer shelf life. In addition to being a highly effective antioxidant, tetrahexyldecyl ascorbate has also been shown in clinical studies to promote brighter skin and a more even skin tone. 
8. Monoi
While Eminence Organic Skincare (booth 609) will be featuring a wide variety of products for attendees to sample, one collection they are particularly excited to showcase at the Face & Body Spa Conference and Expo is their Monoi Age Corrective products. From the islands of the South Pacific, the star ingredient in this collection is monoi, which is a traditional oil made from steeping Tahitian gardenias in coconut oil. This potent oil infuses skin with rich, rejuvenating hydration, and works to improve the look of fine lines and wrinkles. Other key ingredients in this collection include Eminence's unique Argan Stem Cell Complex, Natural Retinol Alternative, and argan oil that visibly firm and tighten the skin, revealing rejuvenated, healthy-looking skin. With its tranquil scent, the potent ingredients found in this collection are perfect after a day in the summer heat, as monoi replenishes moisture and smooths skin to reveal a youthful glow by morning.
9. Superfoods
707 Flora is anticipating seeing a lot of hand-picked ingredients that are sustainably sources and have superfood qualities. Joan Sutton, CEO and Founding Partner for 707 Flora (booth 1125) shares, "Overall, I anticipate an emphasis on a more holistic approach to skin care formulations. Today's customers are savvy and wary of quick-fixes that might temporarily mask a skin care concern, but that don't actually have a long term effect on skin health. It's more than having a list of "good" ingredients now – each raw ingredient should complement one another to create an effective system and delivered in textures that penetrate the skin's network of pathways and promote healthier, more vibrant skin at the source."
Some examples of these ingredients that Sutton mentioned includes castor bead oils, encapsulated micro algae, chlorella, apple fruit complex and cannabis sativa whole plant oil. 
Related: 4 Hair Removal Methods to Add to Your Service Menu
Come and experience the Face & Body Northern California Expo Hall from Aug. 21 - 22, 2022 in San Jose, CA. Make sure to register today, to see all of these trending ingredients and more.