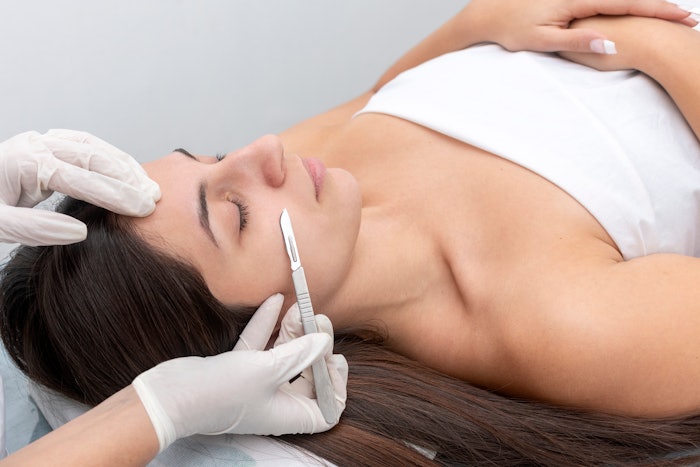 Dermaplaning is a hot trend that many spa professionals are considering. Not only is it blowing up on social media, but many spa brands have begun to craft dermaplaning facials for spa professionals to add to their service menus. That's one reason why we are proud to offer a collection of dermaplaning-focused education sessions at this year's Face & Body Northern California!
Face & Body Northern California 2023 takes place on August 20-21, 2023, at the SAFE Credit Union Convention Center in Sacramento, California. Attendees can expect to see the high-level spa education they have always looked forward to at the event, in addition to a bustling tradeshow floor, live show floor 'edutainment' at the LIVE! Stage, tons of show floor demos, product launches and so much more.
Here is a breakdown of some of the can't miss dermaplaning education sessions we will be offering at this year's event. The dermaplaning advanced education class also provides the opportunity to earn continuing education (CE) credits, so don't miss out on this great learning opportunity!
Don't Forget to Register for Face & Body 2023 and sign up for advanced education classes!
1. Mastering the Dermaplaning Facial
When: Monday, August 21 • 9:00 AM - 10:00 AM PST
Speaker: Elaine Sterling, esthetician and owner at Elaine Sterling Skin Care and Elaine Sterling Institute
Dermaplaning is currently the number one asked-for facial in the spa, according to Sterling. Dermaplaning is excellent because it removes peach fuzz, which inhibits active ingredients from penetrating the skin. This dermaplaning facial helps to promote product penetration. This complete facial is a game changer with instant results. Add this monthly facial to your spa menu for a wow factor that creates an instant glow in your client's skin.
2. The Wonderful World of Dermaplaning
When: Monday, August 21 • 12:10 PM - 12:55 PM PST
Panel: Amy Morgan, master aesthetician at DermaplanePro; Nerida Joy, skin expert aesthetician of 45 yrs at Nerida Joy, LLC; Roschel Wynn, esthetician at Alchemy Aesthetics Academy
Dermaplaning is a treatment that has taken off in the spa industry and for good reason. This treatment hosts a myriad of benefits, but many questions are out there in terms of how to incorporate it in your spa and the value it can bring. Join this esteemed panel at the Skin Inc. LIVE! Stage as they discuss in this panel why this treatment is so hot and trendy right now, and whether it's a trend worth buying into.
3. Dermaplaning Evolved
When: Sunday, August 20 • 10:00 AM - 11:30 AM PST
Speaker: Amy Morgan, master aesthetician at DermaplanePro
The industry learned a lot since dermaplaning was introduced over 40 years ago. Since we specialize in dermaplaning and are committed to providing the safest method, highest quality supplies, and premier education, we started asking a lot of "why" questions. Learn how dermaplaning has evolved and how it's become a standalone treatment that you and your clients will love. Join us for a live demonstration, giveaways and more.