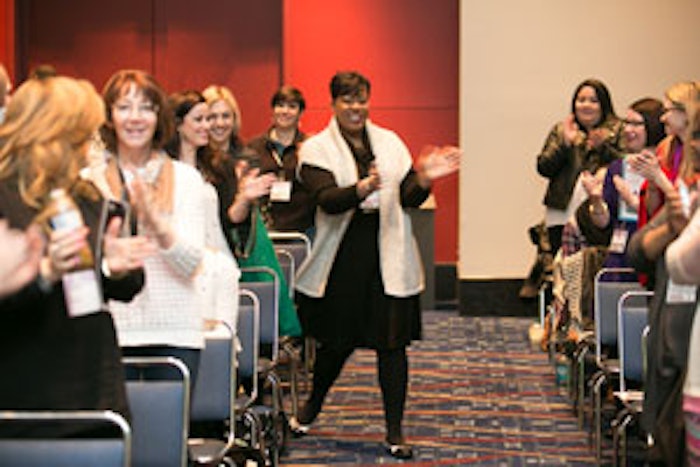 Face & Body Midwest Spa Conference & Expo (FBMW), held March 22–24, 2014, at McCormick Place West in Chicago, has lots to brag about, including experiencing a 54% increase in attendance! More than 5,242 skin care professionals were registered for the event, including estheticians and skin care facility owners and managers, and 7,500 salon professionals converged from America's Beauty Show (ABS), which is co-located with FBMW during the three-day event.
Make a decision, act on it and see it through to the end
The Opening Session of the Advanced Education Conference Program on Saturday set the tone for the day when the First Lady's personal esthetician, JoElle Lee, got attendees on their feet while she danced into the classroom to Pharell Williams' song "Happy." Lee shared her incredibly inspirational story in "My Journey From Chicago to the White House," motivating all who attended, including:
Ebony Lynn, licensed esthetician, makeup artist and beauty educator, described the session as "profound and empowering."
Rhonda Mock, licensed esthetician at Infuse Skin and Body in Peoria, Illinois, said, "JoElle was not sugar-coating our profession—it takes work and perseverance! Love that she stated we do not need to discount ourselves."
Heather Cozzi, licensed esthetician and makeup artist, Resplendent Aesthetic Services, said, "JoElle explained her journey and her speech made me think about my goals and where I want to be in my life ... She went above what I originally expected and made me think more about my future."
Anna La Tour, licensed esthetican at Belleza Skin Care Institute in Wheaton, Illinois, called Lee, the "best opening speaker in years ... very real, open and honest about the esthetic industry—best advice ever."
Barbara White, licensed esthetician and esthetic educator, and owner of Beautiful Reflections by Barbara in Overland Park, Kansas, said, "I am so inspired. She was amazing—worth my whole trip from Kansas City."
Cheryl Schroeder, esthetician at kristopher's, Quincy, Illinois, said Lee "reminds me why I have the passion for the indistry that I do. It will be even more helpful when I'm in the White House!"
Look out for the June issue of Skin Inc.—Lee will be featured in the "A Good Influence" column.
"More than 300 skin care professionals attended the conference this year!" says Cathy Christensen, conference director for Face & Body and editor of Skin Inc. magazine. "JoElle Lee's inspiring and energizing talk encouraged attendees to take action and follow through in their careers, and was followed by amazing classes throughout the rest of the day. The closing speaker, Anne Martin, brought everyone into a calm and quietly motivated state of mind. It was an incredible experience and I can't wait for the conference to evolve even more next year!"
The Expo Hall, open all three days, was filled with 192 booths from 135 companies representing skin care, makeup, equipment, anti-aging, aromatherapy, business tools, hair removal and more. Skin care professionals had the chance to engage with their peers and suppliers in the industry.
Top 6 trends at Face & Body Midwest 2014
This year's conference and expo was full of inspiring and encouraging speakers, suppliers and attendees—following are the top six trends encountered at Face & Body Midwest.
1. Innovative spa marketing. The options are endless when it comes to marketing these days. Ashley Ludgood of Chicago-based IF Marketing, presented "Online Dating: The Art of Courting Your Clients Through Social Media," in which she explained how skin care professionals have the opportunity to develop a relationship with clients before they even step through the doors of their skin care facilities. Sara Daly of Vermont's Waterfalls Day Spa, taught attendees a new spa marketing method in "The Bento Box of Spa Marketing," which uses traditional and modern marketing concepts to create a balanced marketing plan—just as a Japanese bento box separates ingredients to make a well-balanced meal.
2. Advanced anti-aging techniques. Terri A. Wojak of True U Esthetics discussed the differences between the most popular skin rejuvenation techniques that are altering the anti-aging industry in "Advanced Skin Rejuvenation Techniques." By learning and developing knowledge on a vast amount of modalities, skin care professionals can better recommend treatments and treat their clients based on each one of their individual skin concerns.
Repêchage's founder and CEO, Lydia Sarfati, shared the top 10 ingredients for brightening—a fast-growing anti-aging category—in "Beyond Anti-Aging: Professional Solutions to Age Spots, Sun Damage and Hyperpigmentation." She shared insight on how to provide clients with safe professional solutions without damaging the delicate structure of the skin.
Anti-aging doesn't stop at the face. Jennifer Wild, DO of PCA Skin, presented treatments and ingredients skin care professionals can use to deepen the esthetician-client relationship in her supplier class, "Rejuvenation of the Aging Body."
3. Vitamins for the skin. In the supplier class, "Take Your Vitamins: What You Probably Have Not Heard About Vitamins and the Skin," Lori Ann Griffin from DermaQuest, explored the various ways vitamins work with the physiology of skin, and how to utilize them in combination with esthetic machines.
Michael Q. Pugliese of Circadia by Dr. Pugliese, dove into the role vitamins play in skin care in a lecture entitled "The ABC's of Vitamins A, C, D and E" to give skin care professionals the knowledge and confidence to make the most of the vitamins at their disposal in the skin care regimens of their clients.
4. Make retail a focus. In "She's Got to Have It! The Skin Care Retailer's New Survival Strategy," Annet King of Dermalogica, reported global skin care sales will reach $91 billion this year. She instructed attendees on the way to work smarter and harder to secure the sales of their clients, capitalizing on product and demographic trends, fresh merchandising ideas and more. Learn more about this in King's article from this month's issue, "She's Gotta Have It—Now! Decoding Omnichannel Retailing For Your Spa." Check out King's article in Skin Inc. on more information regarding this topic here.
In the Closing Session, "Navigating the Barriers Between Service, Sales and Self," Anne Martin of Anne Martin Skin Care, helped attendees learn how to break down the barrier of skin care professionals' personal feelings about sales as a way to stop limiting themselves from succeeding in the retail arena.
5. Awareness of legalities and regulations. In "Laser Regulations and Laws: What You Need to Know," Renee E. Coover and Alex R. Theirsch of Thiersch & Associates, educated attendees on the threats of not being fully aware of their state's regulations and facing dire consequences because of it—which is becoming all too common with medical spas and medical esthetic treatments increasing in popularity.
Skin Inc.'s 2014 bimonthly feature by Susanne Schmaling, director of education for Associated Skin Care Professionals and member of the 2014-2015 Skin Inc. Editorial Advisory Board, educates skin care professionals on the importance of understanding and being knowledgeable of their personal scope of practice, based on their education level, training and location. For further information on regulations, read "Regulation Action Plan: Protect Your Right to Work," from the February issue and "Can I Do That? Deciphering Your State's Regulations," from the April issue of Skin Inc.
6. Respect. Beginning with Lee's Opening Session, speakers throughout the weekend collectively insisted that skin care professionals must start respecting themselves and their industry. This includes rethinking the way services are discounted to avoid discounting the skin care professional, and not letting clients take the reins of how you run your business. Although it's generally agreed that, ideally, firing a client should be avoided, Martin encouraged skin care professionals to know where to draw the line and how to set client behavior boundaries.
See you next year!
According to Sandy Chapin, group show director, "This year's Face & Body Midwest was a huge success. We have experienced significant growth in both number of participating exhibitors and attendees. We continue to witness a positive energy among spa owners and estheticians who are hungry for product knowledge and education, which clearly demonstrates that the Midwest is a growing market."
Save the date for the next Face & Body Midwest to be held March 21–23, 2015, at McCormick Place West. Or, if you just can't wait until then, we'll see you at Face & Body Northern California, August 23–25, 2014, at the San Jose McEnery Convention Center in San Jose, California.
For more information, visit www.FaceandBody.com. Connect with Face & Body at www.facebook.com/faceandbodyexpo, www.twitter.com/faceandbodyexpo and www.instagram.com/face_and_body with the hashtag #faceandbody.