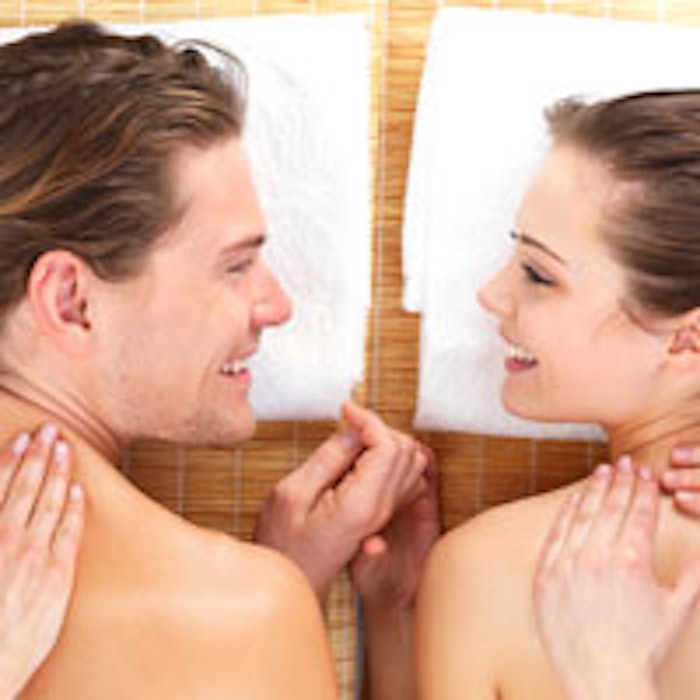 This content is adapted from an article on www.spaopportunities.com, February 10, 2015.
Men prefer to spa with loved ones but women prefer to have private solo treatments, according to a consumer survey by the U.K.-based Good Spa Guide.
The survey, based on feedback from 530 respondents, studied the behavior and opinions of spa-goers. The results show that nearly 60% of men want to spend time with someone they love and 41% of men prefer couples' treatments to individual therapies. This compares to the 18% women who prefer treatments with their partners in the same room.
Respondents answered 15 questions in total, such as "Why do you go to a spa?" The highest ranking answer to this particular question for men and women, at 82%, was "to get some down time and unwind." And, 11% selected the answer "so I can look good."
About 93% of spa-goers feel the facilities are what make for a "perfect spa day," with 85% saying that good customer service is the second most important aspect of a spa. Being "well looked after" follows at 82%.
Poor customer service was the most selected answer to the question, "What ruins a spa day?" About 89% of respondents said this was a problem. Noise levels were the second most likely factor to ruin a spa day at 88%.
"Many spas are introducing quiet zones or signs," says Daphne Metland, founder and managing director of the Good Spa Guide. "This is appreciated by customers and can help to tackle problematic noise levels. Anything to pull a customer back is a bonus, and if quiet signs are needed, then they should certainly be used."
More than 66% of spa-goers are loyal to a favorite local spa, but the survey showed that men and people under 40 are slightly less loyal than their demographic counterparts. A total of 70% of over 40s said they have a favorite spa near their home, compared to 56% of those under 40.
Massage was the respondents' most favored treatment, selected by 93% of people, while facials came second at 65%. New and unusual treatments were also popular, winning approval from 50% of respondents.
Age also seemed to be a factor in terms of whether to spa with others or alone. Over 40s were more likely to take friends or spa alone, but those under 40 are much more likely to go to a spa as a couple.
About 92% of spa-goers want water facilities, including pools, hydrotherapy areas and experience showers at their chosen wellbeing facility. And, 40% of respondents are also happy to travel more than 50 miles to get to a spa.