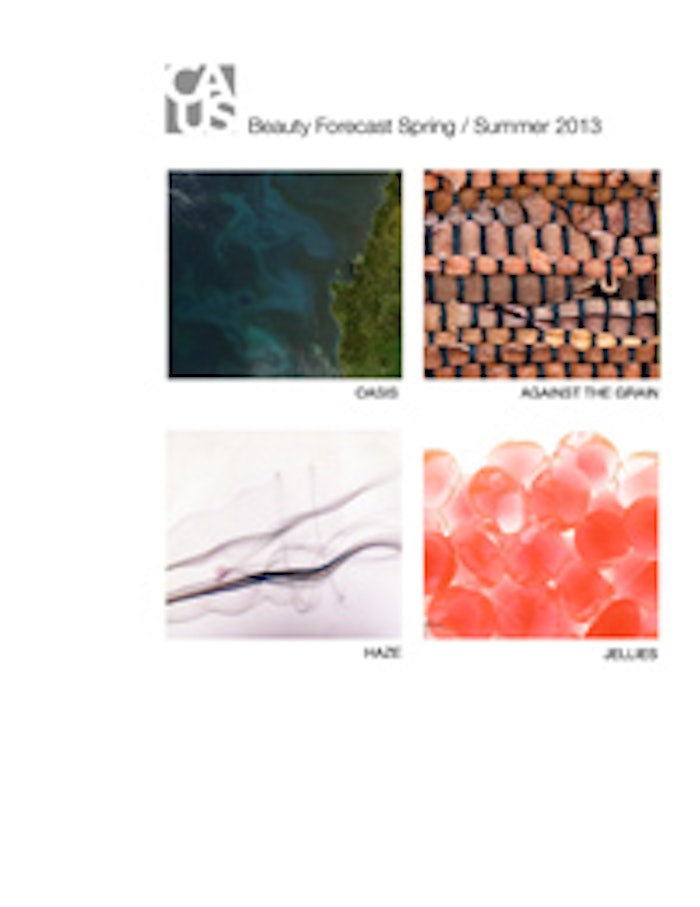 The Color Association of the United States (CAUS) developed an offering specifically created for the beauty industry: its Spring/Summer 2013 beauty forecast. The forecast takes a more tactile approach to color inspiration than traditional cards, offering a bento box"of inspiration, including an inspirational mix of 3D objects and products.
Each of the four trends featured for the season has a customized fragrance developed by the perfumers at Drom, as well as a nail polish and lip gloss that highlights the key colors, as well as finish. These tailor-made products are complemented by an assortment of surprises that encourage creativity and a fresh approach to color application.
According to CAUS executive director and color expert Leslie Harrington, "It's time the industry had something more than pretty pictures and digital representations of color—what designers, developers, and marketers really need is to engage the senses—to experience the foreseen new palettes through their senses—to see, touch and smell. It's the only way to really design for the future."
While color is always the backbone of the beauty industry, other elements help to bring these colors alive. Texture becomes an increasingly important aspect for application, leading to the inclusion of the playful objects accompanying the forecast.
The Spring/Summer 2013 beauty forecast, selected by The Color Association's beauty committee—which includes Kelly Kovack from Purpose Built, Chad Hayduk from Three Custom Color Specialists, Stephen Knoll from Stephen Knoll Salon, Tricia Boyle from Prai Beauty, Aura Friedman from Wella Hair Professionals, Matin Maulawizada from Laura Mercier, and Laura Garratt from Estée Lauder—is driven by a range of colors available in naturally derived pigments, and focuses on four different themes.
Oasis—Oasis is a direct reflection of water. The ocean and all that surrounds it, the sky, greenery, plants, flowers and birds were key inspirations for this trend. Fragrance notes include freshwater, sea air and crisp greenery.
Against the Grain—Against the Grain reminds us of what spring is really about—rebirth and renewal. A range of warm autumnal colors brings a sense of warmth and luxury to the sunnier seasons, translating exceptionally well for hair.
Haze—Haze revitalizes the vampy movement with a softer, prettier edge. Moving forward into a lighter palette but retaining an edgy quality, colors have a murky undertone, instilling an innate feeling of texture, incorporating the tints and tones of purple.
Jellies—Jellies is the most interactive and fun story in the forecast; all about customization and playing with color, working well for every market, from youth to mature. Colors are sheer and meant to be layered individually, or by mixing multiples.