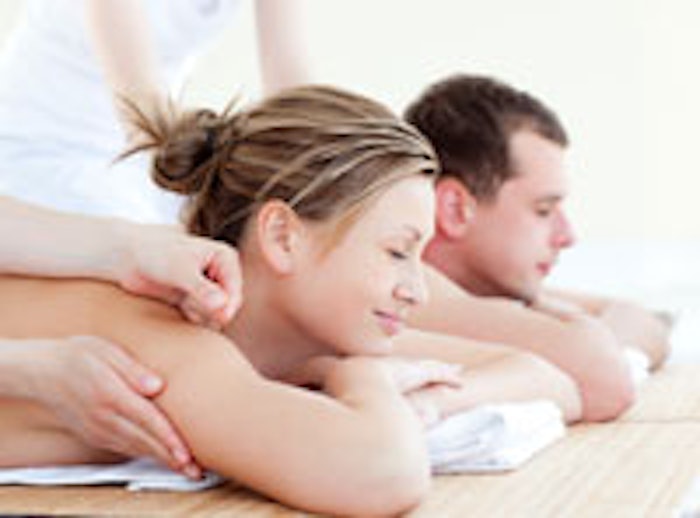 SpaFinder Wellness today released its sixth annual "State of Spa Travel" report, a yearly window into the health and emerging consumer trends in the spa travel* market – from current pricing patterns to which regions are the most popular.
While previous reports revealed that the spa travel category weathered the recession relatively well, this new survey shows that in 2012 bookings to hotel, resort and destination spas turned a meaningful corner, with more than two-thirds of travel agents seeing positive booking growth, and the average price-per-night-booked rising significantly. Findings are based on an in-depth survey of more than 160 travel agents around the world, completed in Q4, 2012.
"While the upswing in spa travel is being driven by the wider economic rebound, the survey clearly indicates that other factors are at play," said Susie Ellis, president of SpaFinder Wellness Inc. "With more than two-thirds of agents reporting that people are now more interested in traveling to spas specifically for programs like stress-reduction, fitness, and weight loss, the results are a clear indication that more travelers are deciding they simply can't afford exhausting, unhealthy vacations."
Ellis noted that "wellness tourism" is no longer an exotic concept, but is becoming a powerful, mainstream trend that will continue to fuel the spa travel market – and influence where people go and what they choose to do on their increasingly precious time off.
Detailed Findings
Spa travel gains in 2012 over 2011: While 37% of travel agents reported that spa travel bookings increased in 2011 over 2010, that number roughly doubled for 2012. Last year, 68% reported growth in the number of clients choosing spa travel, with only 9% reporting declines.
Price-per-night on upswing: The high end of the market is clearly spurring spa travel growth, with the average price-per-night-booked in 2012 rising dramatically over recent years. In 2010 only 10% of bookings topped $350/night, but last year that jumped to 29%. And the majority of bookings now fall above $300-a-night, up significantly from 2009-2011, when only 25-40% fell in that range.
Don't worry … deals still abound: With the economy officially post-recession, one might expect the hotel, resort and destination spa deals to dry up.
Agents report otherwise: 35% claim that the "stay spa" deals were actually more aggressive in 2012 over 2011, with 55% reporting they held firm. Only one in ten agents saw a decline in spa discounting.
Mexico/Caribbean unseats North America as spa mecca: Mexico's tourism industry is clearly recovering from negative press about safety concerns in recent years. The Mexican Tourist Board reported a record number of inbound tourists in 2012, and agents surveyed reported that the Mexico/Caribbean region was the No. 1 global spa travel destination in 2012, leapfrogging the 2010 and 2011 leader, North America. Agents also reported that Hawaii toppled the west coast as the U.S. region attracting the most spa travelers in 2012.
Wellness-focused spa travel remains hottest trend: Sixty-seven percent of agents reported that their clients were more interested in spa vacations with a strong health/wellness focus in 2012, and 30% noted it was just as strong a trend as in 2011. Given that roughly four in five agents reported growth for spa travel with a strong health focus in 2011, it's clear that the wellness-seeking traveler trend has serious, ongoing momentum.
Baby boomers aka the eternal spa traveler: The health-obsessed baby boomer generation (individuals aged 48-67) remains this travel sector's core demographic, with 67% of agents reporting that they were the age group most likely to book spa travel in 2012. But a significant 31% of agents pegged the younger, 26-45 age group, as now most likely to book spa vacations. This age breakdown is essentially the same as reported for 2011.
More people booking spa travel through agents: Across 2012 there were numerous reports that travel agents were seeing resurgence in their business, particularly in luxury travel, after years of declines.
This new survey provides further confirmation: Sixty-five percent of agents reported that more people booked spa travel through agents in 2012, with 28% claiming levels remained the same as 2011, and only 6% seeing declines.
Agents divided on the Groupon impact: With the daily deal sites now a travel space fixture, the survey gauged how this new reality has impacted travel agents' business. A significant minority, 44%, reported that the sites have had a direct, negative impact on their bookings. But interestingly, 53% report that the crowded daily deals space has had "little/no impact," because the "deal customer" is typically not a travel agent customer. Three percent report their spa travel bookings have increased since the emergence of deal sites.
*For this survey "spa travel" was defined as "all bookings for travel/vacations/packages with a strong spa component."