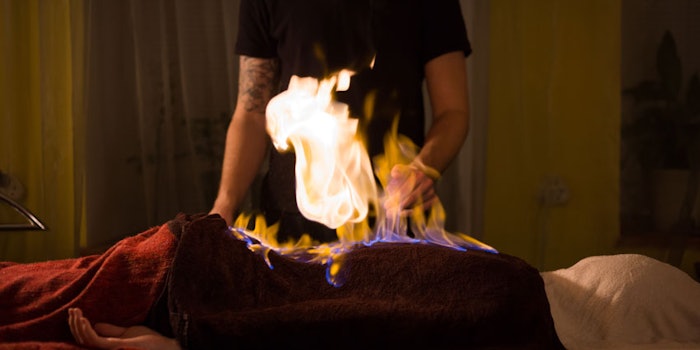 We're suggesting you don't try this viral beauty trend at home or in your spa, but some spas and healthcare facilities in Vietnam are using fire therapy to fight signs of aging and rejuvenate the skin. The fire therapy treatment is exactly what it sounds like; it consists of bringing fire near the skin on the face and body in an effort to preserve youth.
Alcohol soaked towels are placed over the areas of the skin that the treatment is being performed on. Then, these towels are set on fire causing it to look like the client's face has been set on fire. The cloths are only kept on the skin for 30 seconds to one minute before they are smothered with another towel. 
Spas and healthcare facilities licensed to perform this treatment in Vietnam are claiming that the fire therapy helps to rejuvenate your skin while also aiding with health issues like headaches, muscular pain, obesity, sleeplessness and digestion issues. 
The Indian Express reported on this fire therapy trend quoting the Vietnam News which stated "Vice head of HCM City's Traditional Medicine Institute Trương Thị Ngọc Lan told the newspaper that until now, the Health Ministry has allowed only the Hà Nội-based National Hospital of Acupuncture to implement a pilot program on fire therapy." However, this treatment is not designed to be taken lightly. The risks build up with the possibility of a fire accident in the facility, asphyxiation or burns.