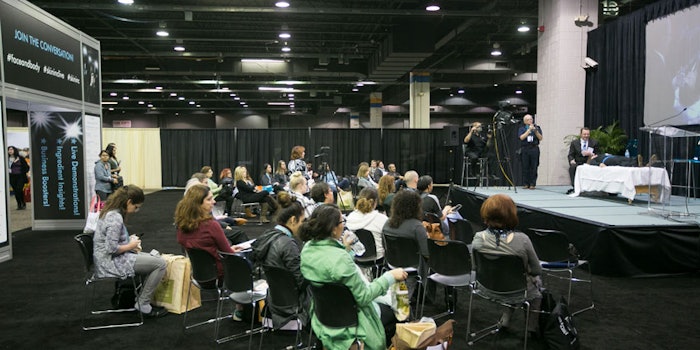 The Skin Inc. LIVE! Stage is coming back to Face & Body Northern California in 2018, and it is hotter than ever. There will be 10 live presentations during the two-day expo, many with live demonstrations. More importantly, Skin Inc. LIVE! Stage is where you can go see entertaining, education, quick and just plain fun presentations during the conference. 
Skin Inc. LIVE! Presentations
Introduction to Self-heating Lava Shell Massage
Aug. 26, 11:45 am - 12:15 pm, Vicky Karr
Lava Shells heat without the use of electricity or equipment and offer a faster, safer and more sanitary massage than other traditional heated massage modalities. Learn the benefits of a lava shell massage, and how to bring it into your spa.
How Mindfulness Can Improve Your Esthetics Practice
Aug. 26, 12:30-1 pm, Becky Kuehn
Kuehn will be introducing a new program called Mindfulness-Based Aesthetics TM (MBA), and she will break down the basics of the program teaching you how to incorporate mindfulness into esthetics. Learn how to change lives in the treatment room.
Anniversary Power Panel: What Does Green Really Mean?
Aug. 26, 2-2:45 pm, Erin Madigan-Fleck, Jennifer Major and Shel Pink
Learn the difference between natural, organic, vegan and more, and how you can apply this idea of "being more green" into your spa. Also, see what green approaches are right for you and your practice.
Learn The Science Behind The Art of Permanent Makeup
Aug. 26, 2:50-3:20 pm, Lorine Mikhaeil
Learn microblading and digital brows the correct way to eliminate scaring and damage to the tissue without bleeding or pain. Come see the live presentation to train with the best to master your skills and artistry with the OPM Technique.
Oxygeneo: 3-in-1 Superfacial
Aug. 26, 3:30-4 pm, Lumenis Expert
Exfoliate. Infuse. Oxygenate. Learn how oxygenation would be a profitable addition to your practice. See how this treatment uses technology that works to benefit all skin types so that you can boost your spa's bottom line.
How To Gain More Clients: A Fireside Chat
Aug. 26, 4:15-4:45 pm, Maxine Drake and Malinda McHenry
Learn what it truly takes to grow your book of business. Drake will share how she grew her client list to 300 in less than a year and how you can too, while both ladies will also share an easy client retention blueprint.
The Hidden Secrets of Posture and Beauty
Aug. 27, 11:45 am - 12:15 pm, Aaron Parnell
Discover how to prevent and reverse posture issues that accelerate the aging process by learn how to combine and synthesize esthetic treatments with posture interventions that serve your clients' needs in a safe, non-invasive system.
Diversity Is Good Business
Aug. 27, 12:30-1 pm, Danné King
What are the best ways to start treating diverse clientele? Come learn the best way to build your business and deepen your relationships with clients who are seeking transitional treatments to refine their face and their body.
Holistic Hair Removal
Aug. 27, 2-2:30 pm, Michelle Cate
Learn how to apply holistic esthetics to hair removal by learning how to prep and work with the body using natural ingredients to achieve healthy smooth skin. Also, learn about post-care tips and tricks.
Empowering Women in the Spa Industry
Aug. 27, 2:50-3:20 pm, Jacquelyn Hill
In an industry comprised largely of women, it is important to empower one another. Learn how to support and empower other women both in your workplace and outside of your workplace, while learning how to overcome the challenges of creating your own business.