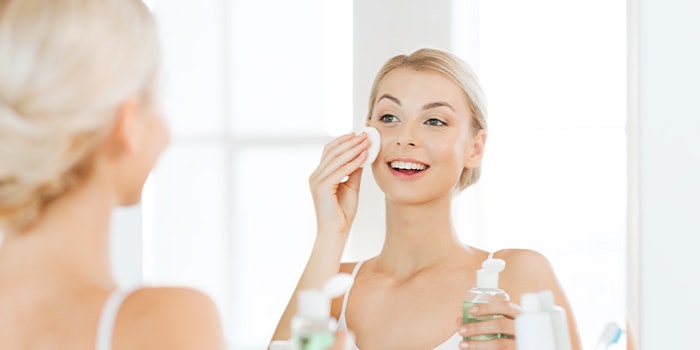 From harsh weather conditions to the drying effect hand sanitizers bring, brands have upped their hand soaps and sanitzers to help combat this. Brands are focusing on nourishing hands with essentials oils and moisturizing ingredients in its products and even looking to expand scent ranges and packaging.
Joshua Ross, celebrity aesthetician in Los Angeles, California said,  "2020 was the year of harsh hand sanitizers and soaps. This will change in 2021 as the industry balances efficacy with sensoriality that is less irritating on the microbiome." 
2. Clean and transparent skin care
People have become interested in transparency in all aspects of their skin care, such as what ingredients are in their products to how a brand is being sustainable for the environment. 
According to Barb Paldus, Ph.D., biotech scientist for brands like Codex Beauty and member of the EWG, "If you can't make the sustainable choice when creating a product, even if it costs you more, you don't deserve to be creating a brand." 
Related: How COVID-19 Has Affected Americans' Thoughts on Sustainability
3. Advanced blue light protection 
With life going virtual for the majority of 2020, people are beginning to see the effects that blue light from technology can cause on them. Since the damaging effects of blue light can occur on the skin (and even the eyes) companies are discovering more ingredients that can help combat these effects.
Ingredients like Nano Hyaluronic Acid, Nanovetor Resveratrol blend and vitamin C can address several issues that blue light causes on the skin. 
Maskne has been a frustrating addition to 2020 and with masks seemingly going nowhere, this trend is predicted to stay in 2021. Products like acne stickers and spot treatments are going to come in handy for those mask induced spots. 
Yelp has even predicted that 2021 will see a increase in acne caused by other reasons as well. 
Related: The New Age of Acne
5. Liquid lipstick
Masks mean smudging, from foundation to lipstick, under the mask can turn into a transfer zone. 
According to Charlie Riddle, global creative director at Stila Cosmetics, "Liquid lipstick in particular is making a big comeback this season. Women want products that will stay on throughout the day without having to worry about it coming off on their face mask."
6. Skinimalism
According to Pinterest's 2021 Trends Predictions report, people are embracing slow beauty and letting their natural skin texture shine through. Consumers are looking for products that act as a skin care and makeup hybrid to achieve flawless looking skin. 
7. Microbiome health
Microbiome health is a topic that people have been looking into recently, from treatments to microboime-friendly ingredients, this trend is not going anywhere and experts say that probiotic skin care will likely see a huge boom in this space.
Brian Oh, CEO of Venn Skincare, said, "There are strong indications that microbiome skincare will be a big trend next year. This refers to an ecosystem of living microorganisms on our skin (there are billions of them). We are beginning to see products that combine probiotics and prebiotics (i.e., synbiotics) to more effectively balance the microbiome."
8. Cosmetic procedures for "Zoom Face"
The increase in people seeing themselves on business video calls has left many consumers searching for elective cosmetic procedures, according to Yelp. Consumers were looking to address issues like crow's feet, jawline filler and nose jobs. 
Sheila Farhang, M.D., cosmetic surgeon and founder of Avant Dermatology, said, "I am seeing an uptick in requests for eye area treatments, the most popular being lower eyelid blepharoplasty to reduce the appearance of under eye bags. Before you come into the office, I recommend trying eye creams with caffeine to reduce swelling and brighten the under eyes."
9. Smarter tech gadgets 
At-home devices to treat their skin and body are booming. With spas and salons closed, consumers are looking for quick and easy at home fixes for their skin. 
According to Farhang M.D., "Brands are inventing brilliant gadgets for both hair and skin that can make your beauty routine a million times easier and replicate treatments once limited to salons."
10. Antibacterial haircare
Antibacterial haircare products help aid in sanitizing the scalp and hair. According to Real Simple, the average person touches their hair 10 times in one hour, making it an area regular shampoo and conditioner may not sanitize well enough.
With the virus still around, sanitizing your hair might be just as important as your hands. 
11. Scientific scalp care
Two words: Scalp Facial. Healthy hair starts with a healthy scalp and the "skin-ification of haircare" is becoming a popular trend. 
According to Dr. Farhang, some new trends include platelet-rich plasma ("liquid gold" injections that have scientific data that improve hair loss), an inside out approach, and botox for the scalp to help elevate sweaty scalps.
12. Plant-based skincare 
Natural spas are just the tip of the iceberg, as people are looking for that experience at home with plant-based skin care.
According to Real Simple, the most popular and most searched ingredients include bakuchiol, gotu kola, ginger, and witch hazel flowers. 
Farhang M.D. said, "Until recently, plant-based skin care was considered niche. With an increase in eco-conscious consumers, many mass brands are introducing plant-based products." 
13. Embracing natural hair
Amid the lockdown of 2020, natural hairstyles spiked with "natural hairstyles" and "natural curly hair cuts" according to Pintrest. Pinners are also looking for hair techniques that are protective, low-maintenance and glamorous, such as braiding. 
Just like makeup, people are looking for low maintenance and easy styles for their hair. 
"Pinners will get creative with braiding techniques (including bubble braids and box braids) that are protective, low-maintenance, and glamorous. Beyond the braids, style mavens will add their own personal touch with beads or colorful highlights," Pinterest said in its report.