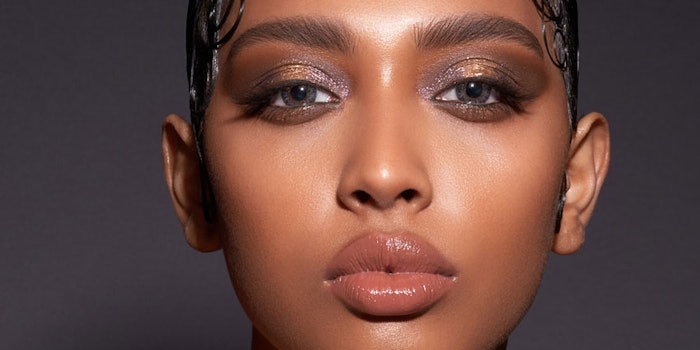 Spring is only a short while away, which means the spring beauty trends are about to come into full swing. See what James Vincent, director of education and artistry for The Makeup Show and The Powder Group, identified as the top eight trends to keep an eye out for this spring. 
Trend 1: Lash Love
The more exaggerated the lashes, the better, this spring. Exaggerated lashes are always a way to create a big impact with your makeup looks. Think of layering lashes to build up the intensity this spring. Also, look toward adding a pop of color on the lashes to brighten up the eye look.
Trend 2: Getting Glossy
Gloss was put back on the market thanks to Gucci, Louis Vuitton and Chanel bringing back high-shine cheeks and lips. This helps take makeup looks to the next level. Keep an eye out for eye looks getting extra glossy as well. 
Trend 3: Glitter, Smoke and Mirrors
During award season, glittery, smokey eyes could be seen everywhere. The drama and the glitter together make a great combination that will definitely be a big trend this spring. Expect to see clients wanting this look to keep them paparazzi ready. 
Trend 4: The Edge of Glory
This allows any makeup wearer and all makeup artists to show off their creativity. This spring trend is inspired by creases and liner that have popped up on shows like Anna Sui. This artistic approach to makeup uses bold eyeliner pencil shades and liquid eyeliners to create fun designs for the eye. 
Trend 5: Neon Colors
Back to the bright look, the eyes will have fun this spring with people wanting to play with bright, neon cat eyes. However, this trend is not reserved for just the eyes. While the creases experienced a lot of fun neon colors, so did the lip when it came to fashion shows. 
Trend 6: Grunge Style
Goth and grunge styles are back with many brands stepping away from a conservative look. This year's fashion shows showed models wearing deep oxbloods, vampy burgundies, chocolate browns and black lips. The range of products can include sheer glosses to high pigment lipsticks when it comes to this trend. It really is just all about the grunge. Think Hot Topic, but make it fashion. 
Trend 7: CBD Beauty
With more states deciding the benefits of using CBD in their products, CBD oils are popping up everywhere. Expect to see CBD a lot more in beauty this spring with brands including it in their formulations for everything from facial toners and hand creams to mascara. 
Trend 8: Planet Conscious
The beauty industry is embracing wellness in formula and fashion. With consumers becoming more aware of the ingredients in their products and how they are impacting the earth, many makeup lovers are looking for new options and directions. Sustainability is not going anywhere, and consumers will be especially interested in it this spring. While products may not be organic, consumers are becoming more aware of whether they are ethically sourced or not. 
Keep these spring trends for beauty in mind when discussing products and retail with consumers.