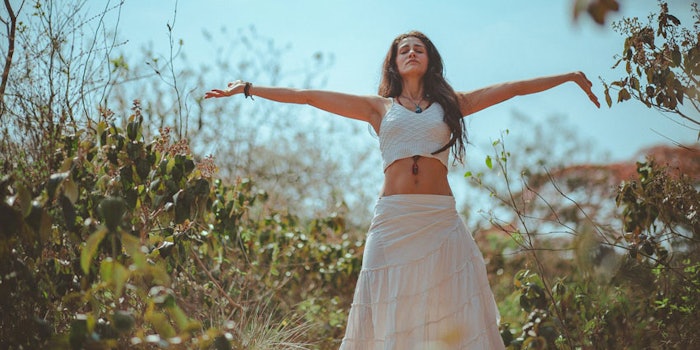 Energy medicine, everything food, sleeping rhythm and sustainability are only a couple of the major spa and wellness trends that will be bursting to life in 2020. Raison d'Etre has released its 2020 Trends Report that breaks down what spas can expect to see from the wellness industry in the coming year. This report analyses the current world trends, social movements, new research and changing customer demands to predict the trends that will grow in the coming year.
Anna-Cari Gund, managing director of Raison d'Etre stated, "Our team is spread across the globe, which gives us crucial insight into consumer behavior in multiple markets. We share our knowledge of these markets in our creative Think Tank sessions, which allows us to see patterns and identify emerging trends. We're excited to present our latest Trends Report and look forward to seeing the evolution of the spa and wellness industry next year and as the decade continues."
1. Energy Aspirin
The practice of energy medicine is based on the belief that energy is at the heart of well-being, and it can be tapped into to address physical and emotional imbalances to improve overall health. Thus, energy medicine will be adapted by wellness to help clients achieve a happier and healthier life. For example, Six Senses Douro Valley created the "Grow a New Body" experience that combines shamanic healing techniques with medicine and nutrition to prevent disease and increase a person's life span. 
2. Foodie 101
It's no secret that there are many different diet options for people to choose from nowadays. While one specific diet may not reign over all as a continuing trend in 2020, it is predicted that the concept of personalized nutrition to nourish the body, mind and soul will continue to become more popular and expand into more resorts and spas. Raison d'Etre predicts that meals will be adjusted to what the body needs and what is best for the brain, heart and gut. 
3. The Most Important Rhythm
No, this trend has nothing to do with dancing, unfortunately. Instead, we are talking about Circadian Rhythm and the major role it will play in 2020. Expect to see a surge of spas and hotels investing in programs designed to help clients get their natural rhythm back on track. This can be in the form of partnering with apps and creating programs and services specifically geared toward better sleep. It is expected that the travel industry will really be at the forefront of this trend with apps like Timeshifter providing programs for jet lag and based on travel plans. 
4. Green Machine
 No one should be too surprised to see sustainability make the list considering it was one of the most notable movements of 2019 in general. Sustainability is going to continue to dominate the industry in 2020, especially with individuals, companies and entire industries making commitments for more sustainable practices and conservation efforts. Expect to see a ban on single-use plastics and overhauling packaging in the upcoming year as well as more green strategies and innovations. 
5. To Be Young Again
Think less anti-aging and more inner child. Expect to see a rise in "hands on" experiences with clients seeking out experiences to bring out their inner child. For example, LUX Resorts and Hotels offers guest the chance to mix their own masks and scrubs. More of these types of workshops and experiences will emerge in 2020, providing families and couples a chance to reconnect and solo travelers a chance to discover a new form of meditation. 
6. Disconnect the Tech
 If there is one thing people rarely are able to do nowadays, it is disconnect from all forms of technology for at least a little while (and no sleeping doesn't count). With the explosion of social media and mobile phones, it has become increasingly harder for people to not search for the instant gratification that technology can provide. That is why 2020 is going to be a lot more about providing the opportunity for people to digitally detox. Expect to see a lot more "phone-free zones" and digital detox locations allowing you to disconnect from technology and reconnect with nature. Also, expect to see services that incorporate this idea of detoxing the body and mind. For example, the new Kohler Water Spa in Lincoln Park is offering a Digital Detox treatment for city goers who are constantly surrounded by pollution and technology. 
There is a lot coming into 2020 and even more growing off of what was already established in 2019 when it comes to wellness. Make sure your spa is ready and aware of these trends that clients may come in seeking as the year progresses.