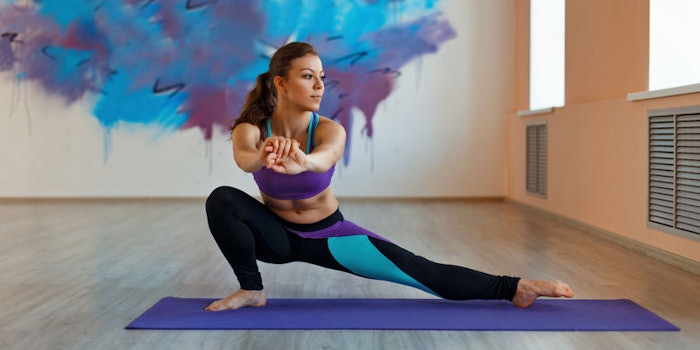 Meditation and mindfulness have come a long way since it was first introduced into the industry, and they are taking on a new meaning by becoming a popular addition to workouts. This new trend is being placed in fitness classes by having people "move with intention" throughout the class or by ending a class with some mindful meditation. 
From Start to Finish
As with most wellness trends that gain popularity, this trend is actually rooted in ancient precedents. The Global Wellness Summit, discusses how walking meditation has been a longstanding Buddhist practice that focuses on the breath or on the body's movement through space.
This trend is picking up quickly as many people are integrating mindful meditation into their classes. Equinox, for example, is introducing a fitness class called HeadStrong which revolves around mindfulness. Meanwhile, the running shoe company has created the first running track to train the mind, where they have removed light and all distractions for a meditative environment. 
While there isn't a lot of clinical evidence around this new wellness fitness concept, a study, conducted by Rutgers University, found mental and physical training, or adding meditation to aerobic exercises, helped to reduce depression and rumination while enhancing synchronized brain activity. 
Bringing In the Spa
 When it comes to adding mindfulness and meditation into the spa, it is being done in numerous ways. From treatments that begin with a mindfulness ritual or session to a full experience that is centered around wellness and mindfulness, there are many spas taking this trend to new levels and adding their own unique spin on it. One way this is entering the spa industry is also through virtual reality (VR), which can be used to lead mindful meditations.
Looking Toward the Future
This concept of adding mental wellness to physical tasks is only going to grow in popularity. Here are the Global Wellness Summits predictions for the future of this trend:
VR will continue to provide multisensory journeys in the spa, creating new "wellness sensorium". This will also go into the environments of the spas combining sound, light, imagery, scent and vibrational experiences.
Since 5G is only becoming faster, expect to see more immersive VR and augmented reality (AR).
More people will embrace the multidimensional and multimedia environments that come out from this trend.