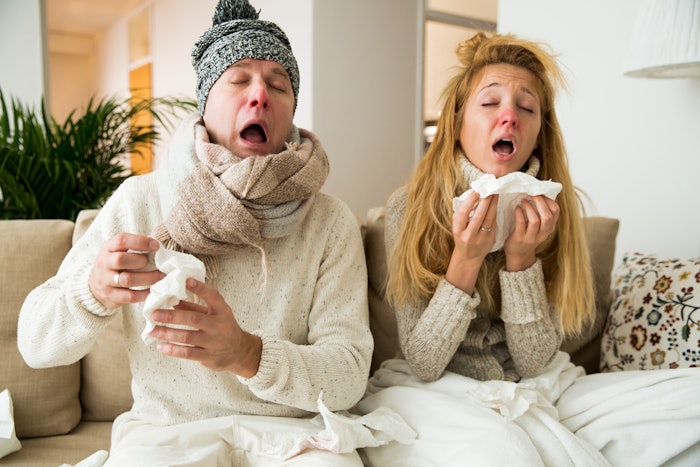 February might be the month of love, but it is also a time for winter illness. As I write this, my family is all recovering from a particularly nasty bout of colds. And when I think about colds or any other respiratory illness for that matter, my mind goes to the one plant I can always count on to provide me relief--eucalyptus. Whether you love the scent or hate it, you and your clientele may want to gravitate to eucalyptus for not only it's aromatic benefits, but also its antibacterial, antiseptic and anti-inflammatory properties. As a lover of eucalyptus all year long, here are some of the products formulated with the plant that I recommend to use in your treatments or offer in retail.
Eucalyptus Mineral Bath Salt
Although you can breath easier with any product in Kneipp's eucalyptus bath and shower line, the Refreshing Eucalyptus Mineral Bath Salt is easily one of my favorites. Not only will this combination of concentrated eucalyptus oil and mineral salt help relieve congestion, but it is also known to help rejuvenate the body.
Winter Blend
Need a winter pick me up for your spa space? Diffuse this blend from Eve Taylor, which combines Tunisian rosemary with eucalyptus to clear and cool, along with French alpine lavender to soothe. Ravansara adds a warm crispness, while palmarosa clears the mind and stimulates the senses.
https://evetaylornorthamerica.com
Eucalyptus Cleansing Concentrate
This classic Éminence cleanser taps the antiseptic benefits of eucalyptus to clear skin. It is low foaming and gentle on overactive and sensitive skin for a clean without irritation, and lavender is included to soothe.
Cold Thyme Chest Balm
The wafts of vapor balms always give me comforting thoughts of my mom taking care of me as a child in times of illness. This balm was formulated to provide all the same therapeutic benefits of that childhood balm with none of the bad stuff. Herbs lungwort, hyssop and peppermint are combined with essential oils of ravensara, thyme and eucalyptus to relax the sinuses and soothe the respiratory system.
Eucalyptus Lavender Hand/Body Lotion
Eucalyptus might be one of my favorite essential oils, but it is definitely kicked up a notch with the relaxing scent of lavender. This new launch for EuroSpa Aromatics hydrates the skin with a combination of sunflower seed oil and vitamins A and E. Eucalyptus helps reduce pain, and lavender helps calm.