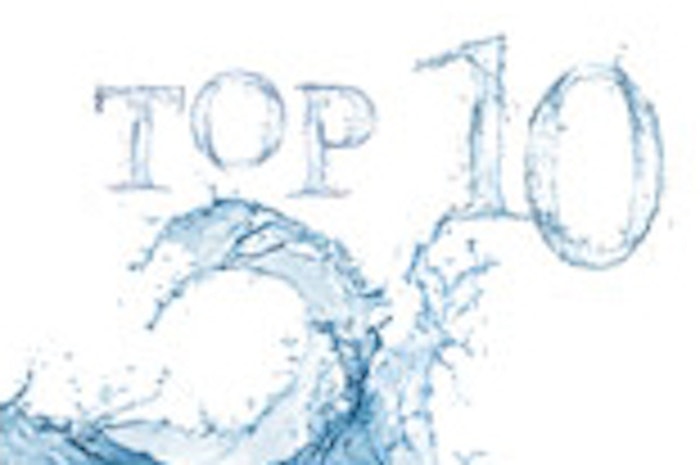 Although each year in the new economy is full of its share of twists and turns, 2012 may go down in history as a turning-point year in the skin care industry. Challenges are still many as the skin care professionals who survived the economic crisis are navigating their way in this brave new world; however, things are generally looking up. Spa revenue showed a measured growth of 4.5% according to the International Spa Association (ISPA) 2012 U.S. Spa Industry Study, indicating a modest, volume-driven recovery. The study reveals that 83% of spas have made one or more changes to their businesses, including an increased number of treatment offerings, new retail product offerings, additional spa programs and shorter treatment options, helping stimulate demand and increase the total number of spa visits.
As the skin care industry looks toward this promising future in 2013, so does Skin Inc. magazine. The coming year is literally a turning point for Skin Inc., as 2013 marks its 25-year anniversary. Next year, through the magazine, the website and the Face & Body events, Skin Inc. will turn a corner, taking a look at the lessons of the past and applying them to the future of the skin care industry. Skin care professionals can benefit from the same introspection and this, along with examining the needs of clients and the evolution of the profession itself, will result in a bright outlook for success.
To help you gear up for what the future holds for the professional skin care industry, following are the top 10 skin care industry trends for 2013 and beyond.
1. Progressive skin wellness
Clients are beginning to understand that skin care isn't just a once-in-awhile pampering experience; it is a lifestyle choice. With the economy as a catalyst, clients became very aware of their priority lists and many of those who wanted to invest in beauty took the leap to becoming loyal skin care clients, justifying their visits to your skin care facility as an investment in their overall wellness. Another thing that is becoming more clear is the importance of a complete wellness lifestyle for skin health, which requires a whole spectrum of healthy living, including emotional, spiritual, physical, intellectual, occupational and social wellness. In the coming years, skin care professionals will begin to adopt ways to incorporate treatments to meet many of these wellness needs.
2. Equipment-based treatments
Along with progressive skin wellness, facilities both small and large are adapting to the increased expectation that skin care treatments will show solid results. Whether clients are choosing more equipment-based services as an alternative to the more expensive cosmetic surgery or simply because they prefer a more noninvasive anti-aging solution, they continue to cast their sights on skin care facilities. Microdermabrasion, microcurrent, ultrasound, radio frequency, cold laser, LED, IPL ... you name it, spas are making the investment and bringing high-tech solutions into the treatment room in an effort to show clients visible benefits, resulting in a solid place in their monthly budgets.
3. Increased focus on education and training
In September 2012, the Global Spa and Wellness Summit (GSWS) released an extensive study exploring the challenges faced by this growing industry confronted with a talent gap. The study examines the difficulties the industry faces in hiring qualified management personnel, the root cause of this high demand for talent and recommendations to address the workforce gap. The report was commissioned by the GSWS after 95% of delegates attending its 2011 summit reported lack of training/education as the greatest challenge facing the industry, and hiring qualified spa managers and directors the largest obstacle to the continued growth of their own businesses. This is not a new problem for the professional skin care industry, but it is becoming more of a threat than ever before. Although recent data from the U.S. Bureau of Labor Statistics indicates jobs for licensed estheticians are predicted to increase the most out of all the jobs in the beauty industry over the next decade, the question is: How will those new estheticians climb the ladder and learn the business skills needed to go to the next level and help spas—and the industry itself—succeed?
4. Farm-to-treatment table services
Many professional skin care clients are seeking results, as well as an experience and a more wholesome way of living. These are often the same clients as those who have adopted the progressive skin wellness philosophy. Skin care facilities throughout the country are appealing to these clients' desires by offering farm-to-treatment table services, allowing clients to experience an ingredient in its natural environment, harvest that ingredient and then enjoy a treatment—and sometimes a meal—using the plant they harvested with their own hands. This back-to-nature experience lets clients put knowledge behind their treatment, allowing them to assign a positive emotion to your skin care facility. If a client goes on a tour of a lavender farm, cultivates lavender, enjoys a lavender treatment and goes home with a lavender product, she will always equate this wonderful experience to your facility every time she smells lavender. What a memorable way to keep clients coming back for more!
5. Pedicures with purpose
A nice foot massage, smooth tootsies, trendy polish with an even trendier name ... who doesn't like a good pedicure? However, it is becoming more apparent that pedicures require more education and training that originally thought. Between the challenges of diseases, such as diabetes, equipment sanitation and multiple contraindications, pedicures are not always to frothy treat that some clients—and spas—think it is. "Podology" is a term that helps distinguish a professional who has advanced training and knowledge in pedicures from the standard nail technician. This advanced education involves knowledge ranging from foot structure, to what techniques are appropriate to use for which clients. Clients are going to soon learn to ask whether the professional giving their pedicure has been trained in podology. Is your skin care facility going to be able to answer affirmatively?
6. Specialty spas
The phrase "Focus on what you're good at" has never been more applicable than it is to these facilities. Instead of trying to please everyone all the time, these businesses know what they are good at and only focus on that. Whether it is lash extensions, waxing or express treatments, skin care facilities are popping up all over the country with a specialty. Finding a niche and excelling at it can often result in a more loyal clientele than spas that try to do it all featuring a huge menu, but mediocre services. Expect to see more and more of these specialty businesses in the future for those clients who only want the best.
7. Culturally inspired treatments
Compared to the rest of the world, the professional skin care industry in the United States is in its early years, and it can learn a lot from looking beyond its own borders. Spas are reaching out to global cultures for inspiration on how to provide unique and effective professional skin care services for clients who want an experience along with results. Globe-trotting services that are spanning the hemispheres are coming from countries as diverse as India, Thailand, Russia and the Middle East. International travel may not be in your clients' budgets right now, but providing them with a treatment that opens the door to a different region can help provide insight into the skin care values shared by the world.
8. Active ingredients
Peptides, AHAs, enzymes ... active ingredients are supplying the professional skin care industry with the ability to provide results to clients, and clients are often as curious about their effects as you are. "Skin care consumers are continually looking for the 'next big thing' to remove those wrinkles or eliminate that dark spot. This voracious demand will continue to drive the development of sophisticated new ingredients well into the future. For example, ingredients based on personal genetics that might delay cellular aging longer," says Linda Walker, author of The Skin Care Ingredient Handbook (Alluredbooks, 2012; www.Alluredbooks.com) It is crucial that you know how to answer clients' questions about what works, what doesn't and why. By providing this in-depth knowledge, your client will start seeing you as a skin care mentor. And if you don't know off the top of your head, research it and get back to the client. They will appreciate your efforts, and continued conversation will result in extended service opportunities, giving birth to a loyal client.
9. Being penny-wise
No one these days is into spending money they don't have to, and this requires offering value for your clients' dollars. Throughout the past five years, if your business has survived the economy, you have probably become an expert at appealing to your clients' frugality. However, the need to continue finding ways to delight and amaze while offering an experience is evident. The old way of dealing with this is discounting, which not only de-values your spa and professionals, it can also de-value the industry as a whole. The current, and future, way of appealing to penny-wise clients is to find creative ways to help them spend money at your skin care facility that they may have spent somewhere else. For example, work with a local group to find ways to donate to their cause while introducing new clients to your services, using the method detailed in the column "Get New Clients While Giving Back to the Community" by Aaron Sonnenschein from the November 2012 issue of Skin Inc. magazine.
10. Skin care is life
Taking a healthy and expansive interest in great skin at any age is a gateway into taking a healthy and expansive interest in whole-body health. Help clients begin that journey in your skin care facility by providing them with ways to expand their wellness interests, whether under your own roof or through business relationships with other professionals. Skin care is life ... this mantra will help you and your team understand that the benefits you offer your clients are not just radiant, clear, young-looking skin; they are also the ways you touch them, helping them have the strength and knowledge to embrace a better way of life. And as the gateway to an improved life, your skin care facility will flourish with clients, both new and retained, who value your services as a branch of their own wellness.