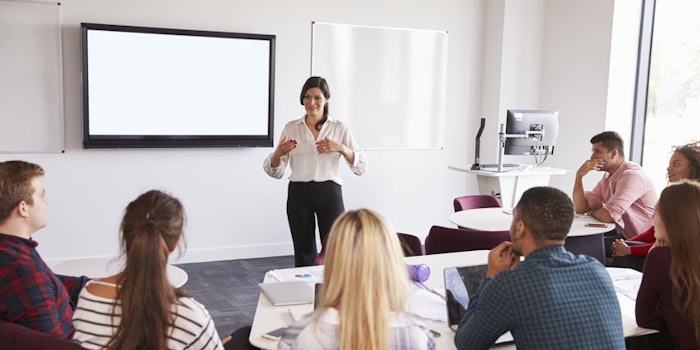 You asked and we listened. That is why the Advanced Education classes for Face & Body Northern California are going to be held on exposition days. Advanced Education is even being taken a step further to become fully customizable with the use of Spa Pods. 
Pods Pricing and Breakdown
There are eight pod themes to choose from, and each pod selected will allow you to partake in two Advanced Education classes. The pod themes include chemistry, med spa, biology, massage, retail, hair removal, marketing and wellness. 
When choosing your pods there are a few options when it comes to pricing. One pod, which allows you to attend two of the themed classes, is $80, two pods, which allows for four classes, is $120 and registering for the entire Advanced Education conference, which allows for eight classes is $230. Each pod theme will have one-morning pod (8-10 a.m.) and one-afternoon pod (1-3 p.m.), with only two pods running concurrently.
Massage Pod
Lymph Drainage for Healthy Skin and Body
Aug. 26, 8-9 am, Lisa Stewart, owner of Solia Spa and creator of Peri Skin Care
Join Stewart in this treatment class to learn how incorporating lymphatic drainage contributes to healthy skin and a healthier client. Learn how to reduce the appearance of wrinkles, pain, stress and inflammation, as well as the foods that trigger the lymphatic system to go out of sync.
Aug. 26, 9-10 am, Vicky Karr, former spa manager and corporate trainer at the Ritz Carlton spas
Karr will be teaching this class. Heated massage offers many benefits including relaxing muscles, which allows therapists to penetrate into deeper muscle layers. Combining heated massage into protocols can assist in expanding blood vessels and ultimately help heal the damaged tissue.
Retail Pod
Your Retail Survival Guide
Aug. 26, 8-9 am, Annet King, VP of Global Education for Elemis
King will be discussing how to stay on top of the ever-changing retail trends in the spa industry. Learn how to ensure that you get a piece of the pie and that these critical retail revenues remain with you by developing your own unique retail survival strategy.
Selling is Influence: Nothing More, Nothing Less
Aug. 26, 9-10 am, Mark Wuttke, president and COO of Babor
Wuttke will be teaching this business class, and discussing how your beliefs and decisions create all the outcomes with your sales success. Learn simple ways, including the four sales within a sale, to interact more positively with others, and watch your personal and organizational success go off the charts.
Biology Pod
Acne is Personal: Personal Diagnosis and Treatment for Acne
Aug. 26, 1-2 pm, Robert Manzo, president and founder of Skinprint
Review the types of acne, root causes of acne, how to diagnose them properly and then how to personalize a regimen for each client with Manzo. Learn how to determine what is the underlying cause of acne in your individual clients' presentation and provide a personalized solution for each one.
Dry Versus Dehydrated Skin
Aug. 26, 2-3 pm, Ryan Christopher, global education director for COSMEDIX
Learn about these skin factors while watching a live demonstration with Christopher, who will address the layers of skin and how each layer functions to help its moisturizing factor. Then, continue on in this treatment based advanced ed class as Christopher discusses ingredient selections that would best address dryness or dehydration.
Hair Removal Pod
Waxing: Myths, Tips and a Little Humor
Aug. 26, 1-2 pm, Stephanie G. Laynes, owner of Smooth Skin Supply
Join Laynes in diving into different waxing challenges that many estheticians face. Go through how simple information can increase your client retention and educate your clients about post-wax home-care tips.
Aug. 26, 2-3 pm, Shannon O'Brien, founder of iSugar University and owner of SugarMama's Skin Studios
Sugaring is gaining momentum in the esthetic industry with its exfoliating and hair removal benefits. O'Brien discusses basic sugaring theory, proper technique and training, and how sugaring can help you grow a loyal client base that keeps coming back.
Chemistry Pod
Operating Protection: Minimizing Exposures in Toxicology
Aug. 27, 8-9 am, Erin Madigan-Fleck, N.M.D., founder Naturophoria and co-founder Intellective Esthetics
Madigan-Fleck dives into how pollution and other environmental toxins affect the skin and the overall health of the body. Learn how to better protect the body and the skin from the environment and pollution.
Personalized Peels: Customization For Today's Client
Aug. 27, 9-10 am, Shannon Esau, CEO Allison Clinical Enterprises
Discover how different acid solutions affect the skin and can be used to target every skin condition with Esau. Learn the fundamentals of each acid and how to select the proper acids for your clients' skin to achieve maximum results whether they suffer from acne, aging, pigmentation or rosacea.
Marketing Pod
Marketing With Connection
Aug. 27, 8-9 am, Deedee Crossett, dean San Francisco Institute of Esthetics and Cosmetology
Crossett educates on how to build and communicate your brand to your clients. Crossett will go through how to market past social media while gaining the support of your employees and customers.
Creative Ways to Market for Today's Spa
Aug. 27, 9-10 am, Tessa Boyd, owner of Elise Esthetics Institute and Spa
Join Boyd in this interactive business seminar to learn alternative ways to start a business, how to market yourself and how to bring in spa guests. Boyd will take you through simple yet realistic approaches to thriving in today's market.
Med Spa Pod
Top Tips For A Successful MedSpa
Aug. 27, 1-2 pm, Lisa Jenks, M.D., owner Genesis Medspa
This lecture with Jenks will present business and marketing tips on how to open and sustain a successful medspa. Jenks will discuss topics such as how to create a unique customer experience, how to hire for success and how to market your medspa.
Understanding and Rejuvenating the Face Like a Plastic Surgeon
Aug. 27, 2-3 pm, Alan Durkin, M.D. 
In-depth techniques for facial analysis will be described and demonstrated to the crowd in an interactive fashion during this presentation. Durkin will present a formal and comprehensive review of best practices for skin care, neuromodulators, dermal fillers, laser and light-based therapy and high-intensity focus ultrasound.
Wellness Pod
Aug. 27, 1-2 pm, Linda Bertaut, Reiki master teacher
This class with Bertaut will guide you through an overview of the Chakra system and ideal stones for each. Learn the step-by-step facial using gemstones on the body and how to perform facial sculpting using gemstones.
Benefits of Facial Cupping
Aug. 27, 2-3 pm, Lisa Crabtree, massage therapist
This presentation will demonstrate how to increase oxygen-rich circulation while strengthening skin and connective tissues through facial cupping. Crabtree will perform a live demonstration consisting of a mini facial cupping session to show attendees how to perform a facial cupping and the visible benefits of the treatment.