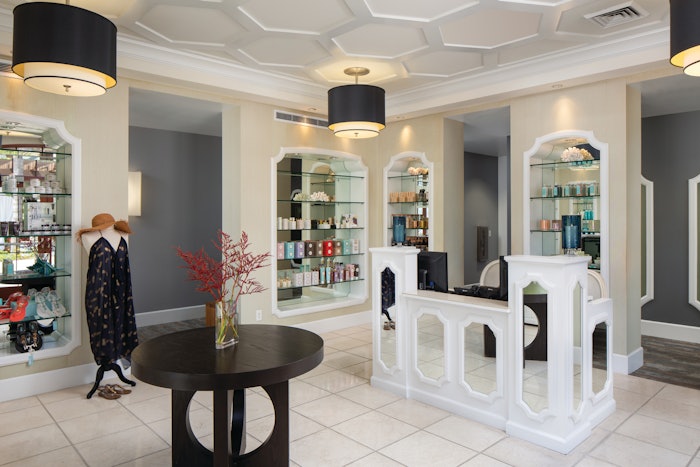 Ocean Pearl Spa, California
Ocean Pearl Spa's spa director, Kerri Calver, sat down with Skin Inc. to discuss designing a space that is a rejuvenating experience for clients and staff.
1. Tell us about the aesthetic of your spa's interior and the emotion you are looking to evoke from customers?
Entering Ocean Pearl Spa, you instantly feel comfortable and relaxed. There is a perfect balance of warmth and crisp serenity throughout the many rooms that make up the interior —everything from the lobby to the private treatment rooms.
2. What inspired your design components and process?
Being so close to Carlsbad's seven miles of beaches, we are proudly an ocean-inspired spa. Everything from the interior to the treatments evokes the feeling of smelling salty ocean air as the waves wash up the shore and bring a sense of calmness.
3. What is the most important thing to remember when designing a successful spa space?
Peace, privacy and mood. The lighting and colors should align with the calm mood. Entering the space feels like embarking upon a new journey to revitalization and relaxation within the soul.
4. Does your spa have any unique features or design aspects?
We have wonderful amenities including access to The Westin's resort-style pool and fitness center, and our eucalyptus steam room is heavenly. We also offer the very unique vitamin C aromatherapy showers. The space itself allows for privacy with lockers, showers and restrooms. There is also a dimly lit relaxation lounge with refreshing spa water and extremely comfortable loungers.
5. What advice would you give to someone who is designing their spa's interior?
Put yourself in the shoes of the spa-goer. Ask yourself why people go to the spa and who they may go to spend it with, and then curate the perfect relaxing and rejuvenating experience to be shared with oneself or a loved one.