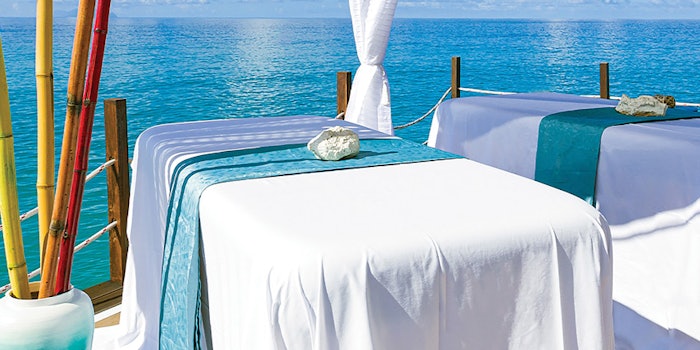 Serenity Spa, Saint Maarten
Sonesta Resort's Spa and Fitness Manager, Jardin Fanis, sat down with Skin Inc. to discuss designing a spa interior that feels like a tropical escape for clients and a sanctuary for estheticians.
1. Tell us about the aesthetic of your spa's interior and the emotion you are looking to evoke from customers?
It is a contemporary, elegant design. The interior is decorated with soft tones that radiate warmth. Luxurious treatment rooms with unique light fixtures of sliver, add the right light ambiance to each room. The art design and names of the rooms sends the message of a tropical escape. The rain showers make for a great pre and post spa experience. It is furnished with Italian grey, white, cream and wood pieces. The design is set to evoke the feeling of warmth, peace and happiness.
2. What inspired your design components and process?
The word "serenity," which is the name of the spa, inspired the design components and process. When someone thinks of the word "serenity," they immediately think of being in a serene space and feeling peaceful. The process behind the deign was that each room/area a customer or staff walks into must represent the name of the spa and take the customer or staff to a peaceful escape.
3. What is the most important thing to remember when designing a successful spa space?
The most important thing to remember when designing a successful spa space is who and flow. The spa space must be comfortable for the customer. From the lighting to the décor, music and scent. When you think about the customer, you will ensure that your spa story is harmonious with the experience you would like your customer to receive. Maneuvering around the spa should be easy for the customer. They should be able to move with as little interruption as possible from the spa reception area, to the service, and back to the checkout in a peaceful flow that do not disrupt their experience.
4. Does your spa have any unique features or design aspects?
Our outdoor spa sanctuary gazebo, Serenity Point, is perched on a cliff overlooking the ocean with the breathtaking view of the water and neighboring islands.
5. What advice would you give to someone who is designing their spa's interior?
Ensure that your design matches the story you want the spa to tell and that your design makes for a pleasing environment. The design must be connected with the spa story in all aspects. This way, from the moment the customer walks into the space, they feel immediately relaxed.